Tour Details



Driving


2 - 3 Hours



Purchase QTY


One Per Car



Distance


41+ miles



Audio Stories


35+



Self Guided


At Your Own Pace



Tour Benefit


Tour Anytime
Any Day



Works Offline


100%
Money-back
Guarantee
Welcome to the Badlands Tour
Unearth the long-buried past in Badlands National Park, a place like no other! This strange, alien landscape of rocky peaks hides tens of millions of years of history. Learn all about it as you explore with this self-guided driving tour, which takes you along the Badlands Wall and shows you the best overlooks, hiking trails, and more. Along the way, your virtual narrator will share fascinating stories about everything from fossils to Lakota history and beyond.
About the Tour
Your Badlands tour begins either in the town of Wall. (If it's more convenient, you can also begin the tour from the town of Philip.) From there, you'll head south into the park itself.
Once you enter the park, you'll have the option to take a quick detour to see a prairie dog colony at Roberts Prairie Dog Town. It's a pretty uncommon sight, and I'd highly recommend it to any animal lovers!
After that, you'll reach Pinnacles Overlook, a fantastic place to spot bison or bighorn sheep. Don't forget to bring binoculars, just in case!
Then there's Ancient Hunters Overlook, where the ancestors of the Lakota once butchered bison they had killed in their hunts. As you drive, you'll learn more about these hunters and their prey. Then you'll arrive at Yellow Mounds Overlook, which really outdoes its unappealing name by revealing millions of years of geologic history!
Homestead Overlook is up next. Here, you'll learn all about how the Homestead Acts transformed the Badlands and what they meant for the Lakota who were already living in the region. At Burns Basin, up next, you'll get a chance to see the site of one of those 20th-century homesteads once occupied by a sheep rancher.
You'll find something different at Prairie Winds Overlook, offering views not of rocky crags but instead of the lush, flowing prairie. Believe it or not, these prairies are in danger of disappearing in the near future, making this spot even more special.
Then there's Panorama Point. The name of this one is pretty self-explanatory, so go ahead and set your phone's camera to Panorama Mode for an incredible photo!
At Bigfoot Pass, next, you'll hear the tragic tale of the Wounded Knee Massacre, which took place not far from the Badlands. Then you'll learn how to spot a golden eagle, one of the Badlands' most majestic residents.
The Fossil Exhibit Trail is up next, and it's a must-see for anyone traveling with younger explorers. Here, you'll uncover the history behind the many, many fossils and prehistoric creatures of the Badlands with an easy walk full of informational signs.
After that, you'll come across Saddle Pass Trail, a short hike that's great for birdwatchers. If you need a break, the Ben Reifel Visitor Center is just beyond that trail. It even features a fossil lab for amateur paleontologists hungry for more knowledge!
You'll come to the Cliff Shelf Trail next. This unique trail takes hikers through a lush juniper forest to break up the harsh, rocky landscape. Then there is the trio of trails known as The Notch, The Castle, and The Door. Offering a variety of different lengths and difficulties, there's something for everyone here!
Finally, you'll arrive at Big Badlands Overlook. This one really earns its name and offers one of the best views in the entire park. Your tour concludes here.
Tour Starting Addresses:
From Wall: 1101 Glenn St in Wall
From Philip: 21290 SD-240, Philip
How does it work?
Once you book a tour, you'll get a text/email with instructions.
Download the app (while in good wifi/signal) and use your unique password to access your tours.
To begin touring, go to the starting point and launch the app.
The audio starts automatically once you reach the starting point. Stick to the tour route & speed limit for the best experience.
Please note that no one will meet you at the starting point.
What You'll See
Welcome

What's in a Name?

The Badlands Wall

Erosion

Hay Butte Overlook

Badlands Wilderness Overlook

Roberts Prairie Dog Town

Pinnacles Overlook

Ancient Hunters Overlook

Nomadland

Bison and Pronghorns

Yellow Mounds Overlook

Conata Basin Overlook

Homestead Overlook

Homesteaders and the Lakota

Burns Basin Overlook

Prehistoric Monsters

Prairie Wind Overlook

Panorama Point

Bigfoot Pass Overlook

White River Valley Overlook

Golden Eagles

Fossil Exhibit Trail

The Big Pig Dig

Clastic Dikes

Saddle Pass Trail

Shrinking Grassland

Ben Reifel Visitor Center

Cliff Shelf Trail

Notch/Castle/Door Trails

Wonderland National Park

Big Badlands Overlook
Preview the Tour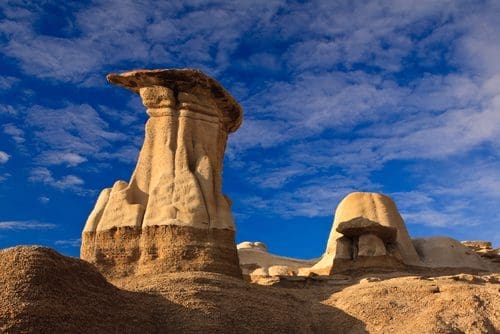 Erosion Audio Story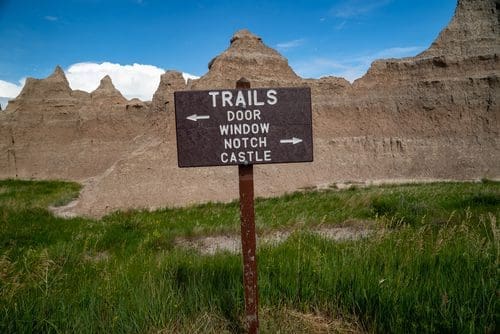 Door, Window, Notch and Castle Audio Story
Inclusions and Exclusions
Inclusions:
App on your phone: A link to download the Action Tour Guide App and Password for your tours.
Flexible schedule: Use any day, any time. Travel over multiple days or on next trip. Never expires.
Easy to use: Stories play automatically by GPS. Hands-free. Get HELP all day: Call, Chat, or Email.
At your own pace: No group. Take breaks for photos/ snacks/hikes. Go at your own pace.
Offline use: No cell signal or wifi required. Offline GPS Map & route. Stop-to-stop direction.
Don't miss a thing: Full itinerary, travel tips, professionally narrated videos, text, and hidden gems.
Exclusions:
Transportation, parking fees, food, and drinks.
Entry tickets or reservations to any attractions along the route.
Car Rental: Please arrange a rental car at the closest airport or train station.