Tour Details



Type


Walking



Duration


1 - 2 Hours



Audio Stories


20



Deep Dives


25
Welcome to the Reclining Buddha Bangkok Tour (Wat Pho Tour)
The walking tour inside this all in one app is highly entertaining, thoroughly researched, and prepared by local guides. It's a book, a guide, a map, and an audio-visual player – all wrapped up in one!
About the Tour
Welcome to the narrated, offline, self-guided walking tour of the Temple of the Reclining Buddha (Wat Pho) in Bangkok, Thailand! The Buddha measures 151 feet long making it the largest sleeping / reclining Buddha statue in Thailand. The complex also houses the most buddha statues in all of Thailand. Along with the famous reclining Buddha, Wat Pho features a whopping 394 Buddhas that can be found spread out between four different chapels on-site.
Be sure to download the Action Tour Guide app beforehand (check your email for the link) so that you can start walking as soon as you arrive at the gates. You'll immediately notice the architecture style is quite different from other temples. As you walk, you'll hear about what makes the temple special. 
The tour then leads you through the temple. Be sure to follow the route as you listen. You'll learn that Wat Pho was believed to be founded during the 16th century and was later served as The Royal Temple of King Rama I of the Chakri Dynasty. Among Thais, Wat Pho is also known as "the nation's first public university" thanks to 1,360 marble inscriptions about medical, historical, and liberal sciences places all around the temple where the people can read and learn anytime. 
We'll check out the marble inscriptions about medical sciences, anatomy, and orthopedics, which are the origins of Wat Pho Thai traditional massage principles, making Wat Pho a world-famous site. Our tour wraps up near where we began.
Starting Point Address: Reclining Buddha, Wat Pho, Khwaeng Phra Borom Maha Ratchawang, Khet Phra Nakhon, Krung Thep Maha Nakhon 10200, Thailand
What You'll See
Temple of the Reclining Buddha

Suan Misakawan

Phra Mondop

Phra Ubosot
Preview the Tour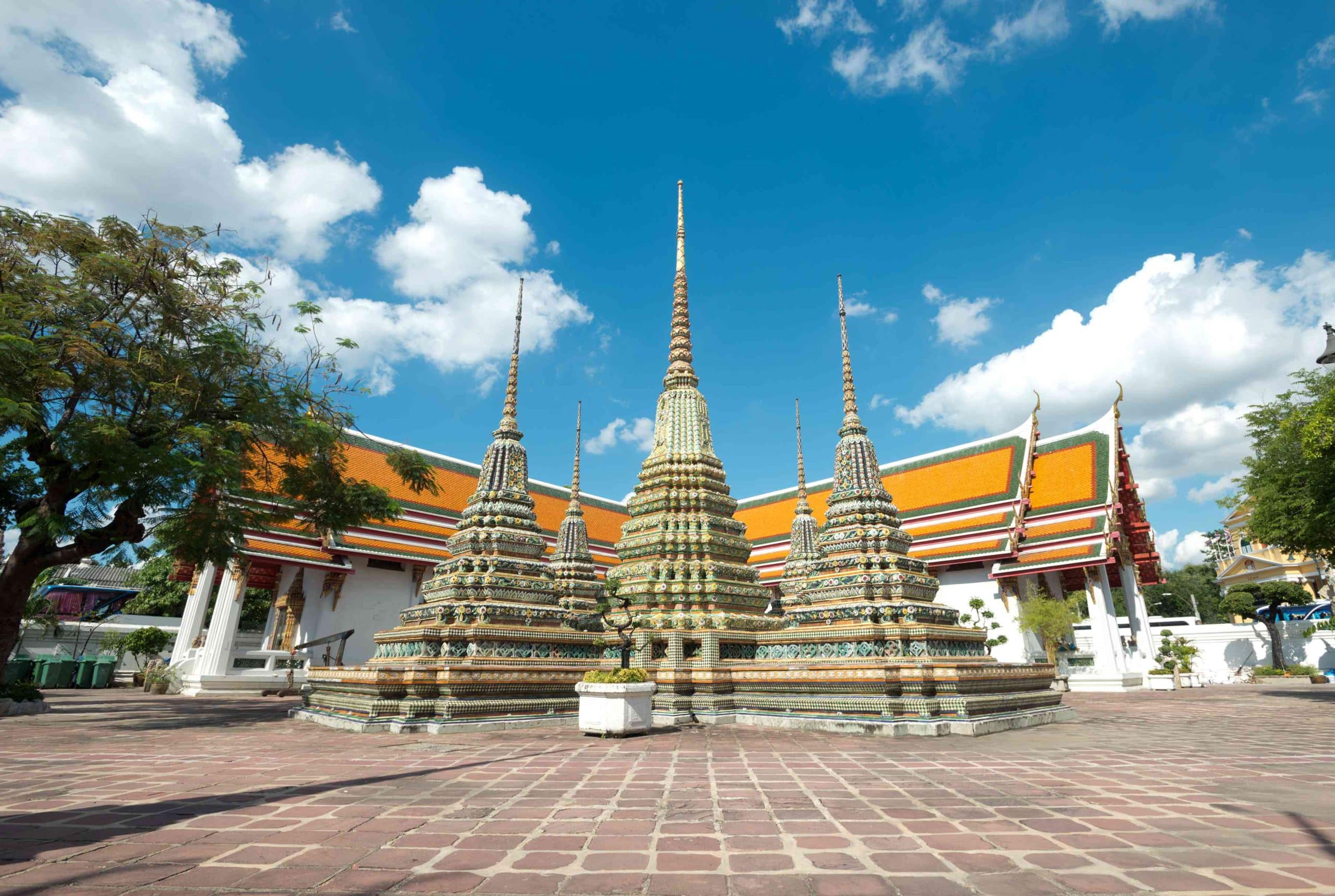 Stop 1 : Welcome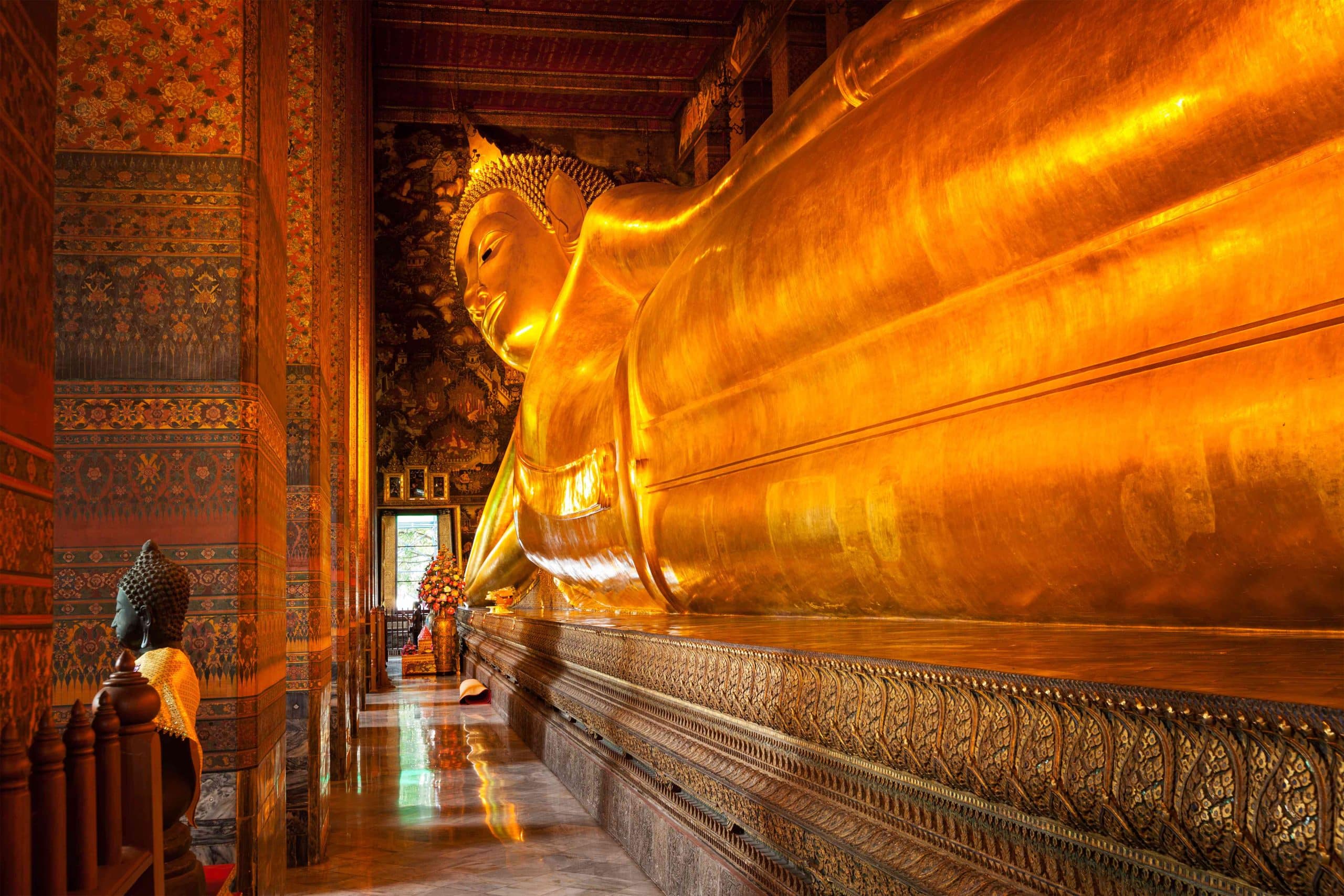 Stop 3 : Temple of the Reclining Buddha
Additional Information
What do we do?
Simply put, Action Tour Guide is an audio guide, map, and tour book – all in one app! We are a GPS-enabled app-based tour that narrates information based on your location right on your phone. You can experience our driving and walking tours at your own pace and literally at any time of the day! 
Lifetime Validity
​Changing travel date? No worries! All individual tours come with lifetime validity. 
No Network Needed
The tour works offline which means you do not need your phone network to enjoy the tour. However, we do suggest you download the tour at your home, hotel, visitor center, etc before you head out for a completely immersive experience.
Not an Entry Ticket
This is not an entry ticket.