Tour Details



Walking


1 - 2 Hours



Purchase QTY


One Per Person



Distance


0.1+ miles



Audio Stories


45



Self Guided


At Your Own Pace



Tour Benefit


Tour Anytime
Any Day



Works Offline


100%
Money-back
Guarantee
Welcome to the Reclining Buddha Bangkok Tour (Wat Pho Tour)
The walking tour inside this all in one app is highly entertaining, thoroughly researched, and prepared by local guides. It's a book, a guide, a map, and an audio-visual player – all wrapped up in one!
About the Tour
Welcome to the narrated, offline, self-guided walking tour of the Temple of the Reclining Buddha (Wat Pho) in Bangkok, Thailand! The Buddha measures 151 feet long making it the largest sleeping / reclining Buddha statue in Thailand. The complex also houses the most buddha statues in all of Thailand. Along with the famous reclining Buddha, Wat Pho features a whopping 394 Buddhas that can be found spread out between four different chapels on-site.
Be sure to download the Action Tour Guide app beforehand (check your email for the link) so that you can start walking as soon as you arrive at the gates. You'll immediately notice the architectural style is quite different from other temples. As you walk, you'll hear about what makes the temple special. 
The tour then leads you through the temple. Be sure to follow the route as you listen. You'll learn that Wat Pho was believed to be founded during the 16th century and was later served as The Royal Temple of King Rama I of the Chakri Dynasty. Thais call Wat Pho as "the nation's first public university". Over 1,360 marble inscriptions about liberal, historical and medical sciences adorn the temple, enabling people to learn anytime.
As you walk, you will come across these marble inscriptions, which are the origins of Wat Pho Thai traditional massage principles, making Wat Pho a world-famous site. Our tour wraps up near where we began.
Starting Point Address: Reclining Buddha, Wat Pho, Khwaeng Phra Borom Maha Ratchawang, Khet Phra Nakhon, Krung Thep Maha Nakhon 10200, Thailand
How does it work?
Once you book a tour, you'll get a text/email with instructions.
Download the app (while in good wifi/signal) and use your unique password to access your tours.
To begin touring, go to the starting point and launch the app.
The audio starts automatically once you reach the starting point. Stick to the tour route & speed limit for the best experience.
Please note that no one will meet you at the starting point.
What You'll See
Temple of the Reclining Buddha

Suan Misakawan

The Giants of Wat Pho

Phra Mondop

Sala Karnparien

Belfry

Royal Chedi

West Entrance

Phra Rabiang

Phra Prang

South Entrance

Phra Ubosot

East Entrance

Rock Gardens

L-shaped Viharn

North Entrance
Preview the Tour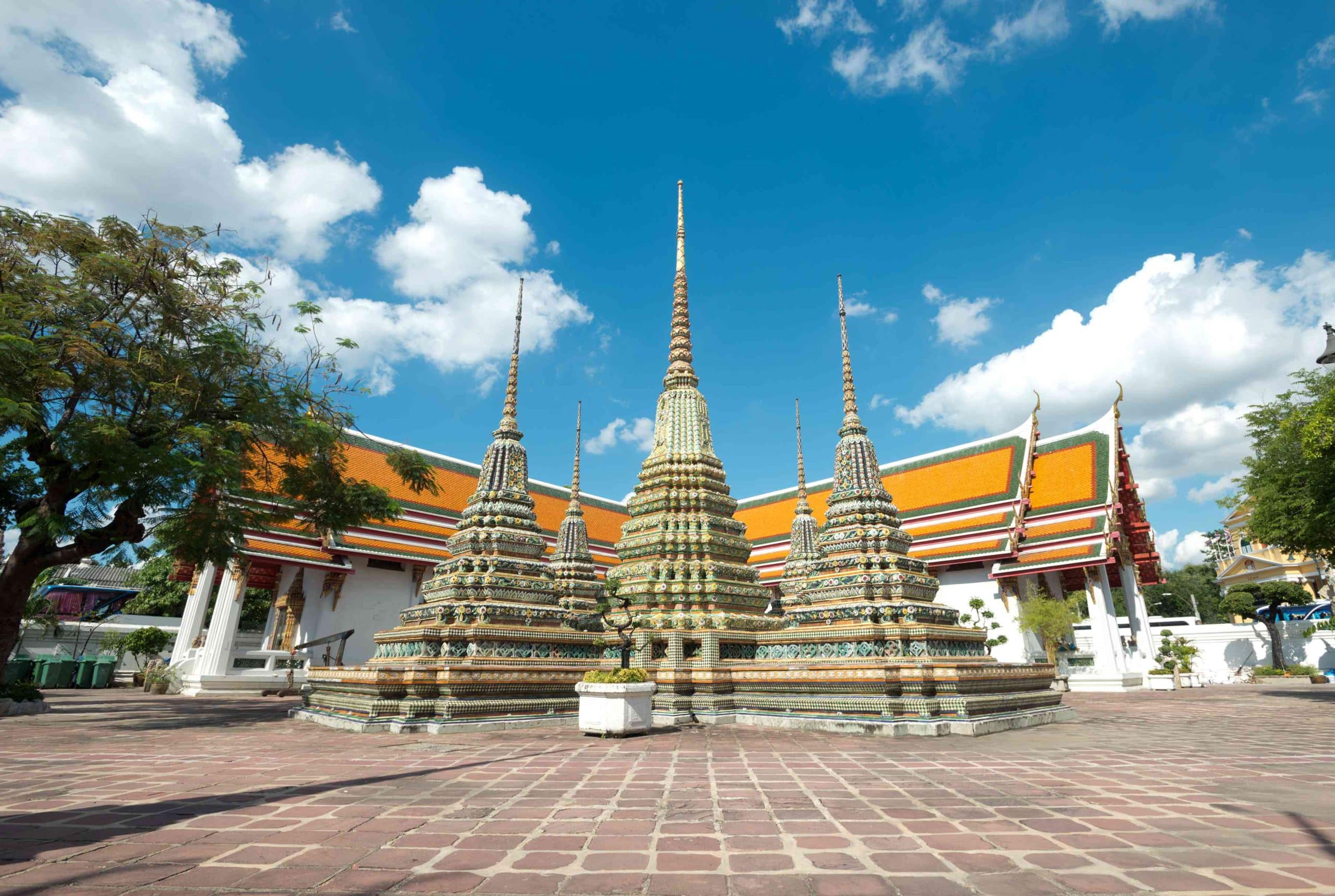 Welcome Audio Story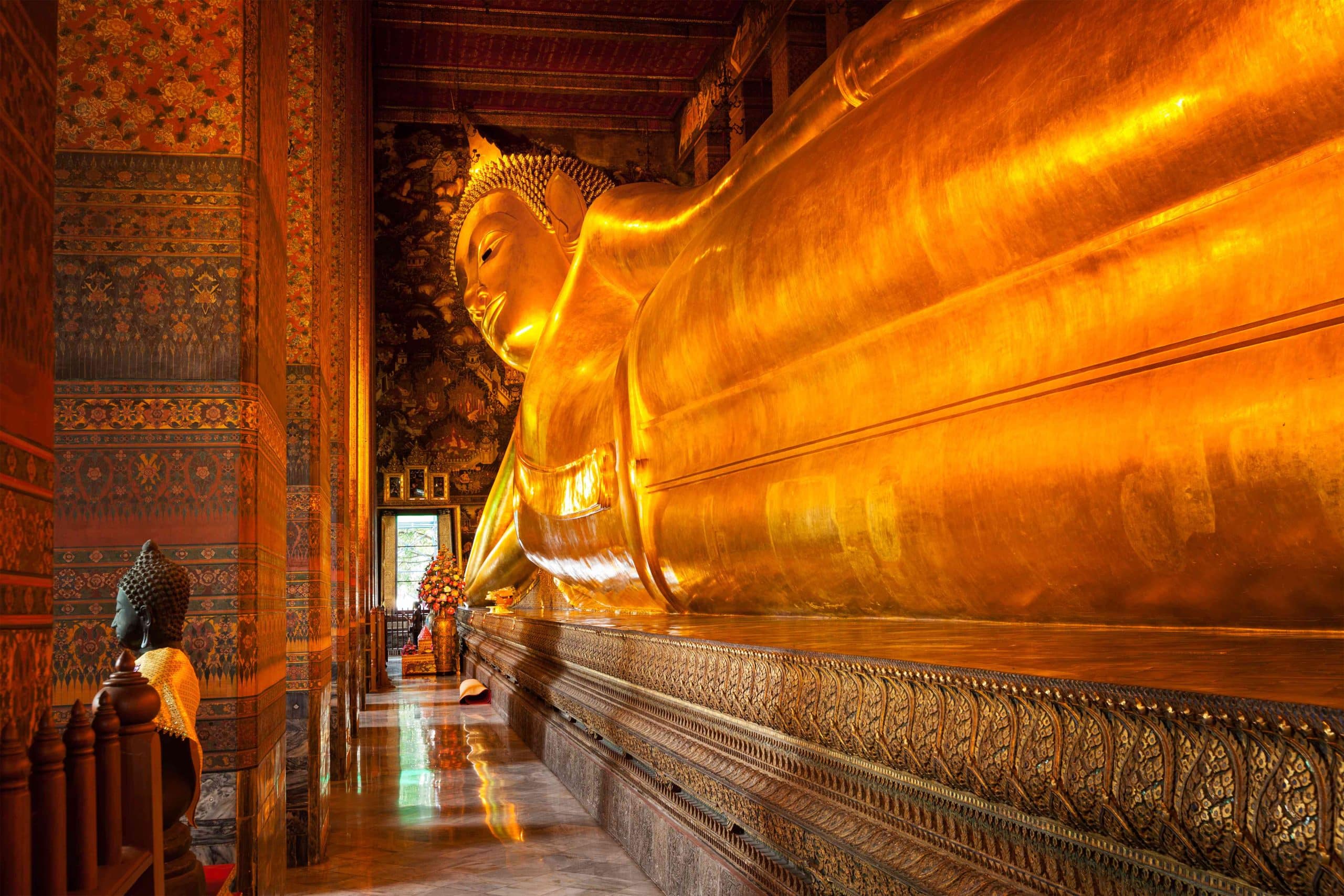 Temple of the Reclining Buddha Audio Story
Tour FAQs
The best time to visit Wat Pho is in the morning to avoid the heat and crowds.
The duration of the self-guided tour at Wat Pho can vary, but most visitors spend around 1.5 to 2 hours exploring the temple complex.
Yes, there is an entrance fee for Wat Pho. Visitors should check the current admission fees before their tour.
While this is a self-guided tour, guided tours with local experts are also available for visitors who prefer in-depth insights into the temple.
Yes, visitors are typically allowed to take photographs of the temple's stunning architecture, including the Reclining Buddha.
Yes, visitors should dress modestly when entering temples in Thailand, covering shoulders, knees, and cleavage.
Some of the must-see highlights include the Reclining Buddha, the various Buddha statues, and the historical inscriptions.
Visitors are generally not allowed to touch or approach the Reclining Buddha closely but can view it from a designated area.
The marble inscriptions at Wat Pho contain traditional Thai massage principles, making Wat Pho renowned for its traditional Thai massage practices.
Visitors should show respect for the religious site by removing their shoes before entering temple buildings and by speaking quietly and respectfully while on the premises.
Inclusions and Exclusions
Inclusions:
App on your phone: A link to download the Action Tour Guide App and Password for your tours.
Flexible schedule: Use any day, any time. Travel over multiple days or on next trip. Never expires.
Easy to use: Stories play automatically by GPS. Hands-free. Get HELP all day: Call, Chat, or Email.
At your own pace: No group. Take breaks for photos/ snacks/hikes. Go at your own pace.
Offline use: No cell signal or wifi required. Offline GPS Map & route. Stop-to-stop direction.
Don't miss a thing: Full itinerary, travel tips, professionally narrated videos, text, and hidden gems.
Exclusions:
Transportation, parking fees, food, and drinks.
Entry tickets or reservations to any attractions along the route.
Car Rental: Please arrange a rental car at the closest airport or train station.