Tour Details



Walking


1 - 2 Hours



Purchase QTY


One Per Person



Distance


2+ miles



Audio Stories


41+



Self Guided


At Your Own Pace



Tour Benefit


Tour Anytime
Any Day



Works Offline


100%
Money-back
Guarantee
Live Weather Update
8:25 AM, December 4, 2022
23°F
Sunrise: 7:01 am
Sunset: 4:20 pm
Welcome to the Chicago Walking Tour
Welcome to Chicago's scenic Riverwalk. It spans from Lake Michigan west to Franklin Street. Called the city's 'Second Lakefront,' the Riverwalk contains restaurants during the summer months, relaxing seating areas, boat rentals, and theater-style seating for various performances. Other attractions on the Chicago Walking Tour include the Vietnam Veterans Memorial Plaza and the McCormick Bridgehouse & Chicago River Museum and if you are lucky enough, see a bridge lift from inside the bridge house.
About the Tour
Your tour begins with the historic DuSable Bridge. Here, you'll learn about this picturesque bridge (built on the site of a pitched battle between America and Great Britain in 1812) and the iconic terra cotta Wrigley Building.
From there, you'll head west, past Wabash Bridge, once voted America's Most Beautiful Bridge. You'll want to snap a photo or two here! After that, you'll arrive at the Chicago Vietnam Veterans Memorial, a moving tribute to the soldiers who lost their lives during the Vietnam War.
It'll be hard to miss the next stop–the 600-foot-tall Marina Towers. Learn how these towers function as a "city within a city," then continue to the Dearborn Street Bridge, where an angry mob once gathered with axes! Hear the full story of why they were so unhappy with the bridge's predecessor, then continue your stroll.
As you walk, you'll hear the tale of one of the strangest and deadliest shipwrecks in American history, which happened right on the Chicago River. How does a devastating shipwreck happen on a river only 20 feet deep? Well, a lot more easily than you'd think!
Continuing toward the Merchandise Mart, a gorgeous example of the art deco style popular in the 1920s and '30s, you'll learn the surprising history of the Chicago River and how it helped this city go from a small settlement to a bustling hub of culture and commerce.
Next, you'll arrive at Wolf Point, where Chicago's very first hotel stood almost 200 years ago. Dig into the era when this place was little more than a wild frontier, then head back the way you came for the final section of the tour.
Your next stop on the Chicago walking tour will be the Tribune Tower, the new home of the Chicago Tribune. But this skyscraper isn't just about reporting the news–it also contains pieces of historic buildings from across the world, including the Notre Dame Cathedral and the Berlin Wall!
Up next, you might think you've taken a wrong turn and ended up in New York City because you'll come face to face with NBC's Chicago headquarters, which were modeled after the famous skyscraper at 30 Rockefeller Center.
Finally, you'll arrive at the last bridge separating the Chicago River from Lake Michigan. It's a perfect place to take in the soothing scenery and an even better place to snap a few photos for your Instagram. The tour concludes here.
Starting Point Address: 65 Chicago Riverwalk, Chicago
What You'll See
Wrigley Building and Hotel Intercontinental

Michigan Avenue Bridge

Trump Building

Vietnam Veterans Memorial

Marina City Towers

Dearborn Street Bridge

Reid Murdoch Building

Merchandise Mart

McCormick Bridgehouse and Museum

Tribune Tower

Columbus Drive Bridge

NBC Tower
Preview the Tour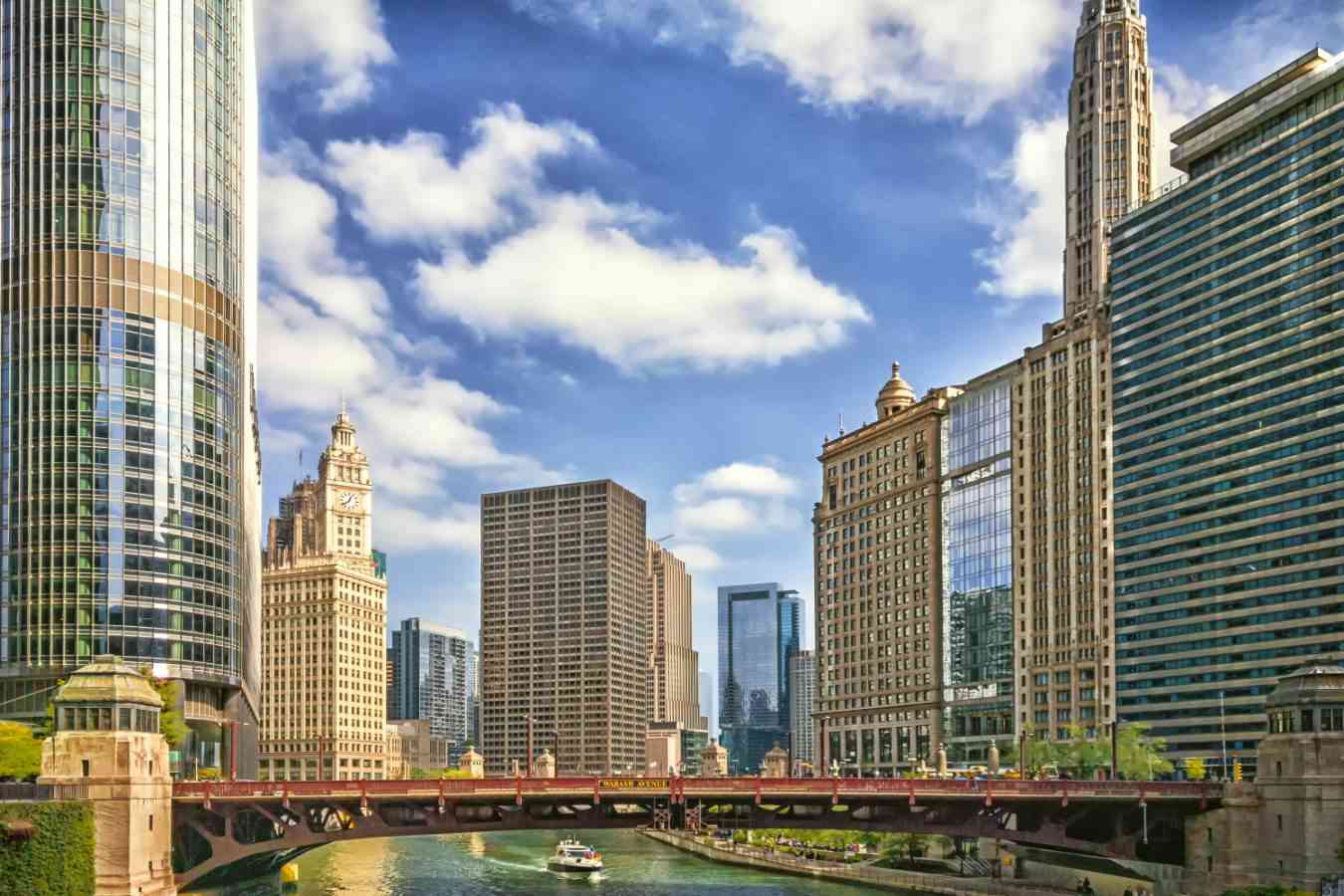 Stop 1 : Welcome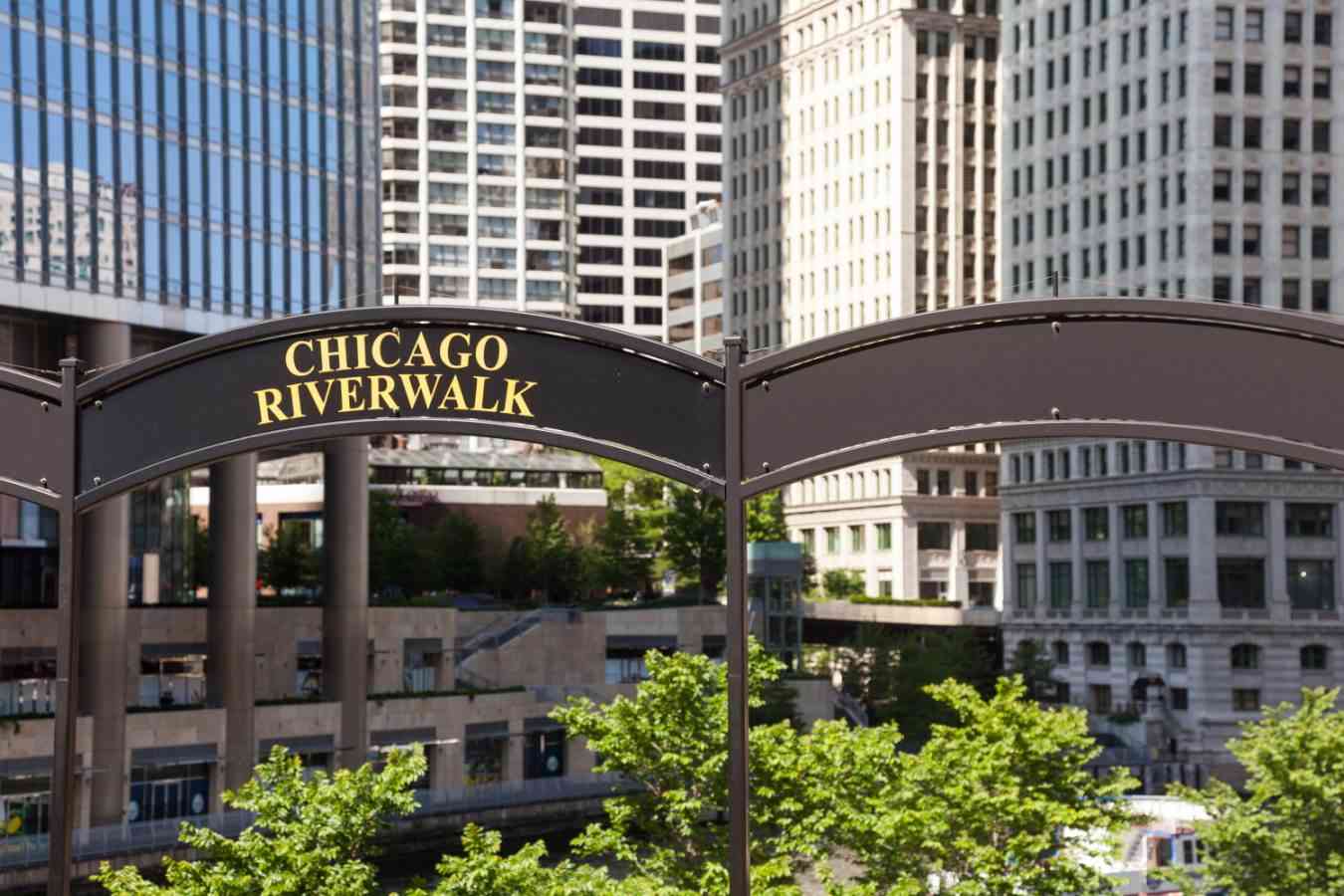 Stop 2 : Wrigley Building and Hotel Intercontinental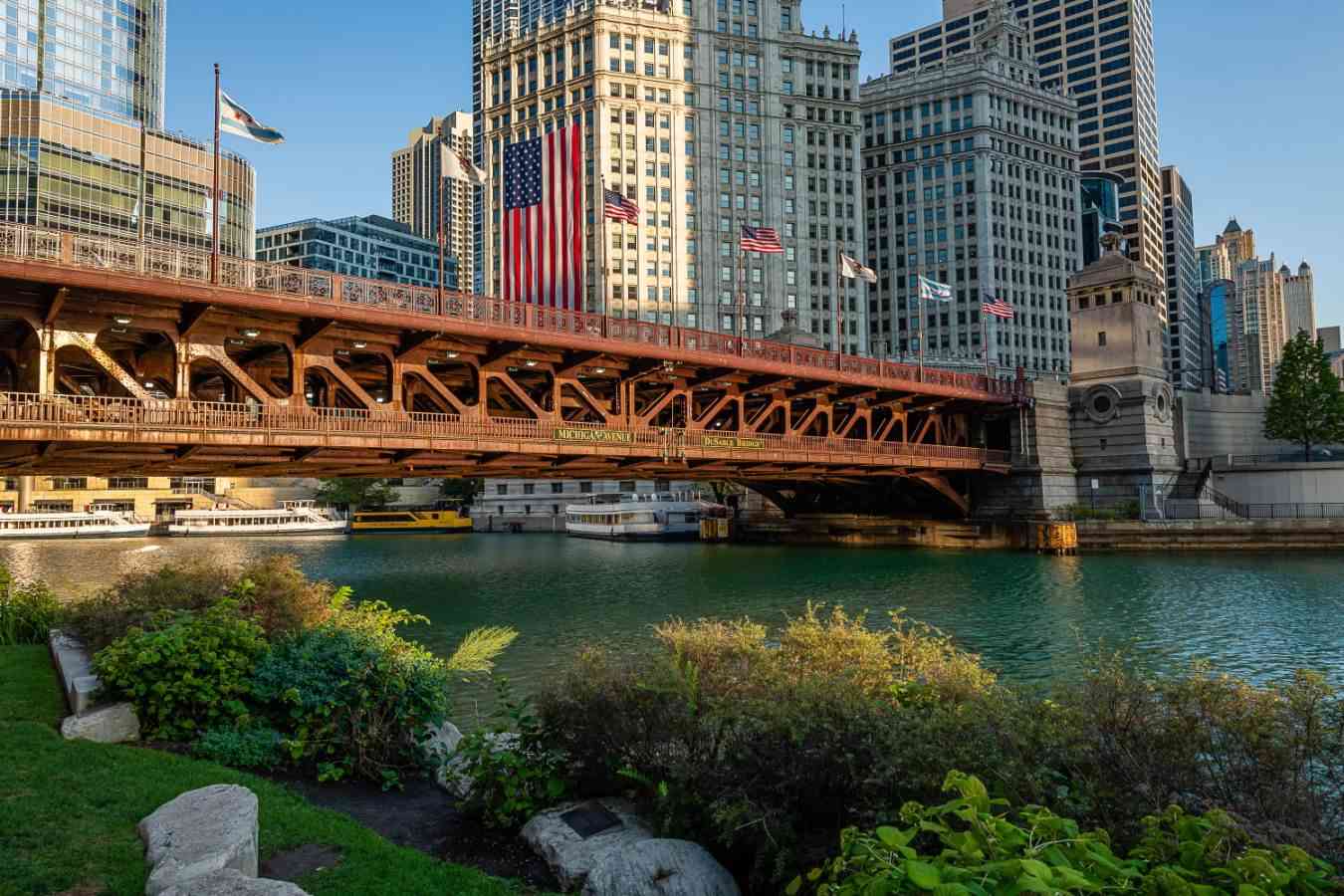 Stop 3 : Michigan Avenue Bridge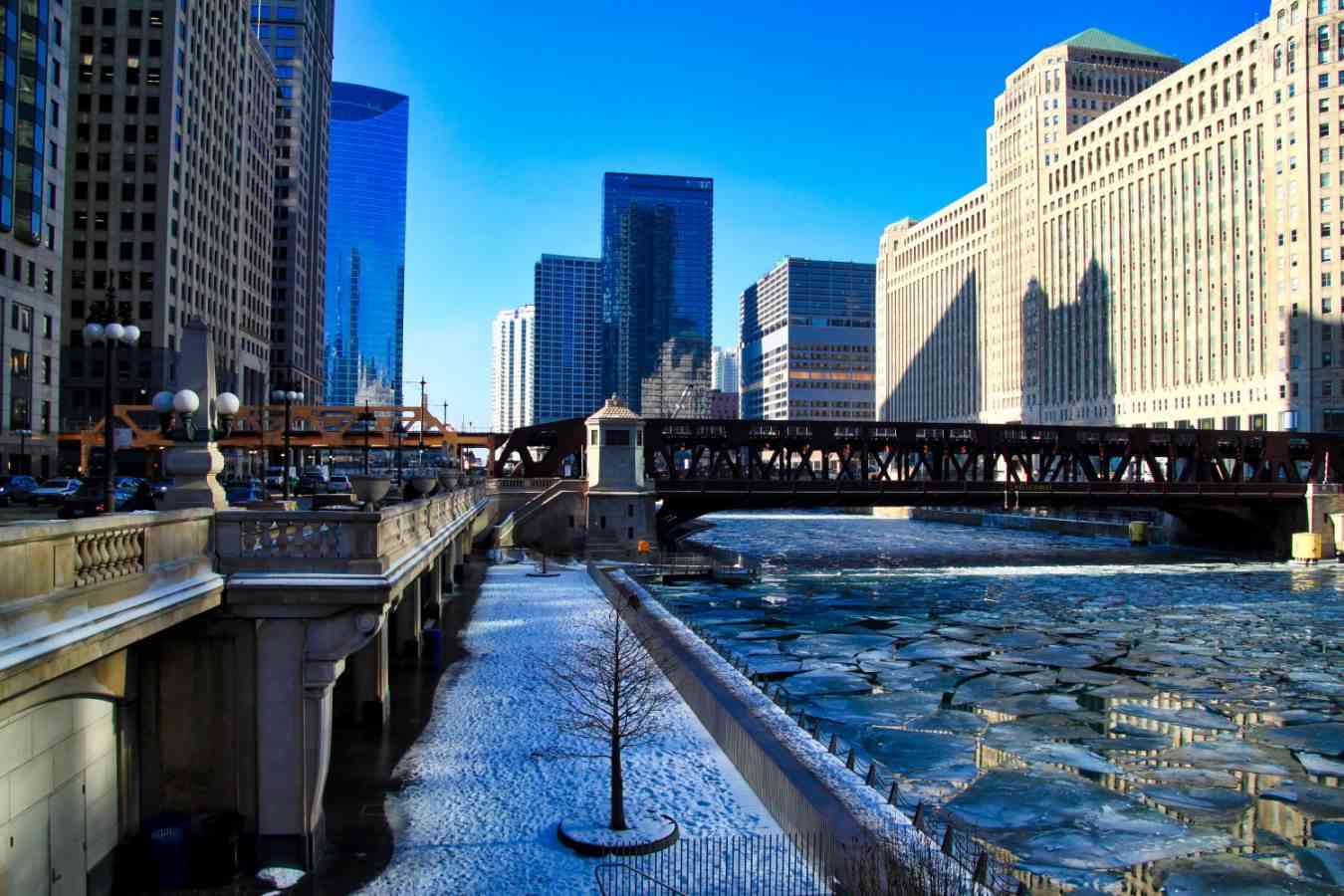 Stop 13 : Merchandise Mart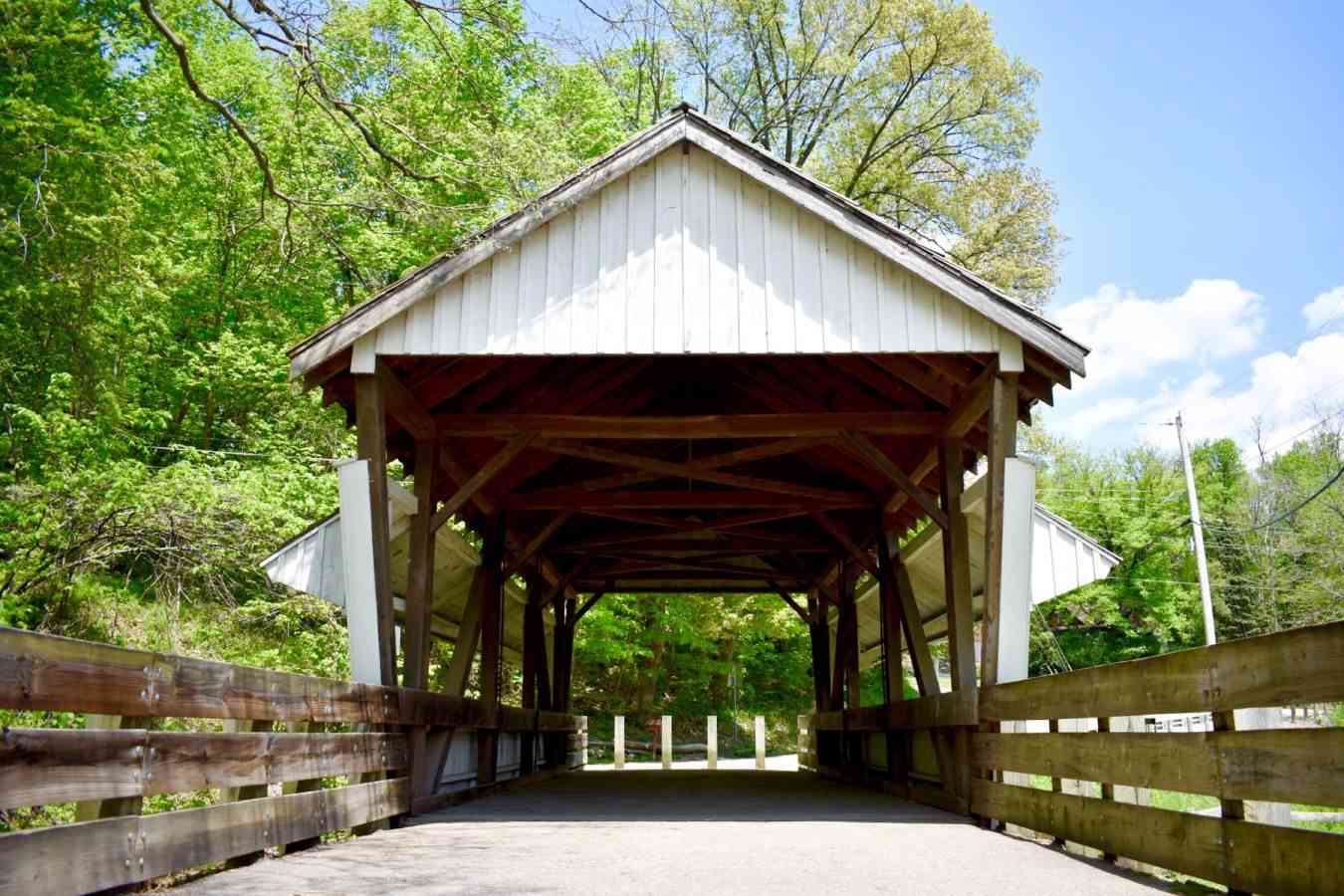 Stop 17 : Columbus Drive Bridge/Dorsey
Additional Information
What do we do?
Simply put, Action Tour Guide is an audio guide, map, and tour book – all in one app! We are a GPS-enabled app-based tour that narrates information based on your location right on your phone. You can experience our driving and walking tours at your own pace and literally at any time of the day! 
Lifetime Validity
​Changing travel date? No worries! All individual tours come with lifetime validity. 
No Network Needed
The tour works offline which means you do not need your phone network to enjoy the tour. However, we do suggest you download the tour at your home, hotel, visitor center, etc before you head out for a completely immersive experience.