Tour Details



Walking


1 - 2 Hours



Purchase QTY


One Per Person



Distance


1.2 miles



Audio Stories


18+



Self Guided


At Your Own Pace



Tour Benefit


Tour Anytime
Any Day



Works Offline


100%
Money-back
Guarantee
Welcome to the Mount Rushmore Tour
See one of America's most iconic landmarks up close and delve deep into its complicated history! You've seen Mount Rushmore in photos, but seeing it in person is something else entirely. This towering monument to America's past is truly incredible to behold. But you won't just be looking—with this self-guided audio tour, and you'll also learn about this enormous sculpture. Find out who built it, how they built it, and much more as you walk the Presidential Trail.
About the Tour
Your Mount Rushmore tour begins at the Mount Rushmore Information Center, right next to the monument's parking lot. From here, you'll walk toward the mountain itself. Along the way, you'll stop at a memorial to Gutzon Borglum, the sculptor behind this incredible feat, and learn about his unusual history.
Then you'll walk down the Avenue of Flags, draped with the flags of US states and territories. After that, you'll arrive at the main viewing platform, where you'll have a perfectly clear view of Mount Rushmore. Here, you'll discover how this unlikely project got off the ground in the first place.
Next, you'll head to a second, less-crowded viewing platform, where you'll hear how workers actually carved this rugged mountain into the presidential faces you see today.
As you continue toward the Sculptor's Studio, you'll get the full story behind the sculptor's battles with the Park Service, as well as his plans for a hidden room on top of the mountain! You'll then arrive at the studio, where you can see a plaster model of the monument's original design and learn more about Borglum himself.
After that, you'll walk along the Presidential Trail, a short boardwalk through the lush forest which offers even more views of Mount Rushmore from different angles. As you walk, you'll hear about another side of the Mount Rushmore story, this time from the perspective of the Lakota who lived here long before any settlers arrived.
Finally, you'll loop back around toward the main viewing platform and hear about the controversy which swirled around Alfred Hitchcock's filming of North by Northwest at this monument. Your tour ends at the conclusion of the Presidential Trail, steps away from the main viewing platform.
Starting Address:
From Mount Rushmore Information Center: Mt Rushmore Information, 13036 SD-244, Keystone, SD 57751
How does it work?
Once you book a tour, you'll get a text/email with instructions.
Download the app (while in good wifi/signal) and use your unique password to access your tours.
To begin touring, go to the starting point and launch the app.
The audio starts automatically once you reach the starting point. Stick to the tour route & speed limit for the best experience.
Please note that no one will meet you at the starting point.
What You'll See
Welcome

Gutzon Borglum

Avenue of Flags

Why These Four Faces?

Launching the Project

How Did They Carve It?

Creative Differences

The Hall of Records

Sculptor's Studio

Presidential Trail

The Six Grandfathers

Ongoing Controversy

North by Northwest

Preservation

A Fifth Face?
Preview the Tour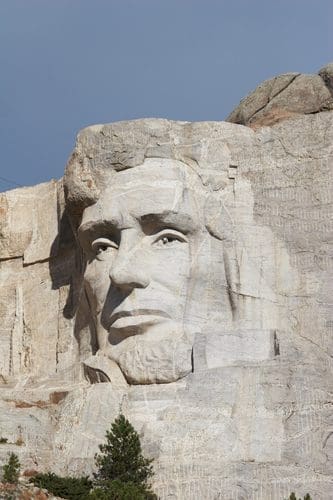 Sculptors Studio Audio Story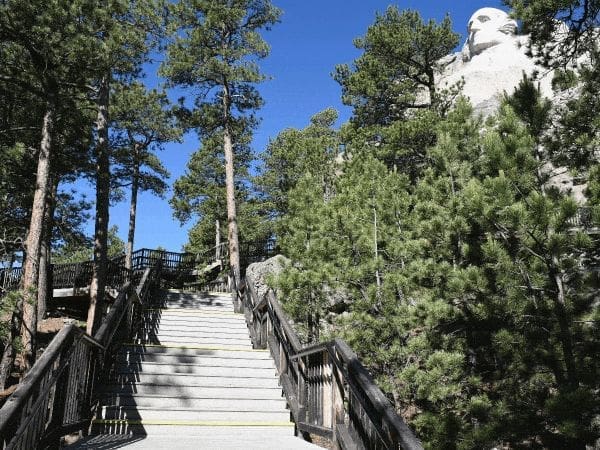 Presidential Trail Audio Story
Inclusions and Exclusions
Inclusions:
App on your phone: A link to download the Action Tour Guide App and Password for your tours.
Flexible schedule: Use any day, any time. Travel over multiple days or on next trip. Never expires.
Easy to use: Stories play automatically by GPS. Hands-free. Get HELP all day: Call, Chat, or Email.
At your own pace: No group. Take breaks for photos/ snacks/hikes. Go at your own pace.
Offline use: No cell signal or wifi required. Offline GPS Map & route. Stop-to-stop direction.
Don't miss a thing: Full itinerary, travel tips, professionally narrated videos, text, and hidden gems.
Exclusions:
Transportation, parking fees, food, and drinks.
Entry tickets or reservations to any attractions along the route.
Car Rental: Please arrange a rental car at the closest airport or train station.