Tour Details



Walking


1 - 2 Hours



Purchase QTY


One Per Person



Distance


3+ miles



Audio Stories


65+



Self Guided


At Your Own Pace



Tour Benefit


Tour Anytime
Any Day



Works Offline


100%
Money-back
Guarantee
Welcome to the Newport Walking Tour
Newport's Cliff Walk features the raw, untamed, crashing waves of the Atlantic to one side and lavish, man-made Gilded Age mansions to the other. This juxtaposition creates one of the most beautiful scenic walks in the world. Get the most out of this self-guided Newport tour, which dives into the Gilded Age. Experience the Newport RI mansion tour and the stories behind the Vanderbilts, Astors, and other American millionaires behind mansions like The Breakers, Marble House, Rosecliff, and others.
About the Tour
Embark on a scenic cliff walk along a 3.5-mile trail along the eastern shore of Newport, Rhode Island. Use your audio guide, which has been created by local guides, curated by creative writers, and narrated by professional voice artists.
Begin the tour at Easton's Beach. As you walk down the path, see Gilded Age mansions representing an era of lavish wealth and unbridled excess. Hear the stories of the Vanderbilts, Astors, and other American millionaires behind mansions like The Breakers, Marble House, Rosecliff, and others.
After the walk at 40 Steps, continue to the Ochre Court. Discover the second-largest of Newport's famous mansions, built for banker and real estate mogul Ogden Goelet. Finally, end the tour with scenic views at Bailey's Beach.
Starting Point Address: Easton's Beach, 117 Memorial Blvd, Newport, RI 02840
How does it work?
Once you book a tour, you'll get a text/email with instructions.
Download the app (while in good wifi/signal) and use your unique password to access your tours.
To begin touring, go to the starting point and launch the app.
The audio starts automatically once you reach the starting point. Stick to the tour route & speed limit for the best experience.
Please note that no one will meet you at the starting point.
What You'll See
Welcome

Forty Steps

Ochre Court

Vinland Estate

The Breakers

Rosecliff

Beechwood

Marble House

Rough Point

Land's End

Bailey's Beach
Preview the Tour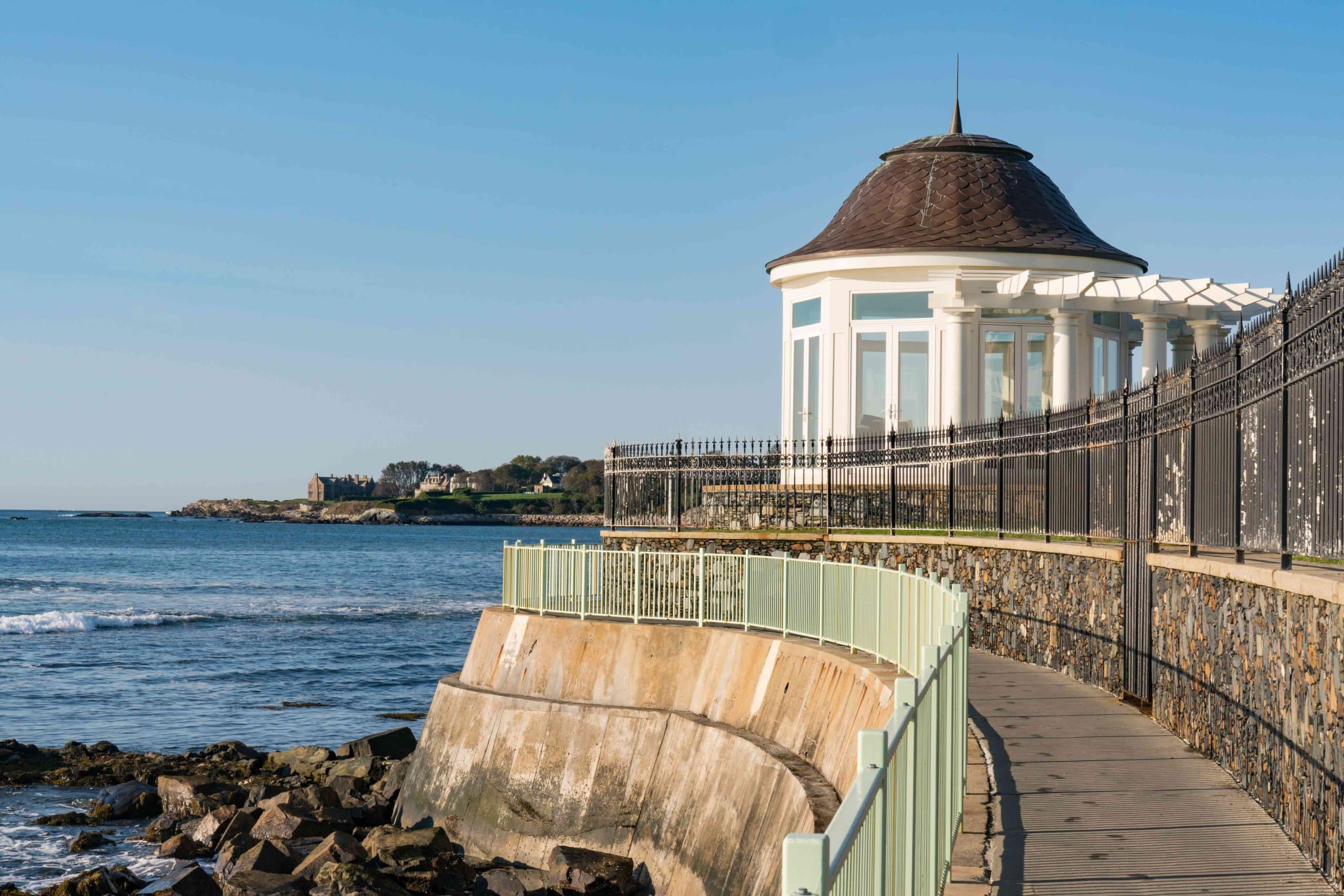 Welcome Audio Story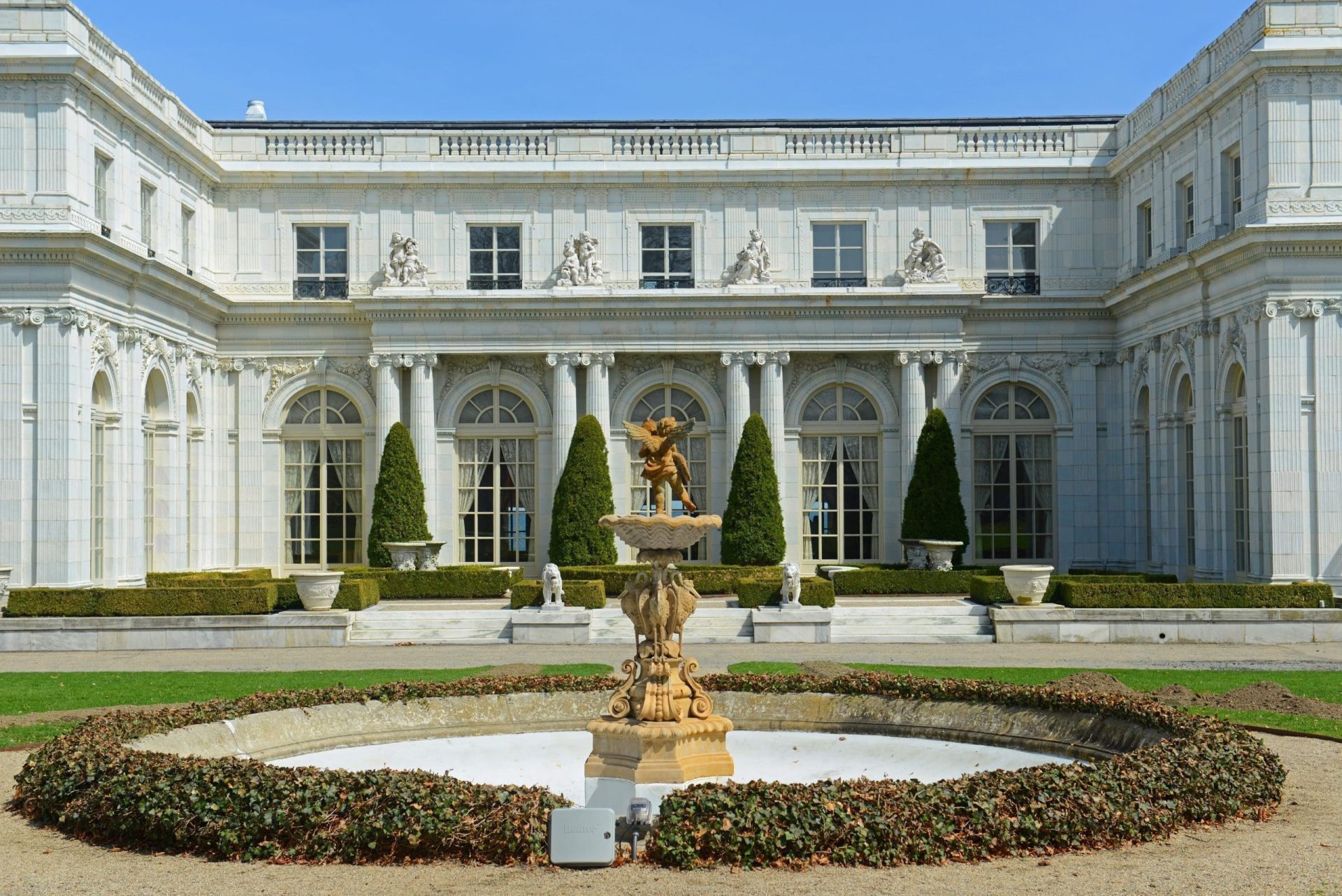 Rosecliff Audio Story
Tour FAQs
The Newport Cliff Walk is a free, scenic stroll alongside Newport's oceanside bluffs. It features gorgeous ocean views on one side and the famous Newport Mansions on the other.
The Newport Cliff Walk is open from sunrise to sunset. This is for the safety of visitors, as it's not a good idea to walk along the cliffs after dark.
There really isn't a bad time to visit the Cliff Walk, but late spring and early fall tend to be less crowded than summer and are still pleasantly warm. If you don't mind running into a few other travelers, summer is the most popular season to visit.
The city of Newport itself is packed with things to do. From shops to restaurants and bars to whale watches departing from the harbor, you could spend a whole day there and still not run out of things to do!
The Newport Cliff Walk is a very easy walk. The first two-thirds of a mile are also paved, making them accessible for wheelchairs and strollers.
Newport, Rhode Island rose to prominence during the Gilded Age as one of the most sought-after getaways for New York's well-to-do. Families like the Vanderbilts and the Astors built lavish mansions here which still stand tall today!
Marble House was home to William and Alva Vanderbilt. William actually gave the extravagant mansion to Alva as a birthday gift!
Beechwood was home to Caroline Astor (who insisted she be called "The Mrs. Astor"), a wealthy Gilded Age socialite. Caroline became famous for the parties she threw in Beechwood's ballroom, which had a capacity of 400. This led to the creation of the highly controversial "400 List" dictating who was and was not invited to these exclusive balls.
Many of Newport's beaches are open to the public, but almost all charge a fee for parking. Be prepared to pay between $10-25 for beach parking.
The main attractions along the Cliff Walk are undoubtedly the Gilded Age mansions which line the path. These extravagant estates are every bit as beautiful as the ocean they overlook.
Most people park on Memorial Boulevard at Easton's Beach or at the end of Narragansett Avenue. If you're willing to walk a little farther, however, you can also find parking within the adjacent neighborhoods.
Inclusions and Exclusions
Inclusions:
App on your phone: A link to download the Action Tour Guide App and Password for your tours.
Flexible schedule: Use any day, any time. Travel over multiple days or on next trip. Never expires.
Easy to use: Stories play automatically by GPS. Hands-free. Get HELP all day: Call, Chat, or Email.
At your own pace: No group. Take breaks for photos/ snacks/hikes. Go at your own pace.
Offline use: No cell signal or wifi required. Offline GPS Map & route. Stop-to-stop direction.
Don't miss a thing: Full itinerary, travel tips, professionally narrated videos, text, and hidden gems.
Exclusions:
Transportation, parking fees, food, and drinks.
Entry tickets or reservations to any attractions along the route.
Car Rental: Please arrange a rental car at the closest airport or train station.