Tour Details



Type


Driving



Duration


3 - 5 Hours



Audio Stories


116



Deep Dives


43
Welcome to the Yellowstone Self-Guided Tour
Experience the raw power and beauty of nature on the Yellowstone self-guided tour. This enormous volcanic caldera has captured the American imagination for decades thanks to its explosive geysers, prismatic hot springs, and astonishing waterfalls. Home to some of the only wild bison and wolves on the continent, this park can't be missed.
About the Tour
Your adventure through Yellowstone begins at one of the five entrances and follows the Grand Loop around the entire park. Here are some significant points of interest, along with that massive figure eight.
Journey through the West Thumb, one of the largest geyser basins in the park. Marvel at the jets of boiling water bursting from the Earth and hear the geological science behind this phenomenon. Peer deep into the Abyss Pool–if you dare–and listen to accounts of how fishermen used to cook their catch in the Fisherman's Cone! Then, we'll turn your eyes to the sky and tell you everything you need to know about birdwatching in Yellowstone.
As you drive past Shoshone Lake, one of the park's best-kept secrets, we'll fill you in on Sacagawea's connection to the park and give you the real story you probably haven't heard. Then it's on to the world-famous Old Faithful, where you're guaranteed to see a spectacular show. We'll also take you to all the other geysers in the area, which are every bit as impressive as their famous cousin.
After that, try not to let your jaw drop too low when you see Grand Prismatic, the largest hot spring in the United States and the most colorful. We'll give you a glimpse into the microscopic life which thrives in the extreme heat and explain how they brew beer and help solve crimes. No, really!
Next, we'll stop by the Fountain Paint Pot, the most colorful mud field you'll ever see, and reveal the secrets of Yellowstone's "Zone of Death." Then it's on to the tremendous Gibbon Falls and the Norris Geyser Basin, Yellowstone's hottest basin. At this point on the Yellowstone self-guided tour, we'll hear about how this place offers a window into the earliest life on Earth and the men who first charted this fascinating land.
Gaze up at Electric Peak next as we recount the harrowing tale of how it got its name. Cross Yellowstone's very own Golden Gate Bridge to reach the Mammoth Hot Springs, the most accessible place to spot a herd of elk. As you continue toward a pair of staggering waterfalls, we'll put your mind at ease about the still-active super-volcano directly beneath you and let you enjoy the views.
Check out a tree so old it's turned entirely to stone, then hear about President Theodore Roosevelt's eventful trip to Yellowstone. If you've come to see wildlife, Lamar Valley is one of your best bets. We'll point you to a place where you can spot elk, bison, and maybe even grizzlies or wolves!
Further, on the Yellowstone National Park self-guided tour, crest the summit of Dunraven Pass 9,000 feet above sea level, and you'll be rewarded with staggering views of the park. Then, visit Yellowstone's Grand Canyon–as long as you don't have a fear of heights, that is! Finally, relax by the shores of the enormous Yellowstone Lake and watch for moose who come to drink from its waters.
Yellowstone has all this and more within a single park, but you have to see it to understand how awe-inspiring this landscape can be. A Yellowstone self-guided tour is the best way to experience the national park!
Update: June 22nd – South Loop Open
The south loop will reopen to the public on Wednesday, June 22, using an Alternating License Plate System (ALPS). Read more here.
Starting Point Addresses:
South Entrance: S Entrance Rd, Moran, WY 83013
West Entrance: 30 Yellowstone Ave, West Yellowstone, MT 59758
North Entrance (closed until further notice): N Entrance Rd, Gardiner, MT 59030
East Entrance: E Entrance Rd, Wyoming
Blue Routes will open from June 22nd
What You'll See
Welcome: South Entrance (Jackson)

Grant Village & Visitor Center

West Thumb

Abyss Pool

Fisherman's Cone: William Trumbull

Shoshone Lake & DeLacy Creek Trail

Shoshone Lake Overlook

Isa Lake & Continental Divide

Old Faithful

Castle Geyser

Grand Geyser

Beehive

Morning Glory

Fairy Falls & Grand Prismatic

Firehole River

Grand Prismatic Parking Lot

Firehole Lake Drive and the Great Fountain

Fountain Paint Pot

Welcome: West Entrance Visitor Information Center

Madison

Gibbon River

Gibbon Falls

Artist's Paint Pots

Norris Geyser Basin

Electric Peak

Swan Lake Flats

Bunsen Peak and Sheepeater Cliffs

Golden Gate Bridge

Mammoth Hot Springs

Welcome: North Entrance (Roosevelt Arch)

Boiling River

Albright Visitor Center

Undine Falls

Wraith Falls

Petrified Tree

Lost Lake

Roosevelt Lodge at Tower Junction

Lamar Valley

Welcome: Northeast Entrance (Cooke City)

"Devil's Den"

Dunraven Pass and Mt Washburn

Yellowstone River

Canyon Village

Grand Canyon of Yellowstone

North Rim of Grand Canyon

Inspiration Point

South Rim of Grand Canyon

Hayden Valley

Welcome: East Entrance (Cody)

Fishing Bridge Visitor Center

Fishing Bridge

Yellowstone Lake
Preview the Tour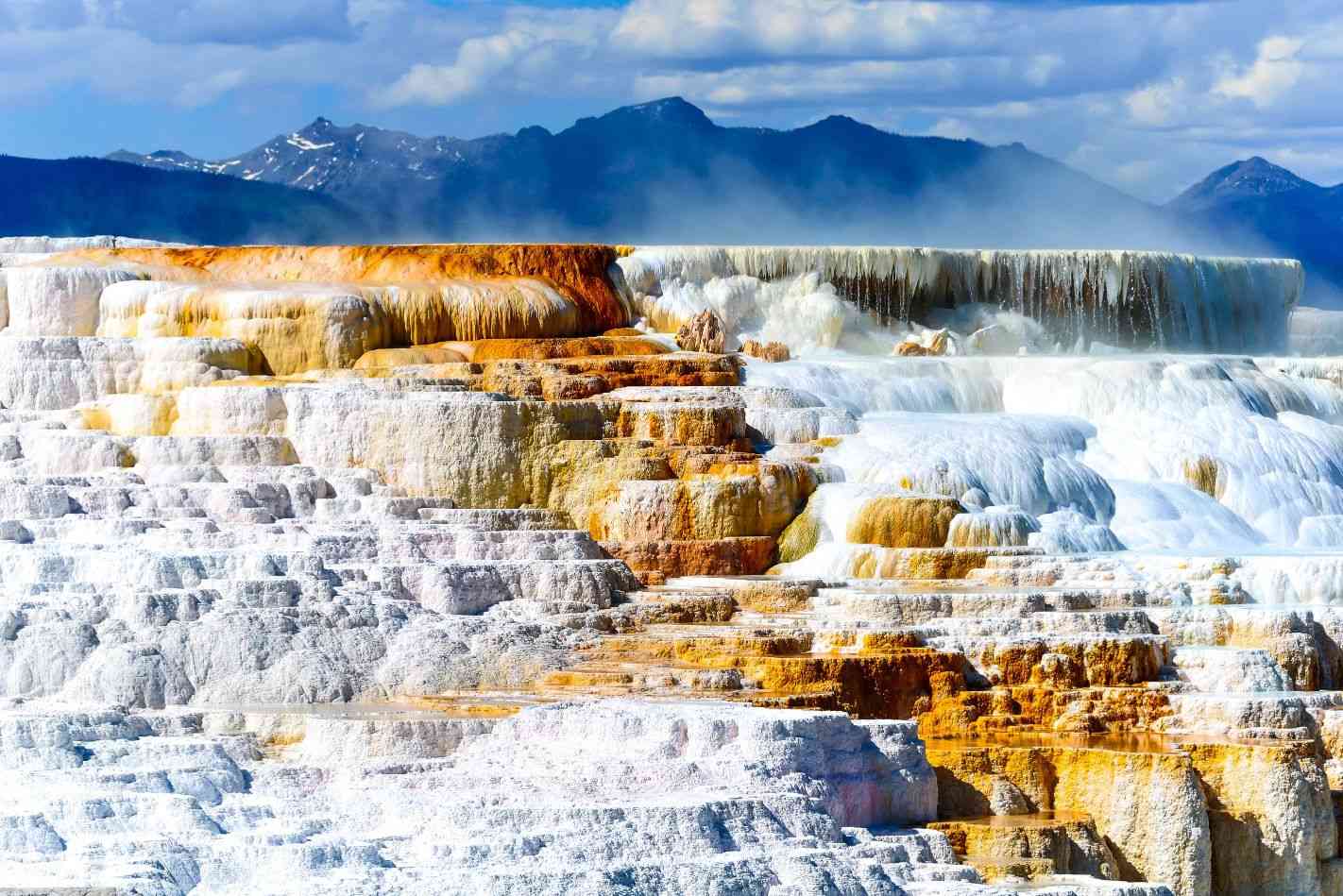 Stop 59: Mammoth Hot Springs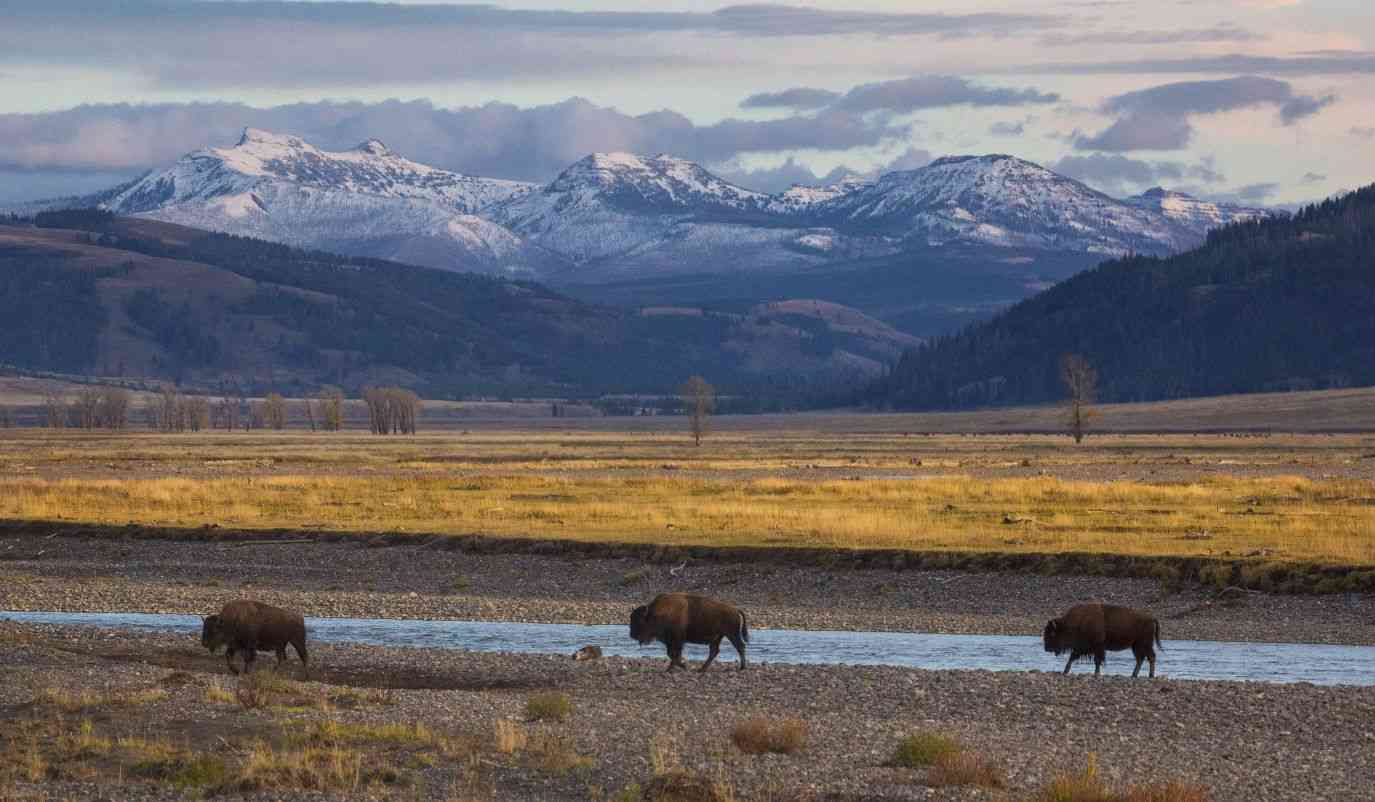 Stop 80: Lamar Valley
Tour FAQs
You can bring your pet on a Yellowstone National Park tour… but with plenty of restrictions. You need to ensure your pet is inside a vehicle, tent, or on a leash no shorter than 6 feet. And pets are not allowed on boardwalks or hiking trails, even with a leash.
If you don't want to leave your pet in the car while you're on your trip, a few pet boarding facilities are available outside the park boundary.
Yellowstone's driving route is arranged like a big circle, with five different entrances to the loop. 
West Entrance: You'll arrive at the West Entrance if you're driving in from Yellowstone Airport.
South Entrance: The South Entrance comes from Jackson, Wyoming. 
North Entrance: Begins at Roosevelt Arch in Montana.
East Entrance: Begins from Cody, Wyoming
Northeast Entrance: Starts in the heart of Wyoming's mountains. The tour begins at Trout Lake Trailhead. Note: This entrance is currently shut. 
From geysers to bison, Yellowstone National Park boasts numerous claims to fame. We have over a 100+ audio stories on the top sights along your driving route. 
Funny you should ask. Yellowstone is well-known for its water features, from geysers to hot springs to rivers to falls and there are over 300 of them. 
Additional Information
What do we do?
Simply put, Action Tour Guide is an audio guide, map, and tour book – all in one app! We are a GPS-enabled app-based tour that narrates information based on your location right on your phone. You can experience our driving and walking tours at your own pace and literally at any time of the day! 
Lifetime Validity
​Changing travel date? No worries! All individual tours come with lifetime validity. 
No Network Needed
The tour works offline which means you do not need your phone network to enjoy the tour. However, we do suggest you download the tour at your home, hotel, visitor center, etc before you head out for a completely immersive experience.
Not Entry Ticket
This is not an entry ticket.