You can! I'd say a Gettysburg driving tour is the absolute best way to experience this historic battlefield. Sure, you could pay to hop on a tour bus, but then you're on someone else's schedule and won't have the chance to explore the key sites across the field.
Gettysburg Driving Tour
Worried that touring in your car means missing out on crucial Battlefield stories? Not at all! For a tour you can take in your car (or a rental) on a flexible schedule, we've got you covered.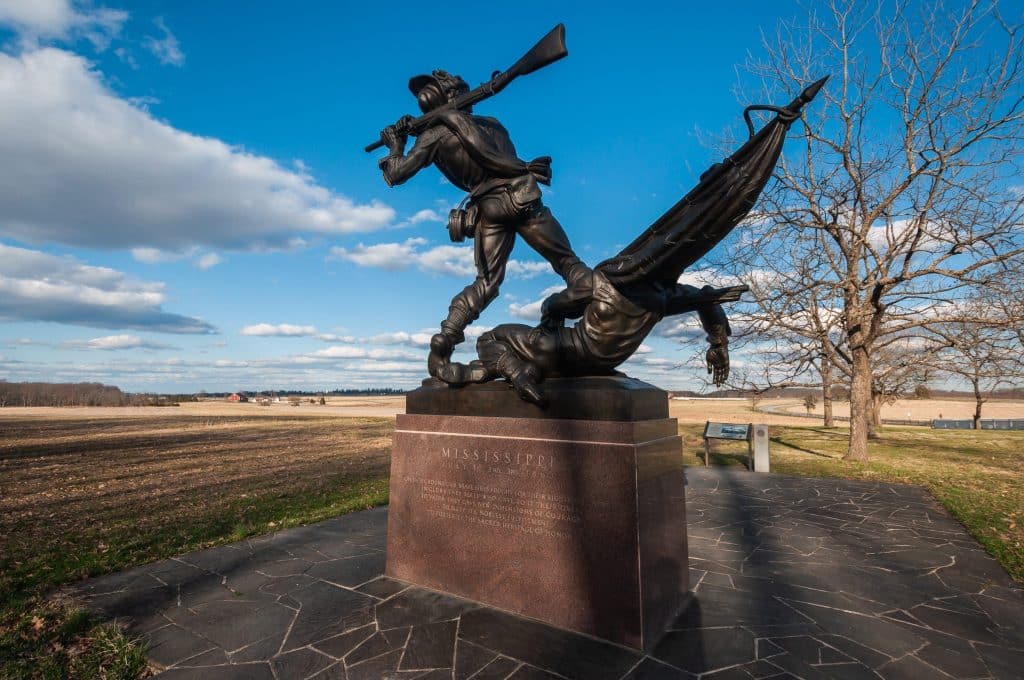 If you're concerned about navigating the battlefield from the driver's seat, don't be! Gettysburg is one of the more accessible parks to drive around, thanks to the marked Auto Tour route, which travels throughout the town and the field. Think of this route as the easiest way to make sense of the crisscrossing roads traversing Gettysburg. The Auto Tour route consists of 25 locations and features plenty of road signs indicating how to get from one spot to the next. Each of the 25 locations held grave importance during the Battle of Gettysburg, so you won't want to miss any of these! Luckily, parking is also freely available at each stop along the Auto Tour and other spots along the road between stops.
Despite the Auto Tour markings, it's best to have your GPS-based tour. Why? Well, there are two main reasons for this:
Second, while the Auto Tour route does a great job showing you where to go in the park, it doesn't do such a good job of telling you why each place is important. The park service signs and plaques give a decent overview of the battle, but if you want to really be transported back in time and experience the historic events as they unfolded on those fateful three days, you'll need a little something extra. I recommend this Gettysburg driving tour which has thousands of positive reviews and nearly 5 stars.
The first reason is logistical: Gettysburg is unique because the national park roads aren't separate from the regular town roads. The 25 miles of roadway which make up the Auto Tour route often intersect or overlap with ordinary roads simply taking locals from Point A to Point B. If you're not paying attention and you miss a sign for a turn, you could end up driving for quite a ways before you realize you've left the battlefield behind entirely. With a little help from a GPS based tour, you can be sure you won't stray from the Auto Tour route or the key battlefield sites.
What about walking through Gettysburg instead of a car?
If you're deciding between a car or trying to go it on foot, let me just put it this way: Unless you want to relive the failed charge of Brigadier General Evander M. Law's Alabama and Texas brigades (who were so exhausted, overheated, and dehydrated that they couldn't even get close to Union lines), I'd suggest sticking to some wheels to traverse the massive battlefield!
What about touring on my motorcycle or bicycle instead of a car?
No problem! Follow the Auto Tour just like all the other cars, and be sure to download the same Gettysburg self-guided tour to get the most from your visit.