Welcome to the narrated driving tour of the Battle of Gettysburg, the most important battle of the Civil War! Here, Union forces staged a nearly impossible defense against Confederate attackers–and won! Walk in the footsteps of Civil War soldiers, re-live the battle strategies of the key Gettysburg generals, and embark on an adventure that brings this historic three-day battle to life.
Tour Details



Type


Driving



Duration


1 - 2 Hours



Stories


49



Deep Dives


33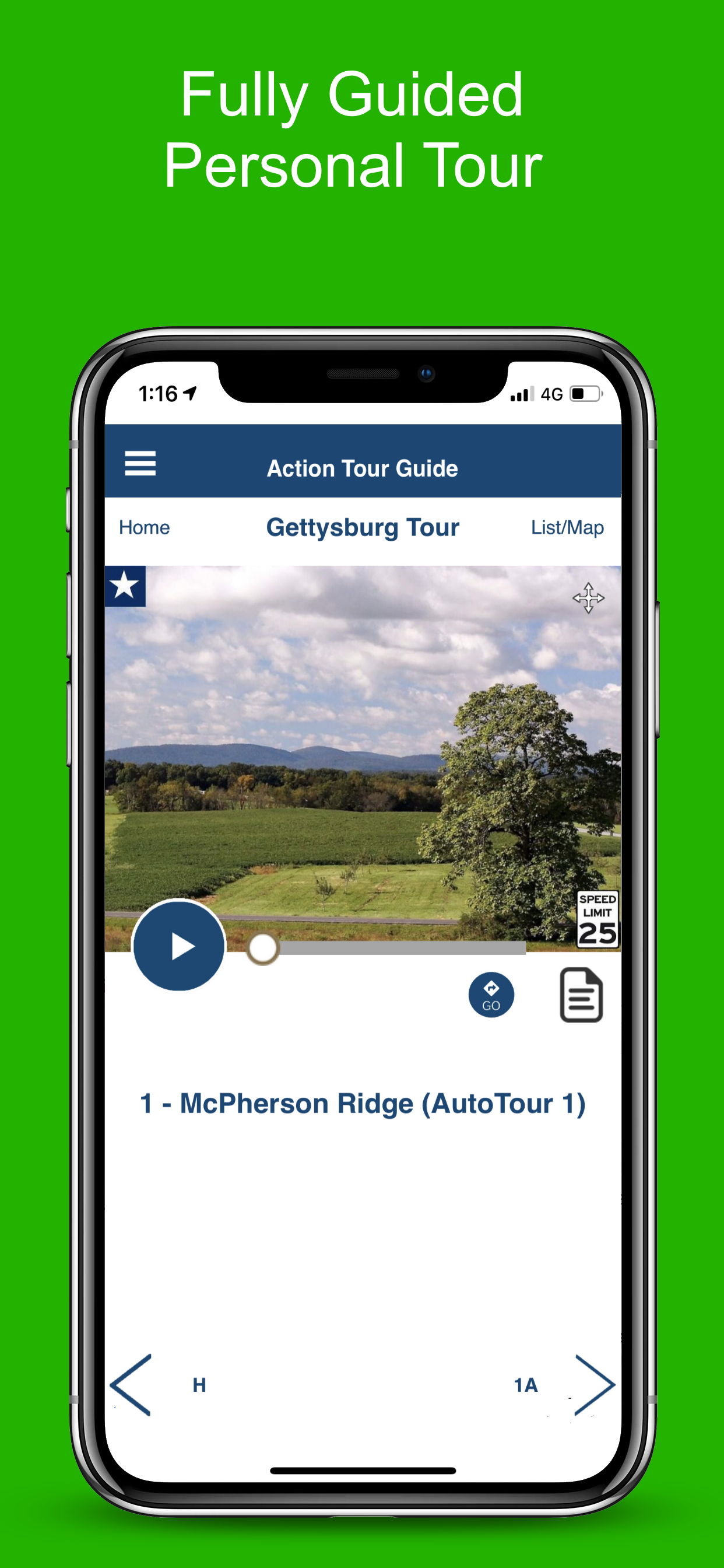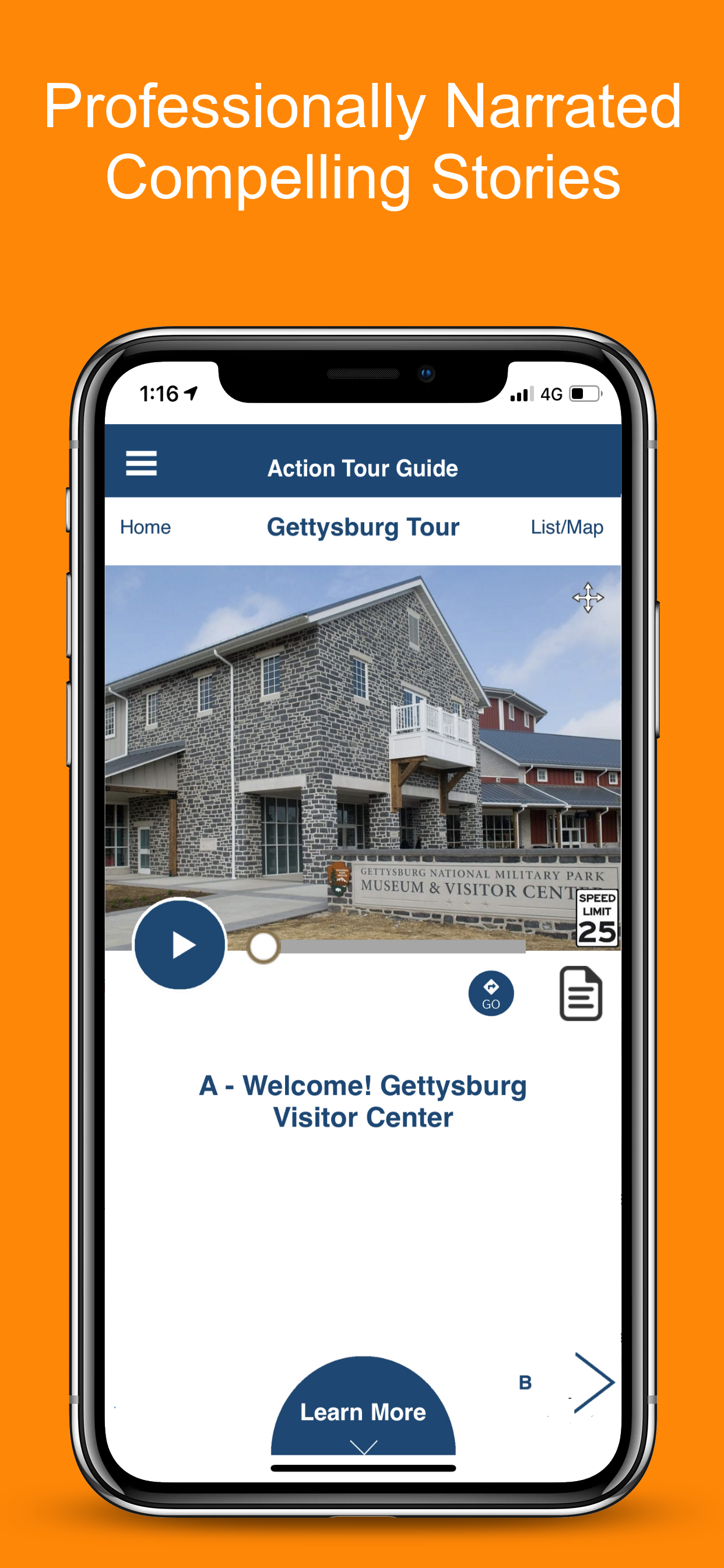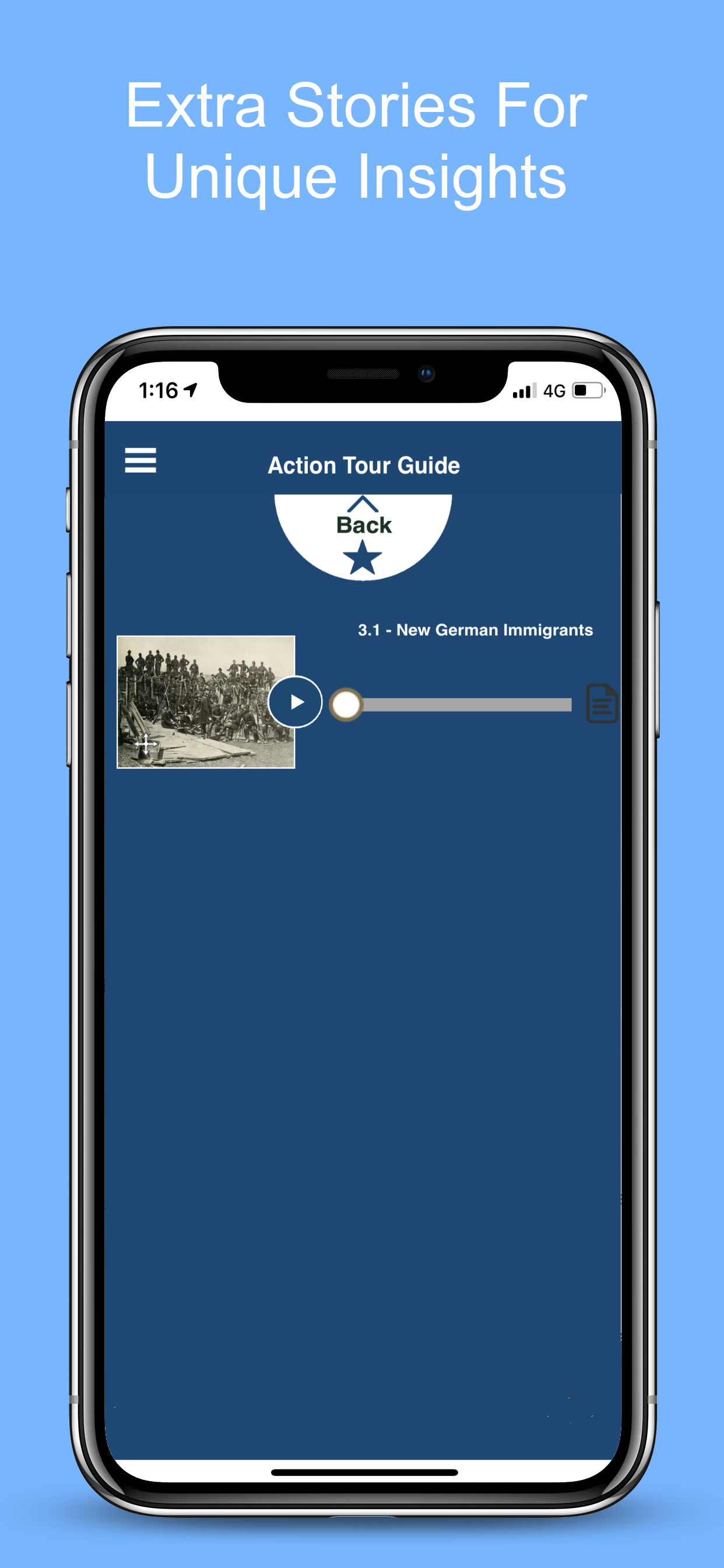 Tour Preview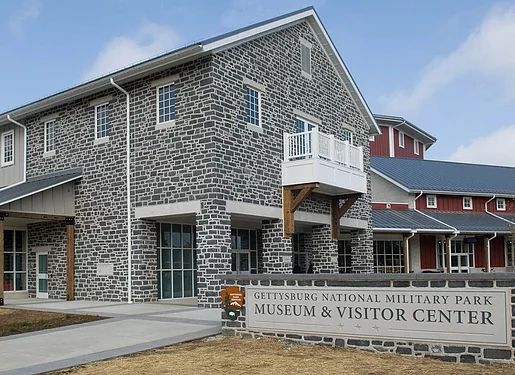 Stop A : Welcome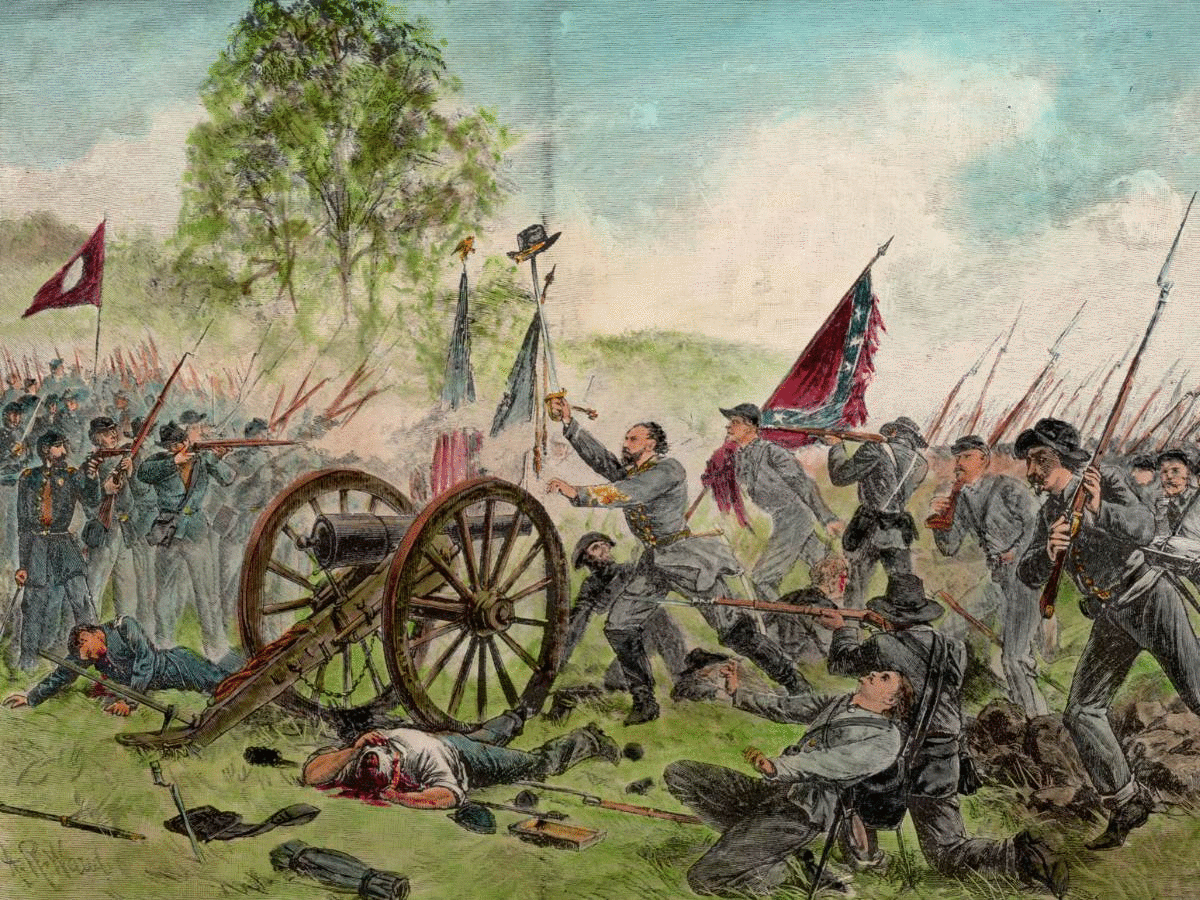 Stop C : The Civil War & Battle of Gettysburg
Reviews
★★★★★
Diamond in the rough
The commentary is the shining star of this app. Well-explained story and pleasant voice. The app basically takes you through each of the three days of the battle but in a fun & enjoyable way, not just dumping facts. You hear the stories as you drive. The route has some confusing overlaps but as long as you listen to the directions, you'll be fine. There are times you are asked to pull over and pause — but you will probably be doing a lot of that on your own anyway, like we did. Overall, can recommend.
★★★★★
Fantastic Tour
Added incredible context to what would have otherwise have been a simple drive through the fields. Listening to the descriptions, I felt like I could see the battles in front of me! It gave me chills to know that I was driving along the same path that the soldiers had taken.
★★★★★
Worth every penny!!!
Succinct but comprehensive stories of the battlefield, the generals, and the armies movements. Worked very well during the entire drive, no GPS issues or audio mishaps. Images and videos were a big help.
★★★★★
Informative and Fun
We all learned a lot from the safety of our vehicle. It was well done.
My 17 year old is taking a civil war class. This was a great way to translate words on a page to a real life experience.
★★★★★
Amazing Tour
Beat tour ever! Loved to be able to go at my own pace. It has great information and great directions. I
will be back to do it again.
★★★★★
Definitely recommend
Loved this. It was really well made. Tech worked great. Pace was great. Info great. It took us all over
the battlefield, and without it we would have just had no idea where to go next. Definitely recommend.
★★★★★
Loved it!! Perfect tour while in Gettysburg. We loved the dog monument. That totally made the day!
★★★★★
Best Tour – Highly Recommend
Loved it. We were a little cautious, because the price was really good and it's self guided. Best decision we made during our quick trip to Gettysburg!! Narrator was well spoken and the "tour" was nicely laid out. The app worked perfectly – we didn't have any trouble. Estimated time of completion for us was about three hours and we didn't get out and every location. We are already looking forward to our next trip!
★★★★★
So happy we bought!!
Very easy to use!! Gave great historical information. We are so happy that we downloaded the tour!!!!
★★★★★
Pleasantly Surprised great tour
Excellent driving tour! Price is very affordable. It takes you all throughout the Battlefield area with very good information at important points of interest. You can go back to hear some thing again there is also written words and pictures to go along with the narration. There are two different places to start from, we chose the visitor center and did the movie/museum tour for 15 additional dollars which was well worth it. You can also see the cyclorama which is unbelievable ! definitely a worth while experience. It helps to be technically savvy
★★★★★
Pandemic Touring
This app was a perfect way to tour Gettysburg during COVID-19. Although the museum and visitor center were closed, we were still able to learn all about the parks history through this audio tour. We drove along following the map guide on the app and listened as the narrator told us about the various stops. WELL WORTH THE PURCHASE OF THE FULL TOUR. Thank you!
★★★★★
Worked great, very informative, well worth the few dollars.
★★★★★
Great driving tour of Gettysburg. Everything ran smoothly. Content was excellent – very informative and entertaining. I liked that I could dive deeper for more information while my wife was perfectly happy with the high level information. Highly recommend for all levels of interest.
★★★★★
Great Tour! Do Some Research Before Going!
This tour was very informative and takes you throughout the whole battlefield (which was the whole town)! I believe it's 2.5 to 3 hours of touring that you do and you get to see many famous monuments as well as sights! If you know there are certain parts that you want to investigate more then the tour can easily go over those 2.5 hours! We made it a 6 hour tour by doing research and knowing we wanted to spend more time in the Wheatfield, Little Round Top and Devil's Den area! With how much there is to see, this tour gives you a nice overview of the whole battlefield! We look forward to going back and exploring more! This information will help us identify areas that we want to spend more time in curing our next trip!
★★★★★
Easy to use and delightfully informative
Easy to use for technologically challenged grandmother.
My 7 and 9 year old grandchildren enjoyed the tour very much. They had many questions along the way but to their surprise, the information they were looking for was explained later in the tour.
We all had an enjoyable and informative afternoon.
★★★★★
Loved it!!
We are SO glad we chose to download app and do the auto tour. It was our first time visiting Gettysburg and weren't sure where or how to start. Covid closed the visitors center so that had a lot to do with it. The Auto tour took us through the entire Battlefield and finished with the soldiers Cemetery where President Lincoln gave the Gettysburg Address. Happily you get the tour app for a full 30 days so on day 2 we did it again because the first day we got out of the car several times to visit and read several markers and get photos. We did this on day 2 as well. Go at your own pace!! We learned so much and have a deeper appreciation for our military, Country and human life.
★★★★★
Gettsburgh in an RV
Nice leisurely tour in our RV of the important sites of this Civil War. Time to spend at each location and
enjoy a lunch on the way.
★★★★★
Excellent tour!
Very easy to follow, informative. Sad to think of all the lives lost. Beautiful time if year to visit!