Gettysburg is one of the best (and easiest) national parks to touring by car, in part because they have a clearly-marked auto tour route for visitors to follow. If all you do is drive this circuit, it will take you about two hours to see the whole battlefield, but I'd recommend setting aside at least twice that amount of time if you want to experience the battlefield or an entire day if you're a real history buff!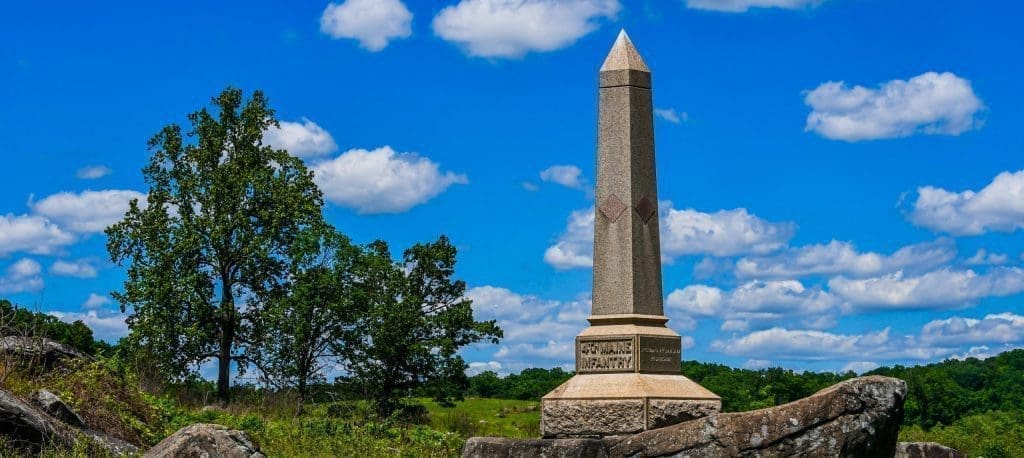 The Gettysburg Auto Tour route will take you to all the most important sites on the battlefield, from the crucial defensive outpost of Little Round Top to the site of the infamous Pickett's Charge and the so-called "high watermark of the Confederacy." That means if all you want to do while visiting the Gettysburg National Military Park is take a quick look at the greatest hits and then be on your way, you'll find it's pretty easy to do that by following the Gettysburg Auto Tour route laid out by the National Park Service. However, you're also likely to find that this sort of approach to the park leaves you wanting something more. Something you're more likely to find with some outside aid, like an audio tour guide to accompany you on your drive around the park.
See, although there are plenty of plaques and informational boards scattered around the park, the Gettysburg Auto Tour is pretty bare bones. It's not going to draw you into the Battle of Gettysburg. If you're not already familiar with the ins and outs of the conflict, you might find yourself wondering why, exactly, the Auto Tour signposts have sent you in a specific direction. This is where a self-guided audio tour like this one can come in handy. This sort of tour blends seamlessly with the official Gettysburg Auto Tour. Still, it is also chock full of additional information, points of interest, and edge-of-your-seat narration of the battle that brings the whole thing to life in a way the auto tour alone can't do.
Of course, this is also where you'll find that two hours might not be enough to experience everything you want to see in Gettysburg fully. As you drive the Gettysburg Auto Tour route and hear the battle narrated by your audio tour guide, you'll likely want to pull over a lot and explore sites in more detail. Walking through Devil's Den's rugged, rocky terrain, the location of bitter skirmishes between Union and Confederate forces is a battlefield must-do experience, but it will take up extra time. Plus, this tour bundle includes deep dives into all the most essential spots on the battlefield to give you and your party a truly complete understanding of this historic struggle.
So, my advice? Even though you can technically complete the official Gettysburg Auto Tour in under a couple of hours, plan to set aside at least four or five hours to get the whole battlefield experience.