The Newport Cliff Walk is a famous public walking trail along the eastern coast of Rhode Island. Here, you can soak up the natural beauty of Rhode Island's rugged coastline and the stunning architectural display of Newport's iconic gilded-age mansions. The trail is 3.5 miles long and has moderate terrain, with a couple of patches of rougher walking as the path guides you along the rocky shoreline. The 40 steps are located just under a mile away from the Cliff Walk path on Narragansett Avenue. This iconic landmark will make your visit to the Cliff Walk even more unforgettable. Serving up stunning ocean views, the 40 Steps is a granite staircase that leads from the cliffside down to the surf and has been a popular tourist destination for over two hundred years!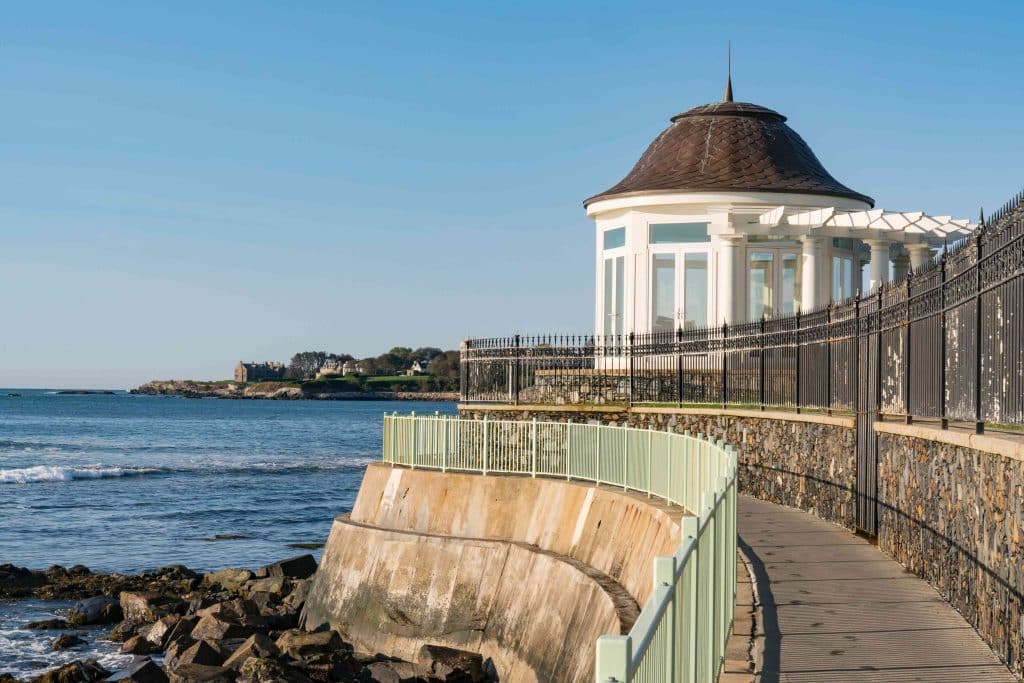 Is the Newport Cliff Walk a loop?
The Newport Cliff Walk is a 3.5-mile out-and-back trail. You'll have to turn around at the trail's end, walk, catch a taxi, or take a trolley back to your car. If you choose to walk, be prepared for a 7-mile journey in total, and make sure to bring a little extra water and a good pair of walking shoes. There are numerous spots to stop before and after the trail if you'd like to grab a snack before setting off. Consider packing a picnic lunch and eating it at the 40 Steps, where the sea mist and beautiful sights will energize you!
Is the Newport Cliff walk paved?
The Newport Cliff Walk combines paved and level trails and slightly rougher terrain with a steeper grade in some spots. Be prepared for a moderate walk that is rugged in a few places. Make sure that you have on comfortable walking shoes, especially if you're planning on adding a visit to the 40 Steps to your cliff walk tour. If you're traveling in the summer, beware of poison Ivy that grows in the shrubbery and some trail parts.