The Grand Staircase-Escalante is a sprawling National Monument that reaches out over 1.8 million acres of vast plateaus, colorful cliffs, and  fascinating rock formations.  The monument is a popular spot with hikers, campers and backpackers . Outdoor enthusiasts will be happy to know that this park sees fewer visitors than its neighbors Zion National Park,  Bryce Canyon, and of course, the Grand Canyon. With less traffic and overcrowding to contend with, you are almost guaranteed to get some time alone in nature at this beautiful piece of land.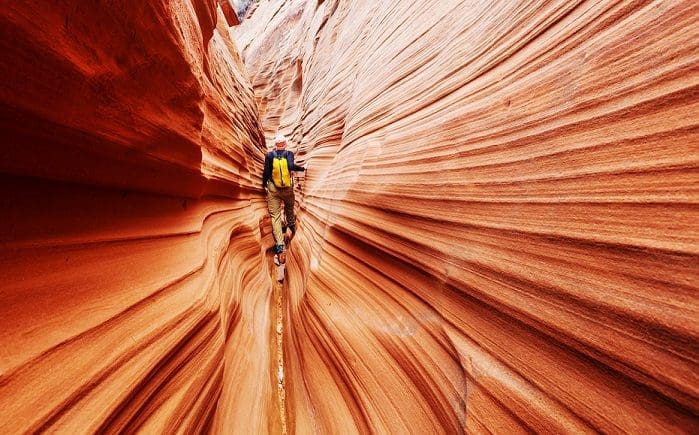 About three and a half hours from Las Vegas on highway 89, The Grand Staircase-Escalante has four visitor centers. Visitor Centers at Cannonville, Escalante, Kanab and Big Water provide travelers with information, boast educational exhibits and supplies. But once you're in the park, an almost limitless opportunity for adventure awaits you.  You can camp along the banks of the Escalante River,  hike under vast sandstone arches. You can even wind your way through narrow slot canyons and marvel at the unique rock formations caused by centuries of running water. The Grand Staircase-Escalante is also a great spot for road trippers, due to its massive size, many roads lace in and around the National Monument from nearly every direction. If you're equipped with a four wheel drive or all terrain vehicle, there are some more primitive and adventurous routes that wind around throughout the park. 
Because the park is so large, with so many different things to explore, most people will spend 2-3 full days enjoying all that it has to offer. If you're interested in backpacking or geology, The Grand Staircase has something for you. For folks with an interest in archaeology or paleontology, The Grand Staircase Escalante is a great destination as numerous fossilized dinosaur remains have been unearthed here over the past twenty years!