How well do you know your national parks? Here are a few things you might hear on an Olympic National Park tour:
95% of Olympic National Park is designated as a wilderness area, which means it has to remain uninhabited and undeveloped. That makes it one of the largest wildernesses in the US.
Olympic National Park is a popular spot for whale-watching. Every year during their migrational periods, gray whales, humpback whales, and porpoises pass by the park, close enough to be seen from the shoreline. Some pods of orcas remain in these waters year-round, making them the most commonly-seen whale in the area.
The Hoh Rain Forest is one of the last temperate rainforests in North America. Located in the western section of the park, it gets close to 130 inches of rainfall every year, making it one of the wettest places in the world.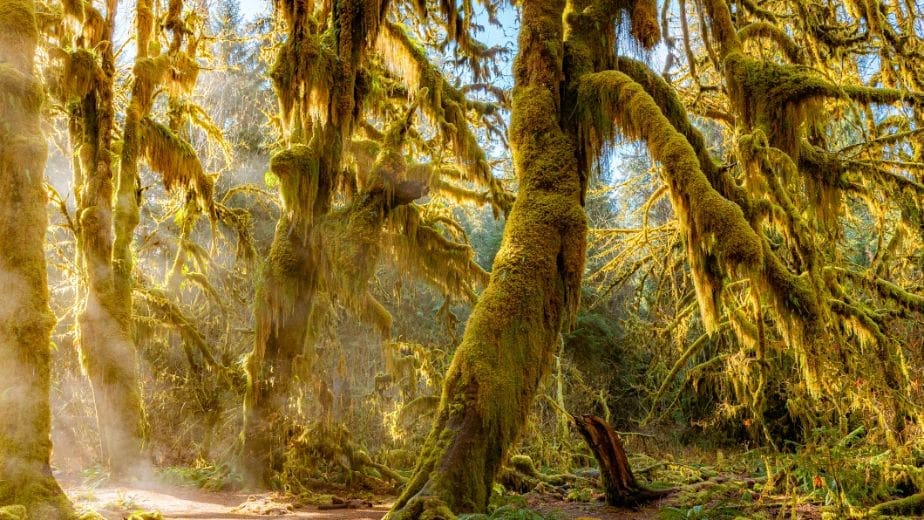 Olympic National Park is home to three distinct ecosystems – temperate rainforest, rocky coastline, and subalpine forest. In 1976, it was designated as an International Biosphere Reserve by UNESCO due to its ecological diversity.
The Olympic Peninsula contained many of the last unexplored places in the continental US and was largely unmapped until a pair of expeditions in 1898 and 1900. However, several native tribes had been living on the peninsula for centuries before American settlers arrived, and their descendants still hold land there today.
Olympic National Park contains the largest remaining old-growth forest in the Pacific Northwest. Some of the trees in the park are hundreds of years old, and provide a glimpse of what the whole area looked like before settlers arrived.
When visiting the park, make sure to check out our Olympic National Park Self-Guided Driving Tour, or sign up for Action+ to gain access to all 100+ of our US tours for a single yearly price.
Essential Travel Guide: