Acadia National Park with dogs is a true haven for nature lovers, and your dog can now join in on the fun. Unlike many other national parks, Acadia opens its arms to our canine companions, allowing them to explore numerous trails and destinations alongside you. As you venture through the park, you'll discover that Acadia isn't just a place; it's an experience, a connection to nature, and a chance to bond with your furry travel companion.
Wonderland Trail: Coastal Bliss
Picture this: A leisurely stroll along the Wonderland Trail, a family-friendly coastal path at the southern tip of the island. It's a tranquil escape where the sound of the ocean's gentle caress accompanies your journey. You might even have the chance to explore tidepools during low tide, a fascinating adventure for both you and your four-legged buddy.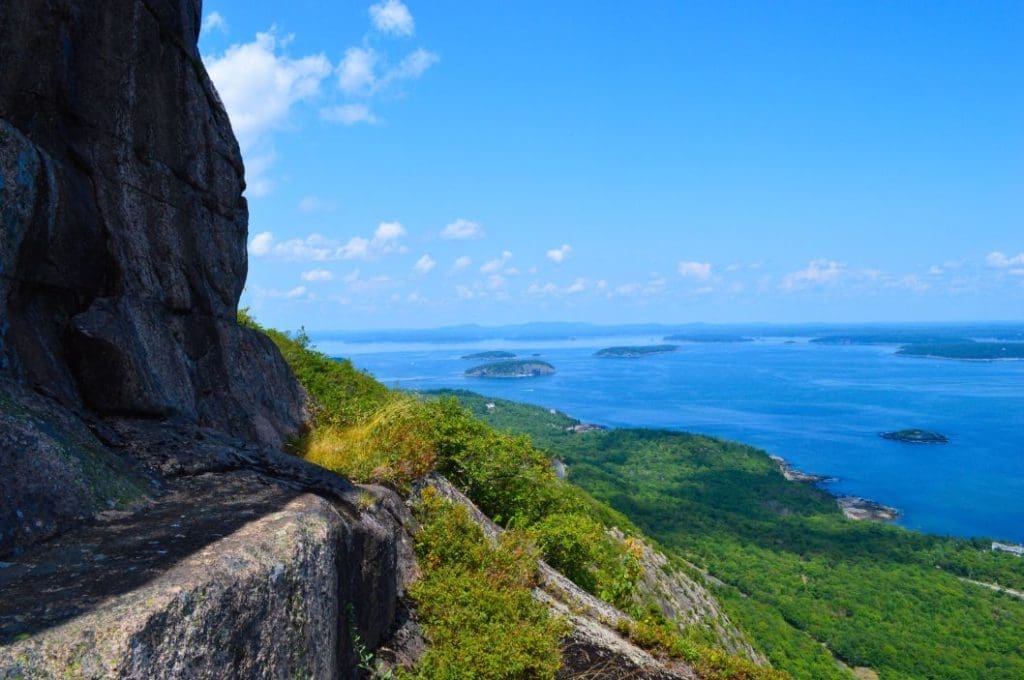 Lower Hadlock Pond Trail: Serene Lake Views
A short distance from the bustling Jordan Pond Trail lies the lesser-known gem of Lower Hadlock Pond. A tranquil lake and tall pines surround it, making this the ideal location for a leisurely drive. The path is a haven for people who want to find peace and get closer to nature.
Jordan Pond Full Loop Trail: Iconic Views
The Jordan Pond Loop Trail stands as one of the park's most celebrated destinations. Set in the heart of Acadia, it offers breathtaking views of the water and the surrounding mountains. Visiting during the fall is a treat, as the foliage transforms into a canvas of red, yellow, and orange hues. Capture your Acadia journey with your furry friend and share your adventures by tagging @actiontourguide in your photos.
Exploring the Unique Carriage Roads
One of Acadia's distinctive features is its 43 miles of carriage roads, a treasure trove of historic stone bridges and structures. These roads were built to access various park areas in the early 20th century and now provide a unique way to explore the park. Try the Eagle Lake Carriage Loop, a 6-mile route around Eagle Lake, offering a glimpse into the park's past.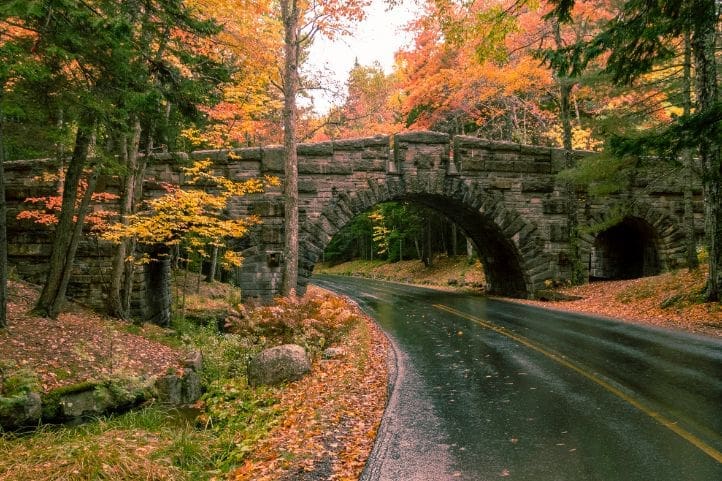 Sand Beach: Off-Season Bliss
While Sand Beach is off-limits to dogs during peak season (from June 15th through September 8th), there's ample time to explore this picturesque coastline with your furry friend during the off-season. Discover the magic of Acadia's shoreline together.
Embrace Acadia's Pet-Friendly Charm
Acadia is known for its 43 miles of carriage roads, which are a treasure trove of old stone bridges and buildings. In the early 20th century, these roads were built so that people could get to different parts of the park. They now offer a unique way to see the park. Try the 6-mile Eagle Lake Carriage Loop, which goes around Eagle Lake and shows you some of the park's history.
Plan Your Pet-Friendly Acadia Adventure Today
Acadia National Park is one of the best national parks in the United States for people with dogs. It has a lot of dog-friendly places that will take your breath away. Come, embrace the wonders of Acadia National Park with your loyal companion. It's a journey that promises cherished moments and unforgettable experiences, all in the company of your beloved dog.