As one of the crown jewels of the Caribbean, Aruba is incredibly popular as a vacation destination, and for good reason. Here are a few things you'll experience on an Aruba tour:
White sand beaches – The beaches in Aruba are world-famous and one of the island's primary draws. With a unique sand composition of crushed shells and coral, Aruba's beaches are soft, comfortable, and absolutely gorgeous. We especially recommend checking out Eagle Beach, which frequently wins awards as the best beach in the Caribbean.
Perfect weather – Unique geographical features give Aruba a semi-arid climate, completely different from the rest of the Caribbean islands. Average temperatures range from 80 to 85 degrees year-round, and infrequent rainfall means that your vacation won't be spoiled by surprise showers.
Dutch Colonial architecture – Aruba is one of the few islands in the Caribbean colonized by the Dutch, and the colorful and charming Dutch Colonial architecture is still very present there. The capital city of Oranjestad has some of the best examples, including the iconic lime-green city hall.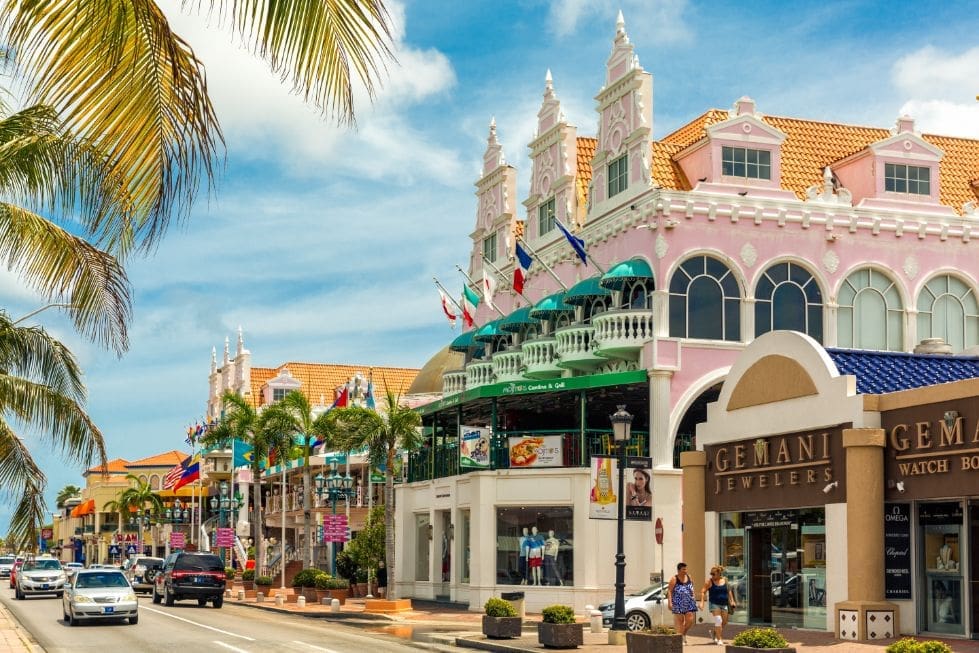 Rugged landscapes – Despite being in the Caribbean, Aruba's arid climate gives it a landscape that resembles Arizona more than Jamaica or the Bahamas. We recommend a trip to Arikok National Park if you want to see the best that the island's natural terrain has to offer.
Vibrant culture – From the parades and festivals of Oranjestad to the local street art of San Nicolas, Aruban culture is a colorful and creative island blend of Dutch, Spanish, Arawak, and American influences. For a taste of the island's culture, we highly recommend checking out the Bon Bini Festival, held every Tuesday night at Fort Zoutman in Oranjestad.
To make the most of your trip to Aruba, check out our Aruba Island Self-Guided Driving and Walking Tour Bundle, or sign up for Action+ for unlimited access to over 100 tours for a single yearly price.
Essential Travel Guide: