Walk in the footsteps of Revolutionary War heroes, discover the story of Paul Revere's Midnight Ride, and relive the fight for American Independence with a self-guided tour! Journey back in time to historic Boston in the days of George Washington, Paul Revere, Samuel Adams, and their revolutionary collaborators. Learn about everything from Boston Common (the heart of colonial Boston) to Bunker Hill (site of the first Revolutionary War battle) — and everything in between! This is one of our bestselling tour on TripAdvisor, Expedia, and Viator.
​Changing travel date? No worries! Your tour is available anytime from the moment you book. 
Starting Point Address: 139 Tremont St, Boston, MA 02111, USA
Tour Details



Type


Walking



Duration


1 - 2 Hours



Stories


35



Deep Dives


10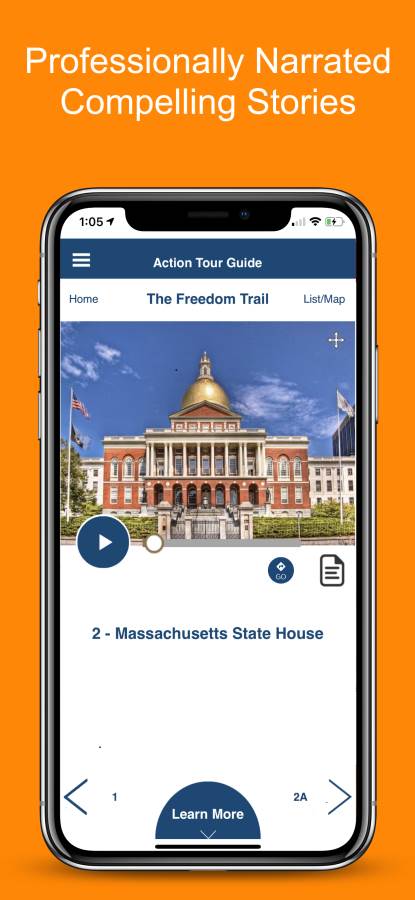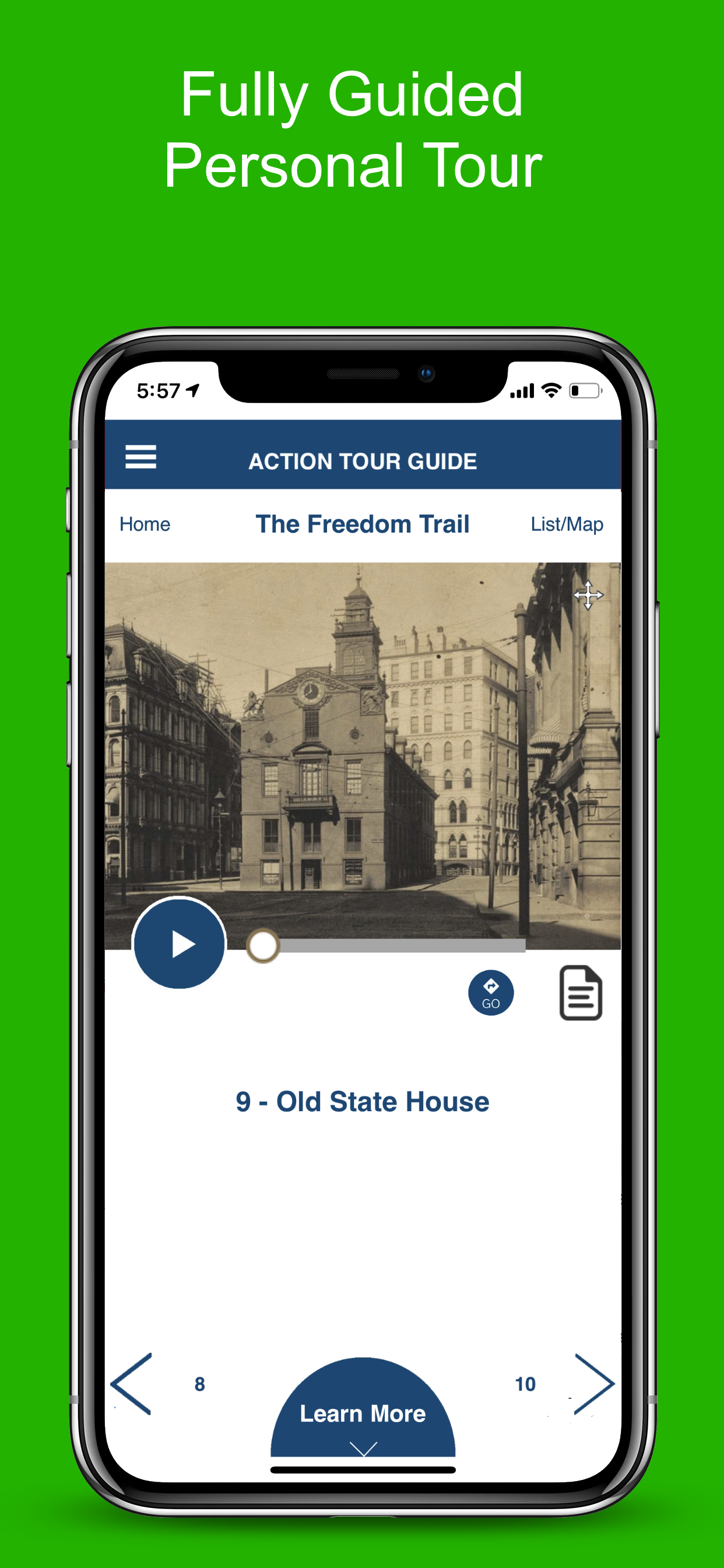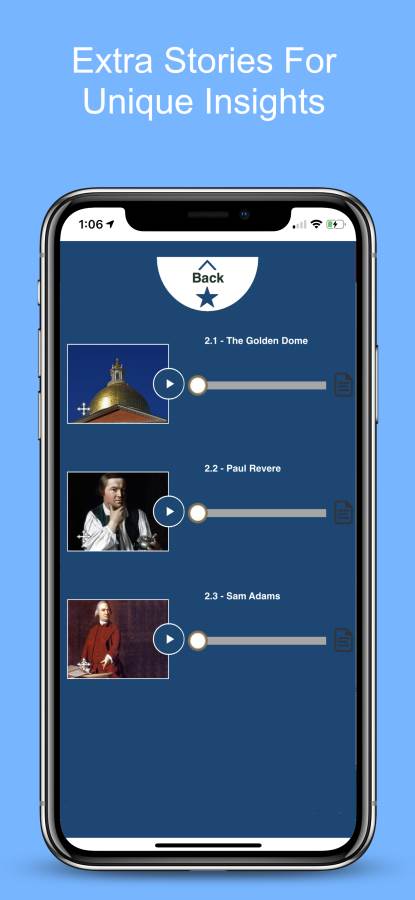 Tour Preview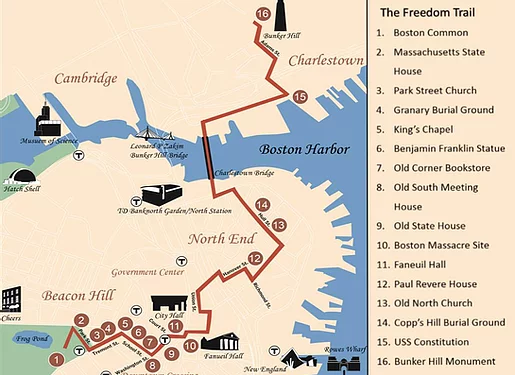 Stop A : Welcome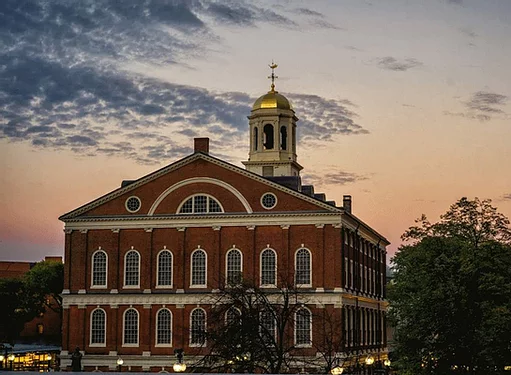 Stop 11 : Faneuil Hall
Reviews
★★★★★
Just right, and very informative!
We really appreciated this app-based tour! It gave us the flexibility to take our time, stop or go as we wanted, and just be together. We stopped at the sites we were interested, and walked on when we weren't. We chose to follow the Trail until we were tired and ended when we wanted. I have lived in the Boston area before, but some of the information was absolutely new and surprising! A great time was had by all!
★★★★★
Self guided freedom trail walking tour
The app worked really well for us. We were able to follow the freedom trail with all of the information you would get on a guided tour but at our own pace. We stopped at the public market. Excellent way to find your way around Boston and learn about its rich history.
★★★★★
Freedom trail self guided GPS
It's perfect if you want to do a guided tour but go at your own pace. It's easy to follow and well planned out. If you walk up to the landmark the audio plays automatically. Very informative, would recommend and would do other self guided walking tours from the same company.
★★★★★
Old state house
This audio tour is Informative with so many interesting facts. Highly recommend to anyone who wants to learn more about it at your own path.
★★★★★
Excellent self guided tour
I'm so glad we found this tour. We enjoy going at our own pace and this fit the bill. At this price, you can't go wrong. We followed the very easy to identify red brick trail and used the map to keep us on track. The narrated info was very easy to follow. I would suggest ear buds as the city can be quite noisy. Highly recommend
★★★★★
Fantastic Tour
This tour was a great activity. Loved being able to go at our own pace and mix some shopping and lunch in. The weather was fantastic when we did it, but you definitely need to dress according and wear comfortable shoes that are appropriate for the conditions. While most of the trail is well maintained, there are a few areas that were very icy/muddy and/ or wet. It was nice to have both an audio and text narrative of the site. Will definitely look for similar aps when visiting other places.
★★★★★
Really good
Excellent application for anyone wanting to travel or do some sight seeing, even in their own country. I think there will be something new even for the experienced travellers. I have recommended this to many people who have returned from a trip and commented that they saw and did much more than they expected because they had this app with them.
★★★★★
interface 
A fun twist to walking tours.. As I travel alone, I like to listen to audio books. This app worked great. As I got near a monument, the audio guide came on and gave the stop presentation, however I expected a few stops to auto-play on my return since I skipped them on the way, it may be a useful feature.
★★★★★
Good. Free the thumb.
Definite recommendation. Good guided tour but I started with a hicckup, the map failed to load. I emailed the devoloper and within minutes I had the issue resolved. They sent me a bonus tour app for a different part of the city. Highly impressed and definitely recommended.
★★★★★
Good to use‌
This app was worth the $ spent!. I really enjoyed it when the audio would kick in as I walked close to a site. I used it in Boston and I saw most of the sites on The Freedom Trail. Would just wish they put in filters for very touristy to very detailed. So that way depending on the time at hand one can filter thru faster.
★★★★★
So many fantastic tours!
This has become my go-to travel guide now. Great detail for places all over the country. I feel like I have an entire guidebook in my pocket.
★★★★★
interface
Nice stories, good modern iterface. The details about the attractions are long enough to cover the subject and short enough to maintain the interest. Downside is that the app battery usage is very high.
★★★★★
The tour was great! We loved being able to go and do the tour at our own pace and mix it with some shopping and lunch in. The layout and the information provided at each point was very informative and engaging. Would recommend this self-guided app for all!
This was an amazing way to walk the freedom trail!! The tracking through the GPS was spot on and it's was having all the information provided on all the points!! More than recommended!!!!
★★★★★
Tours are #1 and 10-gold stars
Keep up the good work creating the best audio tours in the years to come courtesy of Scott Oliverson from Kalispell, MT – Big Sky country
★★★★★
Had an excellent experience in Boston with this app. Going at our own pace was so liberating. We didnt go all the way to the USS Constitution but we did everything else. Good stories, easy to use, GPS worked well. Would recommend!
★★★★★
I was in Boston for a couple of days and decided to walk this trail without any knowledge of history of this wonderful city. I downloaded this app and at every stop played a little bit about the history. Took me sometime to finish the trail as i took lot of breaks in between. Just a suggestion if you can add information about interesting things or restaurants nearby would be great.