Tour Details



Type


Driving



Duration


1 - 2 Hours



Audio Stories


49



Deep Dives


33
Welcome to the Gettysburg Battlefield Self-Guided Driving Tour
Welcome to the narrated driving tour of the Battle of Gettysburg, the most crucial battle of the Civil War! Here, Union forces staged a nearly impossible defense against Confederate attackers–and won! Walk in the footsteps of Civil War soldiers, re-live the battle strategies of the key generals, and embark on an adventure that brings this historic three-day battle to life on your Gettysburg auto tour.
This self-guided Gettysburg Auto tour lets you explore Gettysburg's historical wonders with maximum flexibility, safety, and value. Hop in your car, get the tour guide app set up on your phone, and get started. All audio plays automatically based on location.
Follow the Battle
The tour follows the intense 3-day battle at Gettysburg chronologically. It begins at the Gettysburg Heritage Center, where you learn about the lead-up to the battle. Before you start driving, be sure to download the Action Tour Guide app and enter your unique password to access the audio tour. Then, you'll explore McPherson's Ridge, the site of the first skirmish of the first day. From there, you continue past the Railway Cut, Iverson's Pits, and Seminary Ridge until you reach the end of Day 1.
As you continue to follow the route on the Gettysburg Auto Tour, begin Day 2 with an exploration at Little Round Top, Devil's Den, the Peach Orchard, and Culp's Hill. Day 3 then starts with the infamous Pickett's Charge. This comprehensive tour ends at the Gettysburg Cemetery, where you hear Lincoln's poignant Gettysburg Address. And if you ever have questions, feel free to reach out to us over chat, call, or email – we're always available and looking forward to helping you!
Starting Point Address: Gettysburg Heritage Center Parking Lot at 1 Culp Street. Culp St Gettysburg, PA 17325
What You'll See
Gettysburg Visitor Center

McPherson Ridge (Auto Tour 1)

The Railway Cut

Eternal Light Peace Memorial (Auto Tour 2)

Oak Ridge Observation Tower (Auto Tour 3)

Battlefield Sallie Memorial

Seminary Ridge Museum

North Carolina Memorial (Auto Tour 4)

Virginia Monument (Auto Tour 5)

Pitzer Woods (Auto Tour 6) & Longstreet Observation Tower

Eisenhower National Historic Site

Warfield Ridge (Auto Tour 7)

Little Round Top (Auto Tour 8)

Devil's Den

The Wheat Field (Auto Tour 9)

The Peach Orchard (Auto Tour 10)

The Abraham Trostle Farm

Plum Run (Auto Tour 11)

The George Weikert Farm

Pennsylvania Memorial (Auto Tour 12)

Spangler's Spring (Auto Tour 13)

East Cemetery Hill (Auto Tour 14)

The High Water Mark (Auto Tour 15)

National Cemetery (Auto Tour 16)

Lincoln's Gettysburg Address
Preview The Tour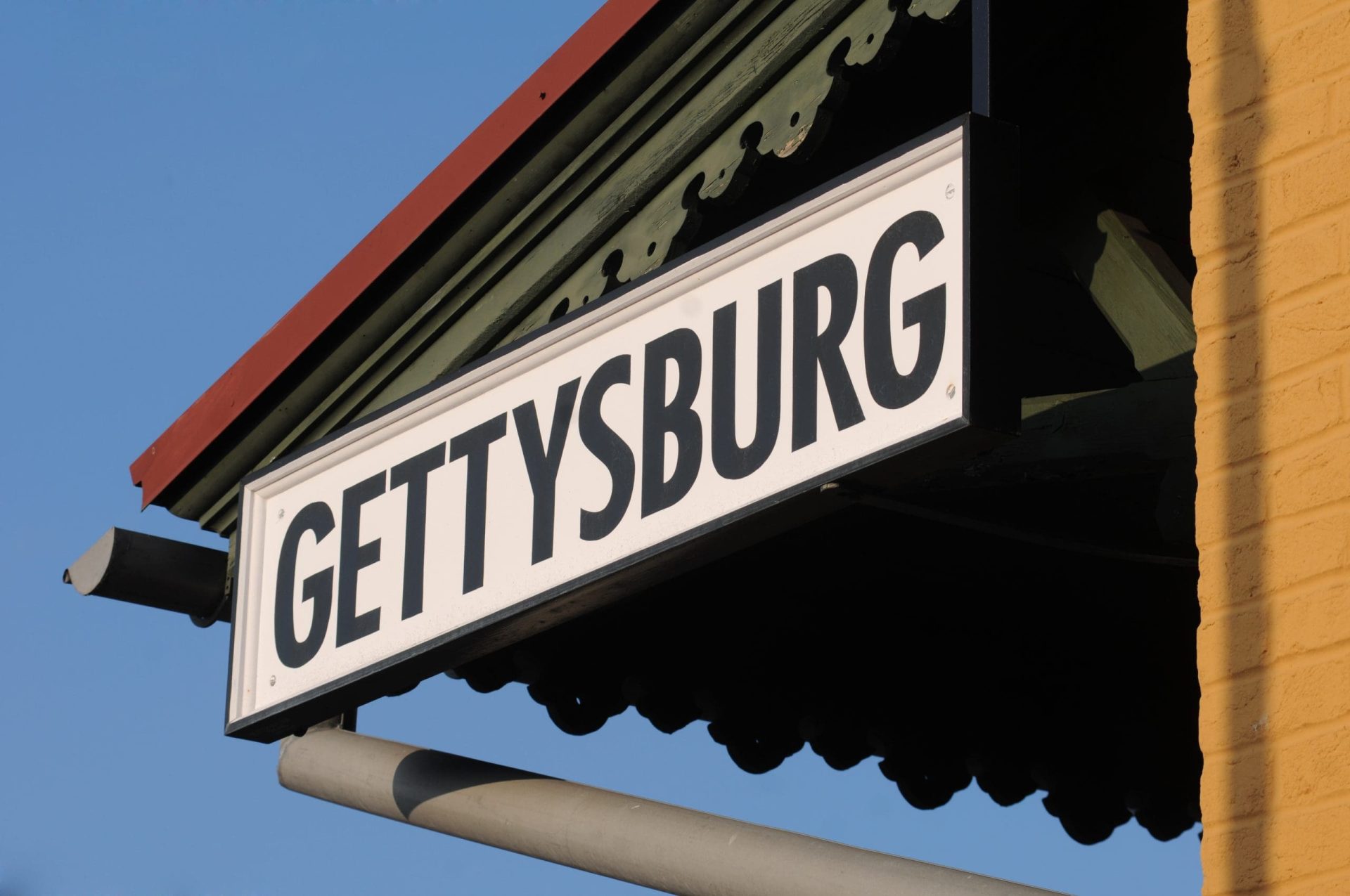 Stop A : Welcome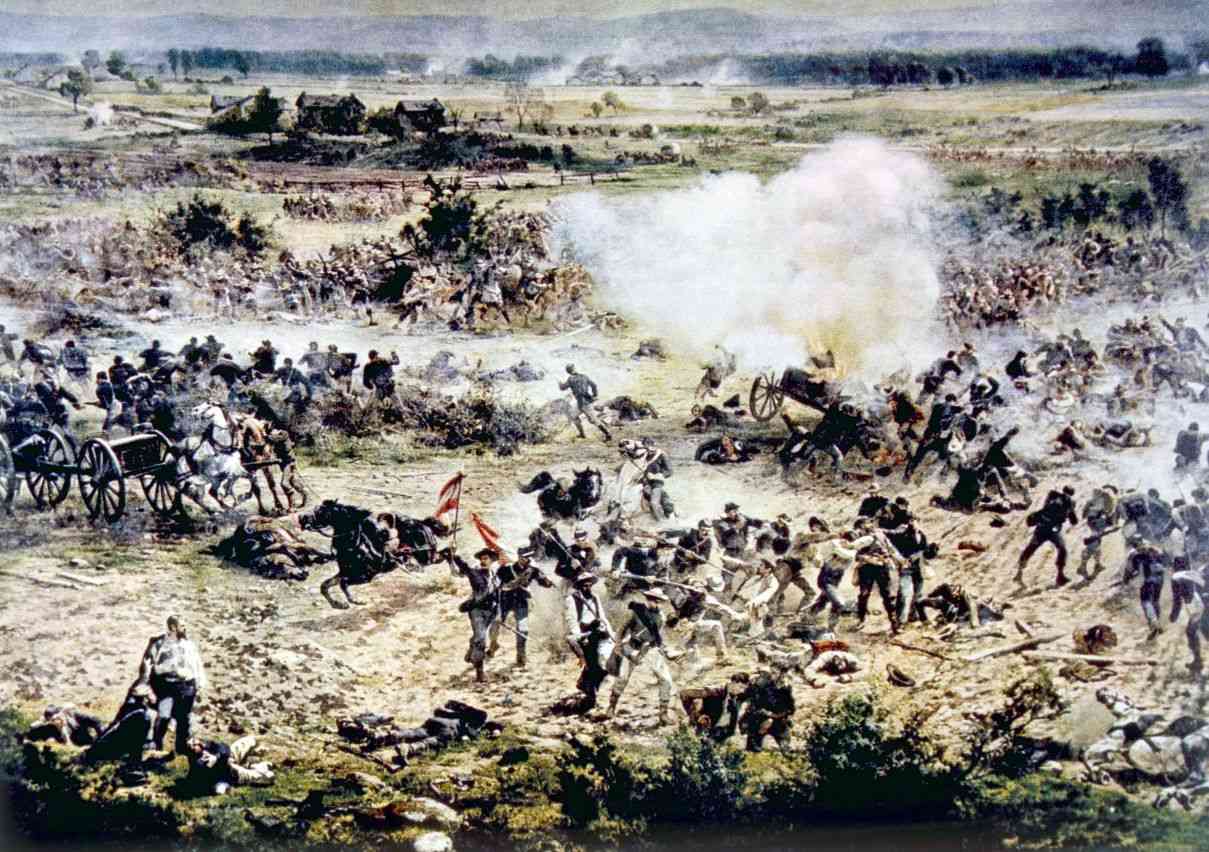 Stop C : The Civil War & Battle of Gettysburg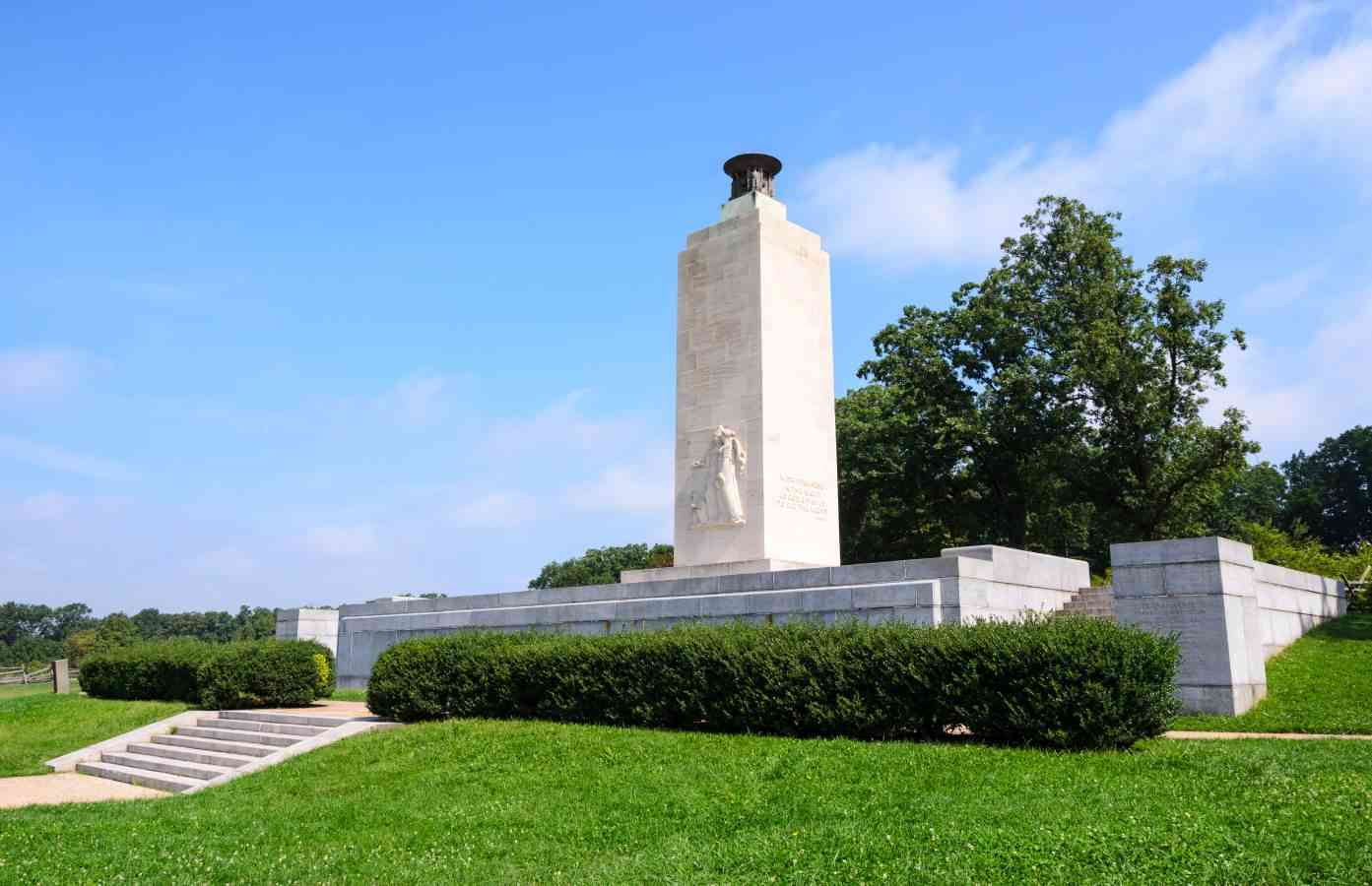 Stop 2 : Eternal Light Peace Memorial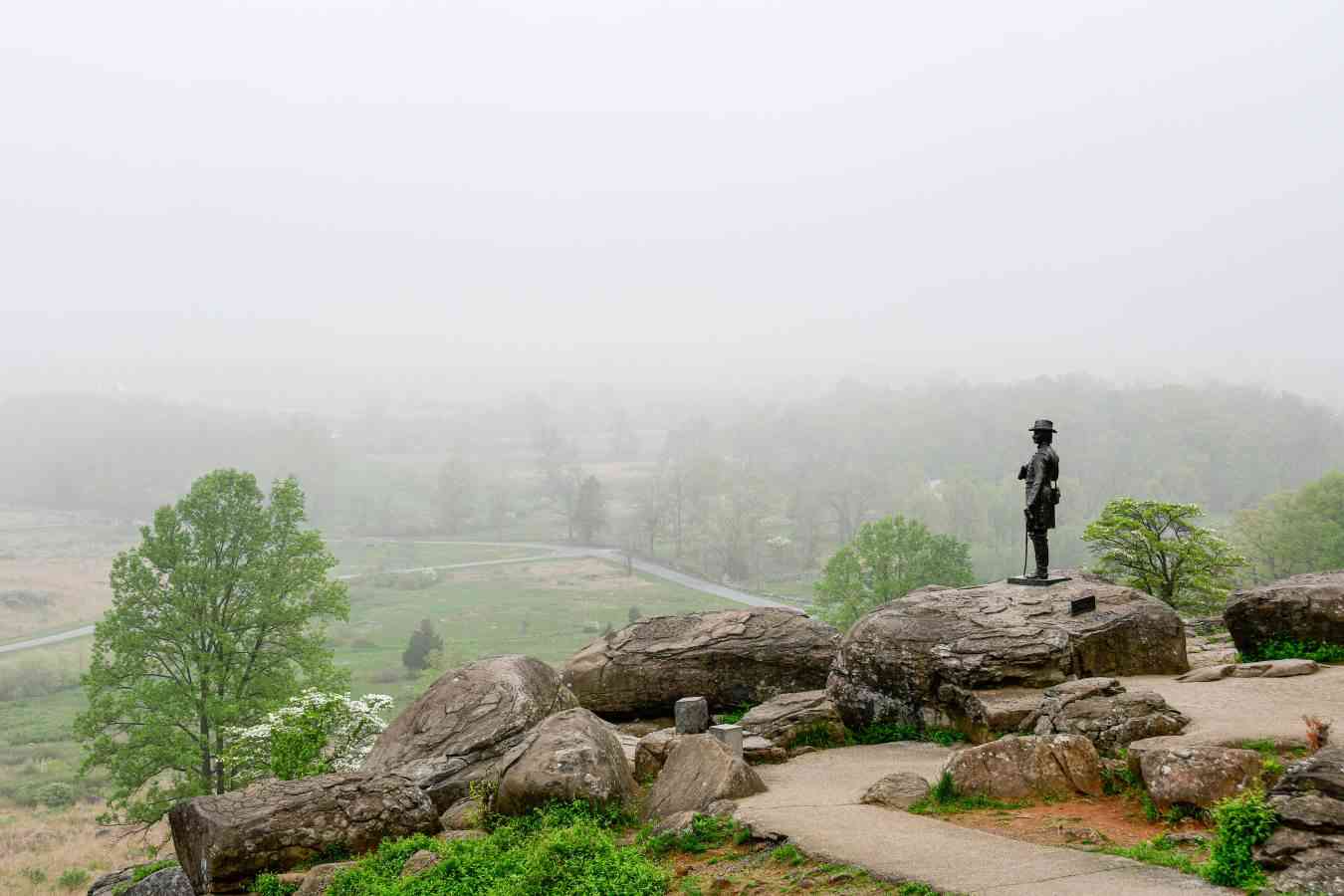 Stop 8 : Little Round Top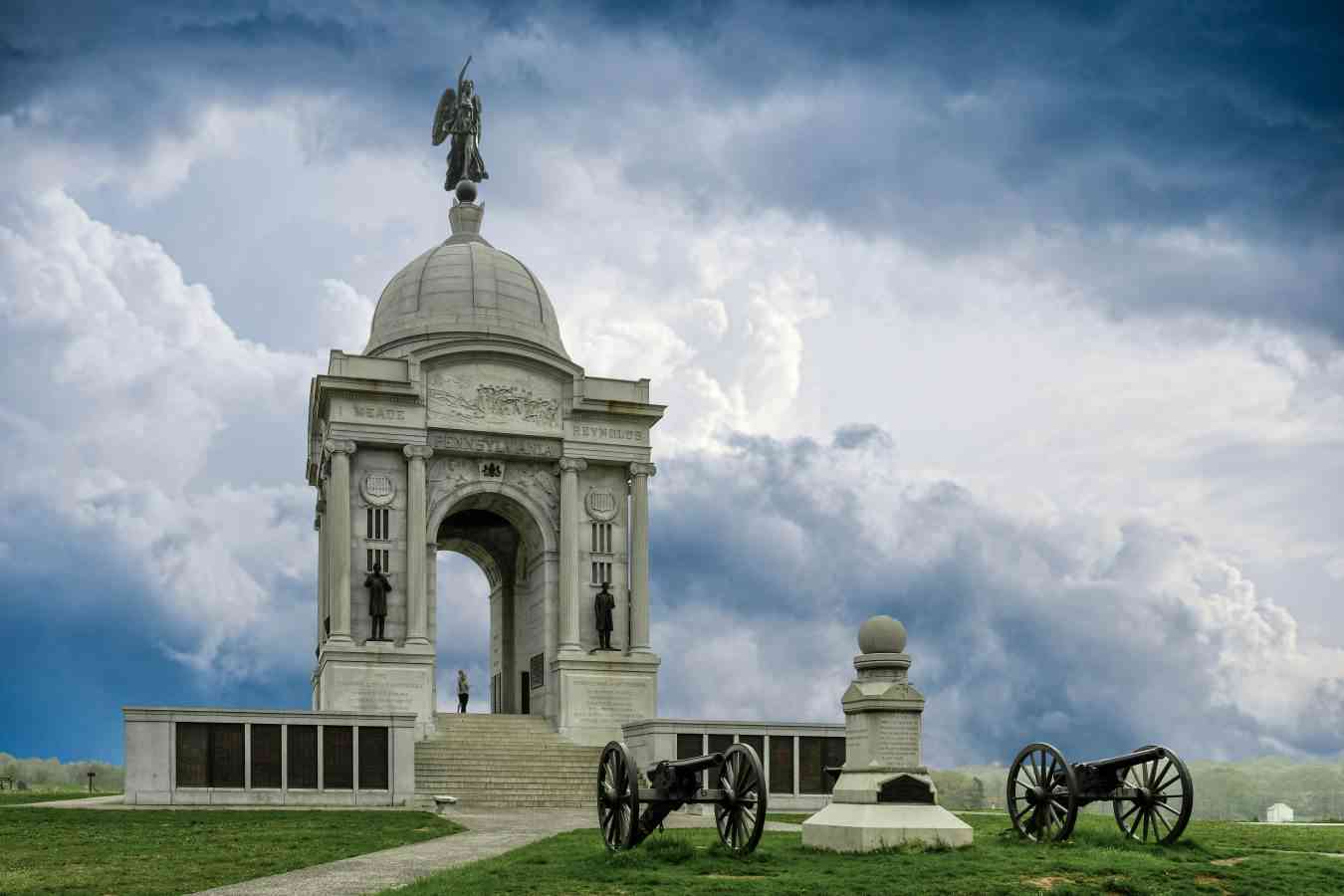 Stop 12 : Pennsylvania Memorial
Tour FAQs
These days, there are much better options for touring a historic site like this than the type of Gettysburg guide you might have in mind. More specifically, you can get a rich, exciting, and complete tour of the Gettysburg Battlefield by using an app!
The truth is that there are pros and cons to every season, so it's important to know all the facts and make an informed decision. Here's a rundown of all the most essential factors to consider when deciding the best season for your Gettysburg visit.
Screens and books simply can't do it justice. The Gettysburg Battlefield is, after all, deeply hallowed ground. You wouldn't look at an internet image of the Statue of Liberty and expect to get the full experience, right? The same is 100% true for this historic battleground.
Now, folks generally associate the Gettysburg Battlefield with the hot, humid days of summer, especially since the battle itself took place on the first three days of July 1863. Ironically, that's exactly what makes winter such a good time to visit Gettysburg.
Absolutely you can! In fact, I'd say a Gettysburg driving tour is the absolute best way to experience this historic battlefield. Sure, you could pay to hop on a tour bus, but then you're on someone else's schedule and won't have the chance to really explore the key sites across the field.
Luckily for traveling history buffs, the weather in Gettysburg is fairly predictable, even during the peak days of summer. The average temperature maxes out at around 85 degrees fahrenheit. That said, if you're used to dry heat, the humidity on the Gettysburg Battlefield is something to keep in mind.
Additional Information
What do we do?
Simply put, Action Tour Guide is an audio guide, map, and tour book – all in one app! We are a GPS-enabled app-based tour that narrates information based on your location right on your phone. You can experience our driving and walking tours at your own pace and literally at any time of the day! 
Lifetime Validity
​Changing travel date? No worries! All individual tours come with lifetime validity. 
No Network Needed
The tour works offline which means you do not need your phone network to enjoy the tour. However, we do suggest you download the tour at your home, hotel, visitor center, etc before you head out for a completely immersive experience.
Not an Entry Ticket
This is not an entry ticket.