Tour Details



Driving


2 - 3 Hours



Purchase QTY


One Per Car



Distance


50+ miles



Audio Stories


45+



Self Guided


At Your Own Pace



Tour Benefit


Tour Anytime
Any Day



Works Offline


100%
Money-back
Guarantee
Welcome to the Glacier National Park Tour
Experience the crown jewel of the national parks with this self-guided driving tour of Glacier, one of the most pristine and awe-inspiring landscapes on Earth. Cruise past crystal-clear glacial lakes, hike across breathtaking alpine tundras, and discover the secrets hidden in this sprawling wilderness. Plus, learn about the Blackfoot Confederacy, an ill-fated gold rush, and lots more along the way.
About the Tour
Your Glacier National Park tour begins at either Saint Mary on the park's eastern end or West Glacier on the park's western side. From Saint Mary, you'll cruise alongside Saint Mary Lake and discover why it's so clear. You'll also get acquainted with the park's distant past, from the Blackfoot Confederacy to early colonization.
A couple of overlooks offer spectacular views of the lake and the tiny Wild Goose Island within—one of the park's most popular spots for photos.
Beyond that, you'll hear about a disastrous gold rush before arriving at Sun Point Nature Trail, a super short walk leading to a fantastic vista. Then there's another trail to Saint Mary Falls, a sparkling waterfall with a distinctive turquoise hue.
Jackson Glacier Overlook waits ahead, offering your first good look at one of the park's five active glaciers. After that, you'll hear all about how these glaciers have impacted the landscape, as well as the man who decided they were a resource worth protecting.
Hidden Lake Trail is next, perfect for those seeking a little seclusion. Then you'll reach Paradise Meadow, one of the best vistas in the entire park (and one you'll definitely want to remember with a few photos)!
Next, you'll pass the strange, not-quite-waterfall of the Weeping Wall before reaching Bird Woman Falls Overlook, which is named for the famous Native guide Sacagawea.
You'll learn all about the local fauna as you head toward the West Tunnel, which boasts observation windows featuring incredible views of Heaven's Peak. Then, cross the continental divide and hear how wildfires have impacted the park over the years.
The Trail of the Cedars is next, offering an easy, accessible hike that's a favorite among visitors for a good reason.
As you pass Lake McDonald Lodge, next, you'll get to know the park's marine wildlife and find out how some reptiles and amphibians survive in such a cold climate.
Finally, you'll arrive at Apgar Village on the park's western end, where your tour will conclude. The tour starts in West Glacier and follows the same route in the opposite direction.
Going-to-the-Sun Road
: Closed in winter. Typically, the section from Lake McDonald Lodge to St. Mary Entrance.
Explore America's beautiful National Parks without the hassle:
Embark on an epic journey through nature's wonders with our self-guided driving tours bundle of Yellowstone, Glacier, and Grand Teton. Explore the breathtaking landscapes, geothermal wonders, and majestic wildlife of these iconic national parks at your own pace. Book your trip now! 
How does it work?
Instructions will be sent via text or email once you book the tour.

You will need to download the app while in an area with good wifi or signal and use your unique password to gain access to your tours.

When you're ready to begin, head to the Starting Point and launch the app to start your tour.

The audio will start automatically, so make sure to stick to the designated tour route and adhere to the speed limit for the optimal experience.

It's important to note that no one will greet you at the starting point.
What You'll See
Welcome

Saint Mary Lake

What's in a Name?

The Blackfoot Confederacy

Auto Parks

Saint Mary Overlook

Wild Goose Island Overlook

Settlers Arrive

Big Beaver Money

Fool's Gold

Sun Point Nature Trail

Red Eagle Mountain

Geology

Saint Mary Falls

We're Going to the Sun

Jackson Glacier Overlook

Glaciers

Piegan Pass Trail

George Grinnel

Tree Line

Hidden Lake Trail

Logan Pass

Glacial Formations

Triple Arches

Paradise Meadow

The Weeping Wall

Bird Woman Falls Overlook

The Hardy Ptarmigan

Elk and Sheep

The Loop

The West Tunnel

Forest Fires

Creating the Park

Continental Divide

Lichens

Trail of the Cedars

Glacier National Park Goes to War

John's Lake Loop Trail

Lake McDonald Lodge

Marine Life

Cold-Blooded Critters

Lake McDonald

Apgar Village

West Entrance
Preview the Tour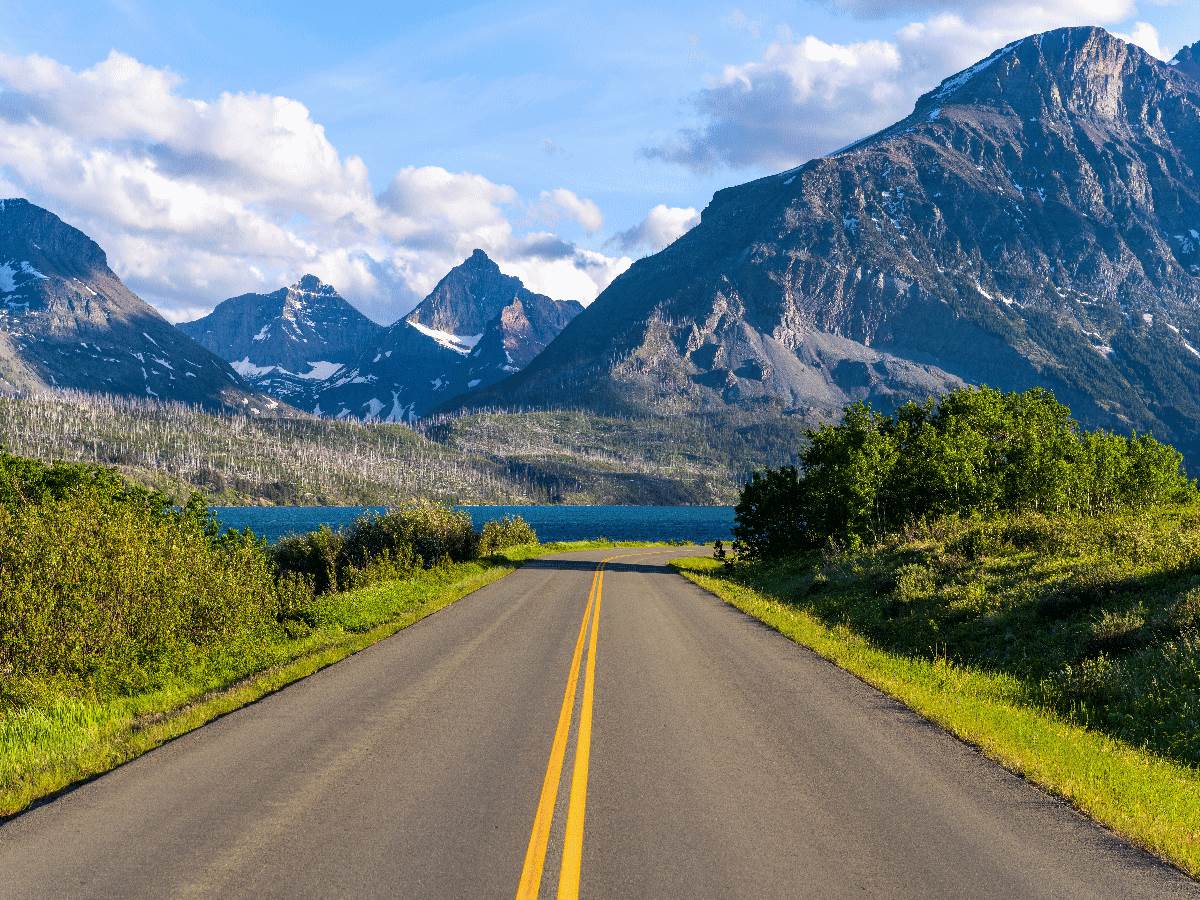 Going to the Sun Road Audio Story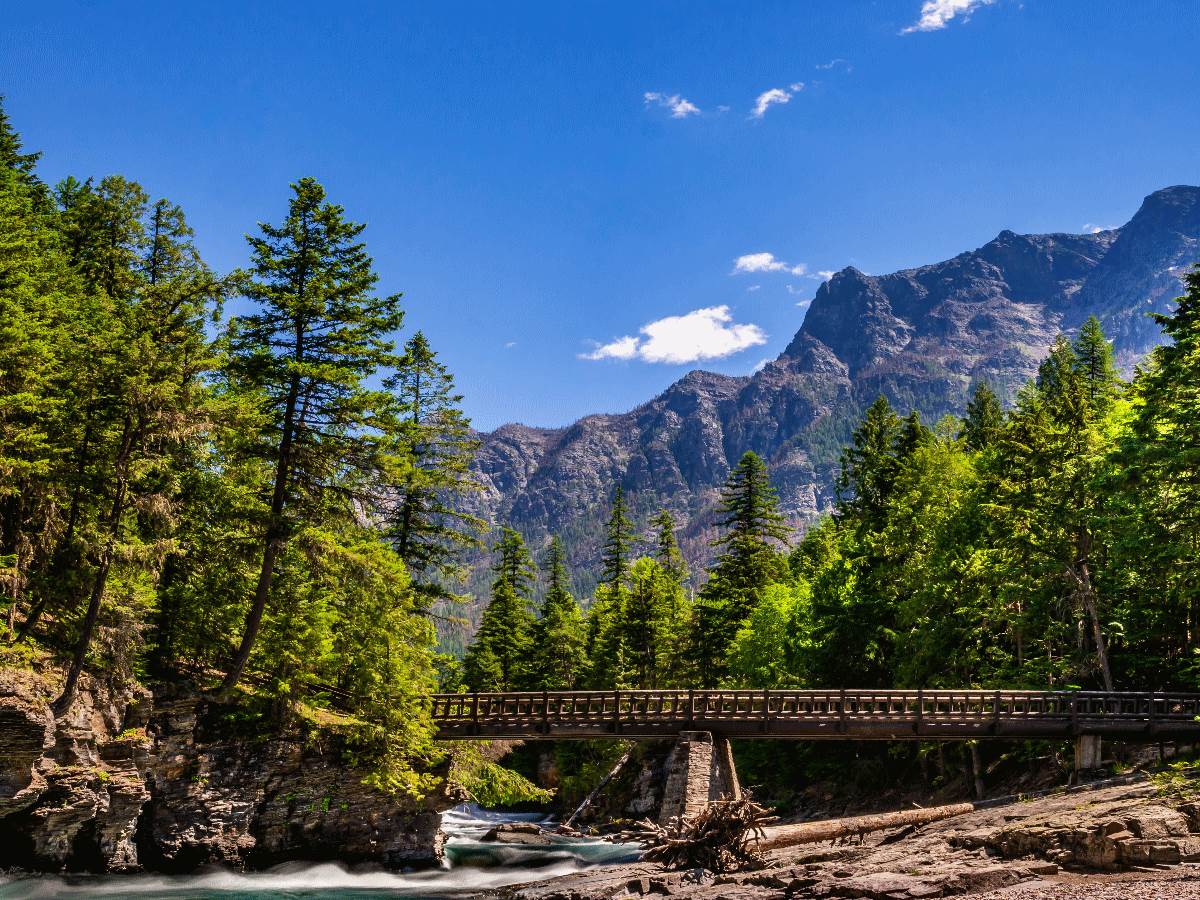 John Lake Audio Story
Tour FAQs
The best time to visit Glacier National Park is during the summer months from late June to early September when most of the park's facilities and roads are open.
Yes, the glaciers in Glacier National Park have been shrinking due to climate change and are expected to continue melting.
Yes, you can drive through Glacier National Park on the Going-to-the-Sun Road, which offers stunning views of the park's landscapes.
Yes, Glacier National Park is home to both black bears and grizzly bears. Visitors should take precautions and follow guidelines to ensure safety.
Yes, dogs are allowed in certain areas of Glacier National Park but must be leashed and are restricted from many trails and backcountry areas.
To fully explore Glacier National Park, plan on spending at least 3 to 5 days, although even a shorter visit can be rewarding.
To fully explore Glacier National Park, plan on spending at least 3 to 5 days, although even a shorter visit can be rewarding.
Yes, fishing is allowed in Glacier National Park, but you need to have a valid fishing permit and adhere to park regulations.
Wildfires can occur in Glacier National Park, particularly during dry summer months. Park authorities closely monitor and manage any fire incidents.
Yes, the Northern Lights can occasionally be visible in Glacier National Park, especially in the darker skies of remote areas. However, viewing is not guaranteed and is more common during the colder months.
Inclusions and Exclusions
Inclusions:
App on your phone: A link to download the Action Tour Guide App and Password for your tours.
Flexible schedule: Use any day, any time. Travel over multiple days or on next trip. Never expires.
Easy to use: Stories play automatically by GPS. Hands-free. Get HELP all day: Call, Chat, or Email.
At your own pace: No group. Take breaks for photos/ snacks/hikes. Go at your own pace.
Offline use: No cell signal or wifi required. Offline GPS Map & route. Stop-to-stop direction.
Don't miss a thing: Full itinerary, travel tips, professionally narrated videos, text, and hidden gems.
Exclusions:
Transportation, parking fees, food, and drinks.
Entry tickets or reservations to any attractions along the route.
Car Rental: Please arrange a rental car at the closest airport or train station.