Tour Details



Driving


3 - 6 Hours



Purchase QTY


One Per Car



Distance


25+ miles



Audio Stories


40+



Self Guided


At Your Own Pace



Tour Benefit


Tour Anytime
Any Day



Works Offline


100%
Money-back
Guarantee
Welcome to the Hawaii Volcanoes National Park Tour
Witness the explosive majesty of Hawaii with this self-guided tour of Hawaii Volcanoes National Park. Stand at the precipice of Kilauea Crater. Visit the Pu'u Loa Petroglyphs. See the beauty of the Hōlei Sea Arch before erosion destroys it for good. Along the way, you'll find out how volcanoes really work, what they've meant in the history of Hawaii, and so much more.
About the Tour
Your journey begins at the entrance station to Hawaii Volcanoes National Park. From there, you'll head to the Visitor Center and have the option to hike the popular Sulfur Banks Trail.
Then, you'll pass steam vents where water is constantly boiling beneath the earth's surface before continuing on to Kilauea Overlook. This astonishing vista looks out across the massive Kilauea Crater, and it's one you won't want to miss!
Next up is Kilauea Iki Trail, which actually goes through a volcanic crater that was once filled with lava! Then there's the Thurston Lava Tube, offering an underground experience you won't soon forget.
As you drive toward Puʻupuaʻi Overlook, you'll hear about how volcanoes actually created the Hawaiian islands. Then you'll pass a string of remarkable craters left over from past eruptions.
On your way to the Pu'u Huluhulu Trail, next, you'll hear about the goddess Pele and her mysterious hair, which can be found across the park. Then you'll find out how that national park was created in the first place.
After that, you'll reach Mauna Ulu Lookout, offering views of the aftermath of a five-year-long eruption! Then you'll visit a spot overlooking the site where a village once stood… before disaster after disaster erased it.
Continuing on, you'll learn to identify different kinds of lava, find out how certain plants survive in this inhospitable climate, and hear the dramatic true story behind the "day of falling sands."
Next, you'll hear an ancient Hawaiian legend and stop by Alanui Kahiko Overlook, offering views of where the Chain of Craters Road was before being destroyed by a lava flow. Then you'll reach the Pu'uloa Petroglyphs, authentic rock carvings dating back hundreds of years!
Finally, you'll arrive at the Hōlei Sea Arch, a magnificent sight that may not last very much longer. Your tour concludes here.
Tour Start Address: Entrance Station, Volcano, HI, USA
Drive Your Way to Paradise
Experience the natural beauty and vibrant culture of Hawaii at your own pace with our All Hawaii Self-Guided Driving Tours Bundle! Enjoy the freedom to explore the islands on your own terms, we guide you to the best hidden gems and must-see attractions. From the stunning beaches of Maui to the lush rainforests of Kauai, this bundle has it all. So, grab your keys and get ready for an unforgettable adventure in paradise!
How does it work?
Once you book a tour, you'll get a text/email with instructions.
Download the app (while in good wifi/signal) and use your unique password to access your tours.
To begin touring, go to the starting point and launch the app.
The audio starts automatically once you reach the starting point. Stick to the tour route & speed limit for the best experience.
Please note that no one will meet you at the starting point.
Preview the Tour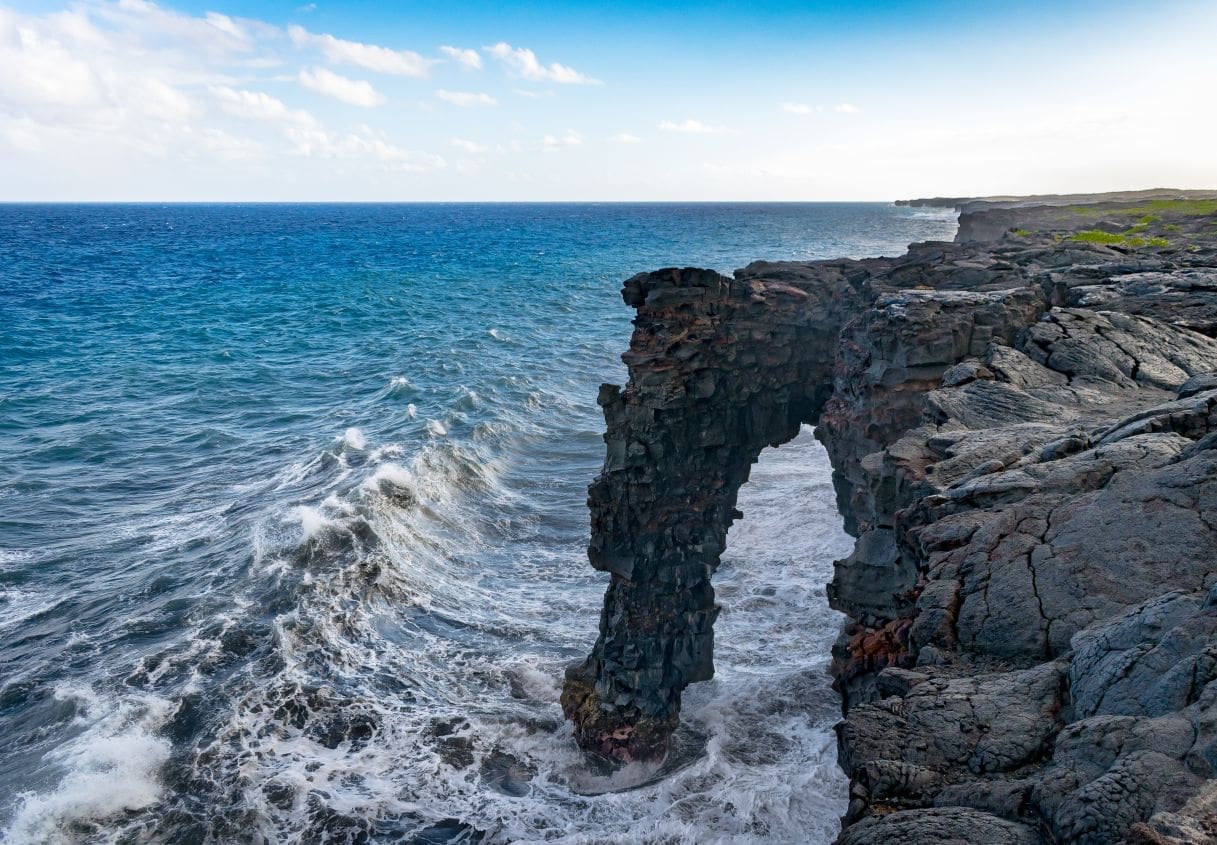 Holei Sea Arch Audio Story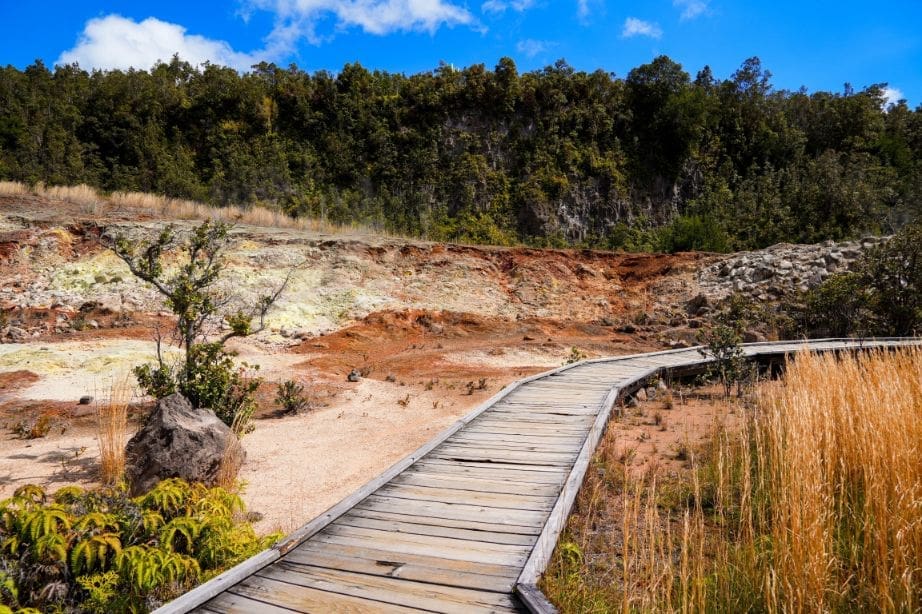 Sulphur Banks Trail Audio Story
Tour FAQs
Without a doubt! Hawaii Volcanoes National Park is unlike any other park you'll ever visit, offering close-up views of enormous craters and ancient lava flows.
If you're just hoping to see the sights, a single day should suffice. However, if you'd like to embark on a few of the park's unique and amazing hikes, you should block out at least a full weekend for your adventure.
You can! The Thurston Lava Tube is a hugely popular attraction where visitors can enter and walk through a 500-year-old lava tube!
It takes around 2-3 hours to drive through the park, though the road isn't a loop so you'll also need to budget another hour or so to exit the park. You should also leave plenty of time to stop at overlooks and explore!
Volcanoes National Park sits atop active volcanoes and features craters and lava flows both ancient and shockingly new. You just can't get an experience like that anywhere else!
Hawaii Volcanoes National Park is home to two major volcanoes: Mauna Loa and Kīlauea. Just outside the park are three more major volcanoes, named Mauna Kea, Hualālai, and Kohala.
Late spring and early fall are the best times of year to visit Hawaii Volcanoes National Park. You'll dodge most of the summer crowds while still catching the great weather of Hawaii's dry season
You can stay inside Hawaii Volcanoes National Park, but there are only two campgrounds available: Nāmakanipaio and Kulanaokuaiki. These fill up fast during the busy season, so planning ahead is important!
Currently, Hawaii Volcanoes National Park does not require reservations to enter. With that said, the NPS is debuting new reservation rules at parks across the country, so it's best to double-check before you visit.
While you can technically see most of Hawaii Volcanoes National Park in a single day, you may want to budget at least two days if you plan to do much hiking while you're in the park.
The best lava-viewing spots change from time to time, but a good bet is almost always the Halemaʻumaʻu Crater. Stop by after sunset for even more impressive views!
Hilo is the closest city to Hawaii Volcanoes National Park. There are also a few small towns which are a little closer, such as Keaau.
Hilo International Airport is the closest airport to Hawaii Volcanoes National Park, but Kona International Airport is larger and generally easier to travel through.
Inclusions and Exclusions
Inclusions:
App on your phone: A link to download the Action Tour Guide App and Password for your tours.
Flexible schedule: Use any day, any time. Travel over multiple days or on next trip. Never expires.
Easy to use: Stories play automatically by GPS. Hands-free. Get HELP all day: Call, Chat, or Email.
At your own pace: No group. Take breaks for photos/ snacks/hikes. Go at your own pace.
Offline use: No cell signal or wifi required. Offline GPS Map & route. Stop-to-stop direction.
Don't miss a thing: Full itinerary, travel tips, professionally narrated videos, text, and hidden gems.
Exclusions:
Transportation, parking fees, food, and drinks.
Entry tickets or reservations to any attractions along the route.
Car Rental: Please arrange a rental car at the closest airport or train station.