Tour Details



Driving


2 - 3 Hours



Purchase QTY


One Per Car



Distance


44+ miles



Audio Stories


35+



Self Guided


At Your Own Pace



Tour Benefit


Tour Anytime
Any Day



Works Offline


100%
Money-back
Guarantee
Welcome to the Monument Valley Navajo Tribal Park Tour
Explore the movie industry's and Navajo history's "Wild West" as you drive through the Monument Valley's dramatic landscape. This self-guided audio tour along a 17-mile Navajo route allows you to enjoy the incredible panoramas while learning about Navajo culture, tribal history, and stardom.
About the Tour
Your adventure into the stunning Utah landscape begins on the outskirts of the tiny town of Mexican Hat. From here, we'll cruise across the rust-red land and crest the rise where Forrest Gump's long run finally came to an end in the famous Tom Hanks film. This is where you'll get your first perfect look at the wonders that await.
Then it's on to Monument Valley itself. After we pass the visitor center (entrance tickets not included), we'll learn about the mysterious Anasazi tribe, the first people who ever lived in this harsh place. They left behind ancient, advanced dwellings among the cliffs, which had been abandoned even before the Spanish arrived here. 
We'll also hear about the Navajo, of course! After all, this is a Monument Valley Navajo Tribal Park Tour. This is their valley, and the tribe has a long history here.
Next, we'll come to Wildcat Trail, the only self-guided trail in the park. From here, you can hike through some of the coolest sights the valley has to offer–as long as you bring enough water, that is!
After that, we'll see the towering formations of East Mitten Butte, West Mitten Butte, and Merrick Butte. While there, we'll dive into the fascinating story of a silver prospector who tried to steal from this Navajo land. You can probably guess how that went for him.
Our drive continues to John Ford Point, a gorgeous viewpoint named for the famous Western director John Ford. Along the way, we'll dig into the countless hits filmed here over the years, from The Searchers to 2001: A Space Odyssey.
We'll visit the Three Sisters next. These monoliths loom 1,000 feet over the landscape and seem to defy gravity itself. Plus, we'll give you some insights into the Navajo families who still live in this valley with no running water or electricity.
On our way through the jaw-dropping scenery, we'll learn more about the long history of the Navajo, from the dramatic tale of Navajo code talkers in World War II to the tribe's modern presence in the country. 
We'll point out the perfect spot to catch a sunrise at North Window Overlook. Finally, we'll end up near Camel Butte and Elephant Butte, where our tour will conclude.
Starting Point Address: Monument Valley Post Office
Scenic Drive Hours
Peak Season (May 1-Sept 30) 6:00am – 8:30pm
Off Season (Oct 1 – Apr 30) 8:00am – 4:30pm
Planning your next road trip to Utah? 
Get the most out of your Utah vacation with this $39.99 package, which includes Arches National Park, Canyonlands National Park, Bryce Canyon National Park, Capitol Reef National Park, Zion National Park, Monument Valley, and Grand Staircase Escalante. Save 49% and see all the top sights in the state at your own pace.
Journey Through America's Southwest Wonders: Embark on an Epic tour
Experience the wonders of the American Southwest on an unforgettable tour. Explore the stunning red rock formations of Sedona, wander through the otherworldly landscapes of the Grand Canyon, and immerse yourself in the rich Native American culture of the region. From the vibrant city lights of Las Vegas to the serene beauty of Zion National Park, this tour will take you on a journey through some of America's most iconic destinations.
How does it work?
Once you book a tour, you'll get a text/email with instructions.
Download the app (while in good wifi/signal) and use your unique password to access your tours.
To begin touring, go to the starting point and launch the app.
The audio starts automatically once you reach the starting point. Stick to the tour route & speed limit for the best experience.
Please note that no one will meet you at the starting point.
What You'll See
Welcome

Introduction to Monument Valley

How It Came to Be

From Sea to Desert

The First Tribe of Monument Valley

Ticket Booth

Visitor Center

Wildcat Trail

The Navajo

New Arrivals

West Mitten Butte, East Mitten Butte, Merrick Butte

Butte vs Mesa vs Plateau

Navajo Silver

The Long Walk of the Navajo

Hollywood's Favorite Set Piece

Ericson Cly Memorial & John Ford Point

Three Sisters

Families of Monument Valley

Navajo Code Talkers

What Is a Reservation?

Modern Navajo

Artist's Point

Sunrise Recommendation: North Window Overlook

Camel Butte & Elephant Butte

Conclusion
Preview the Tour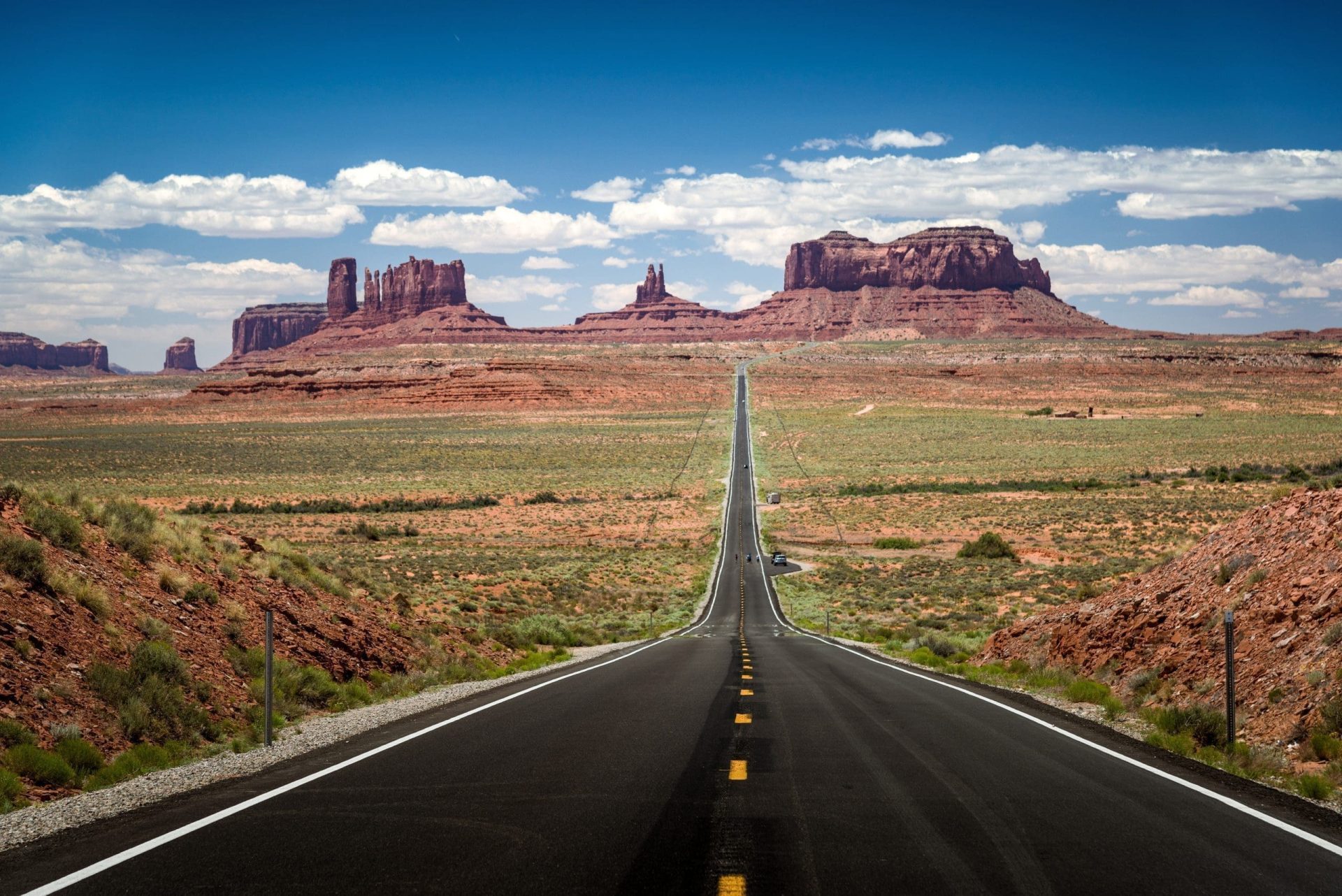 Welcome Audio Story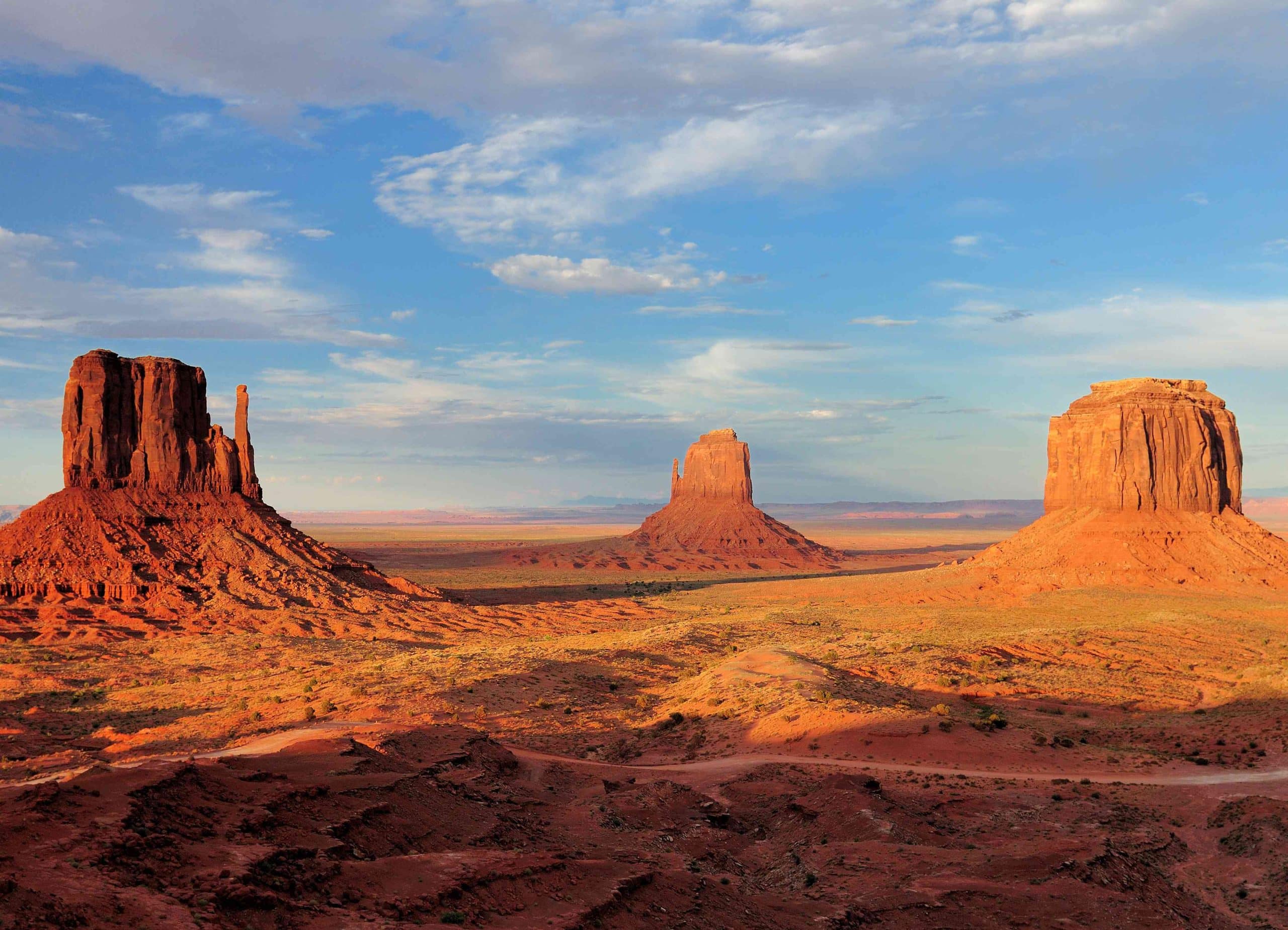 West Mitten Butte, East Mitten Butte, Merrick Butte Audio Story
Tour FAQs
Monument Valley is on the Colorado Plateau between Utah and Arizona. It's not a National Park because it's on the Navajo Nation Reservation. The Navajo name is actually Tsé Bii' Ndzisgaii, which roughly translates to the valley of rocks. Tourists mostly visit Monument Valley Navajo Tribal Park. Read more on our blog about the moniker. Monument Valley was little-visited until the 1930s. Only the Navajo Indians who lived here appreciated its beauty. Monument Valley became popular after John Ford featured it in his films.
The best time to take a Monument Valley tour will depend on your own preferences, but we'd generally recommend the spring or fall. The weather isn't as extreme during those months, and the park is also less likely to be crowded than during the summer.
1) The Navajo lived in hogans. A hogan was a domed shaped house with a wood frame and walls made out of clay.  2) Before they started raising sheep, the Navajo wore clothes made of woven yucca plants or deerskin. The men wore breechcloths and the women skirts. Their shoes were soft leather moccasins. Later, they wore clothes woven from the wool of sheep. 3). Women wove blankets and made clay pots while the men made jewelry. One form of jewelry that is still popular today is silver jewelry. The Navajo like to use turquoise in their jewelry as well. 4) The Navajo language is so difficult to learn that it was used as a secret code in World War II.
The distance between the Grand Canyon and Monument Valley is about 181 miles. Without any breaks, it will take about 3 hours and 20 minutes to drive this distance. We recommend doing both the tours over 2 days to get the most out of your visit.
This vast valley is most beautiful early in the morning. As the sun rises higher in the sky, it positions itself among the sandstone buttes. The buttes range in height from 400 to 1,000 feet. The buttes each have a name: East and West Mitten Buttes have large spires. Get more insight on the same on our blog .
People come from all over the country to take a Monument Valley tour because of the unique and iconic beauty of the park's geological formations, which have been popularized by decades of Hollywood movies and advertisements shot in the park.
Traveling directly from Monument Valley to Arches National Park is a distance of 160 miles (257 kilometers) and should take about 3 hours and 40 minutes under typical traffic conditions.
Inclusions and Exclusions
Inclusions:
App on your phone: A link to download the Action Tour Guide App and Password for your tours.
Flexible schedule: Use any day, any time. Travel over multiple days or on next trip. Never expires.
Easy to use: Stories play automatically by GPS. Hands-free. Get HELP all day: Call, Chat, or Email.
At your own pace: No group. Take breaks for photos/ snacks/hikes. Go at your own pace.
Offline use: No cell signal or wifi required. Offline GPS Map & route. Stop-to-stop direction.
Don't miss a thing: Full itinerary, travel tips, professionally narrated videos, text, and hidden gems.
Exclusions:
Transportation, parking fees, food, and drinks.
Entry tickets or reservations to any attractions along the route.
Car Rental: Please arrange a rental car at the closest airport or train station.