When driving from Cancun to your Tulum tour, expect to spend about 2 hours in the car each way. It makes for a great day trip! '
How do I get from Cancun to Tulum?
There are quite a few options for travelers to get from Cancun to Tulum:
If you want to save money and don't mind taking extra time, take a bus from Cancun to Playa del Carmen and change buses to get to Tulum.
An airport shuttle or a taxi cab will both get you to Tulum. The rate will be higher, but you'll save time and energy.
If you want to do your own driving and explore at your own pace, I recommend renting a car for the day. That way you're not limited to specific routes or schedules.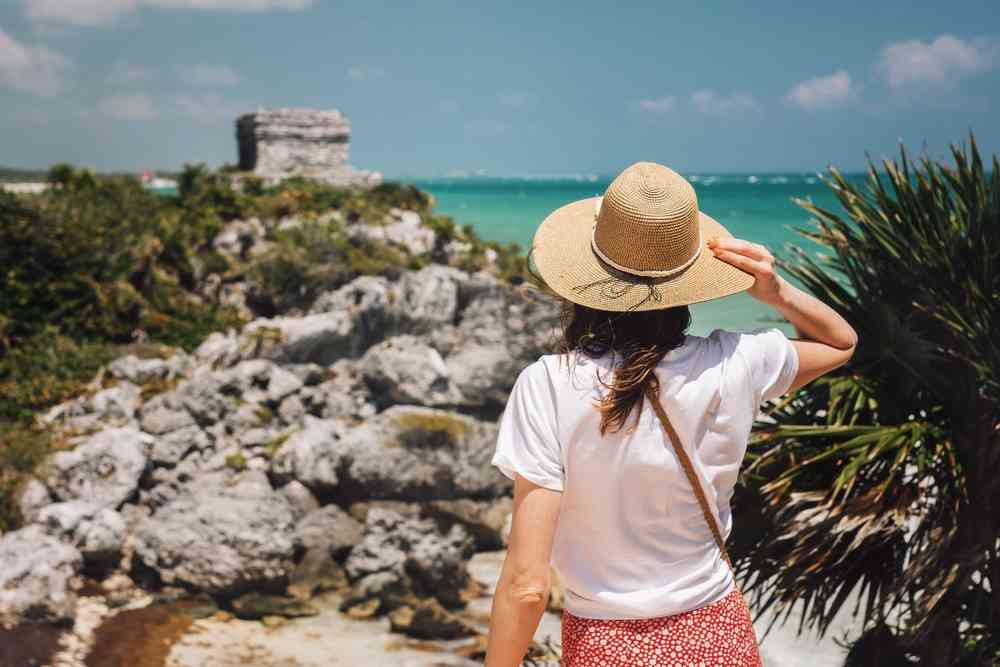 What's worth seeing in Tulum?
Tulum today is known as a beachside resort town, full of hotels, restaurants, boutiques, and bars. It is great to visit on its own, but the real prize jewel of Tulum is the Tulum Ruins archeological site.
The Tulum Ruins are the best-preserved coastal city of the Ancient Mayans. This might have something to do with the impressive wall built around the entire site. Once you enter the wall, it's like you've stepped back into the past. You'll be surrounded by ancient buildings made of thousand-year-old limestone. From the imposing El Castillo to the innovative Temple of the Wind, there's so much history preserved in this compact city.
How do I explore Tulum once I get there?
Download a Tulum self-guided walking tour. This app automatically detects your location to tell you all about the structures in Tulum while you're looking at them. Not only will you get to see everything in the amazing walled city, but you'll also learn a ton about ancient Mayan mythology and history along the way.
Essential Travel Guide: