Winter in Zion National Park is the least popular time to visit, but that doesn't mean it's not worth going. In fact, there are a few reasons why you might actually prefer to visit in the colder months. The first is the lack of popularity we mentioned just above. Fewer visitors mean smaller crowds, which can mean a lot when traveling to Zion. As one of the country's most popular national parks, Zion is frequently bustling with tourists from all over the world as well as domestic visitors. In June, the park averages about 600,000 visitors for the month, but January only averages about 60,000. That's a significant difference and it can mean a lot when you're looking for some peace and quiet on the trails.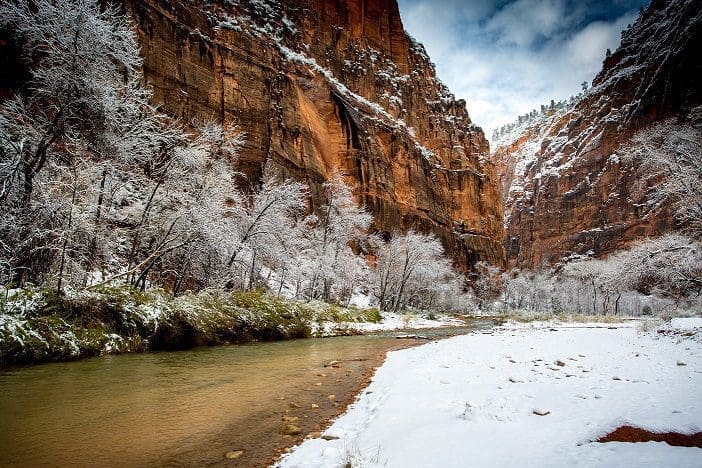 In the winter, the weather at Zion National Park gets cold enough for occasional snowfall. When covered in snow, Zion is transformed into a winter wonderland, offering a completely different kind of beauty than its usual desert look. Photographers travel from all over the country to catch Zion in the snow, so it's well worth visiting if the forecast calls for some. Keep in mind; however, that rain often follows the snow in that part of Utah, which means the accumulation can melt pretty quickly. Try to visit the park early in the morning if you're trying to see it covered in snow.
Besides the colder weather, the biggest downside of visiting in the winter is that many of the services are closed down. Even some of the trails are shut down in the offseason, so you might not get to explore as much of the park as you'd like to.
Regardless of when you choose to visit Zion, your trip can be improved with our Zion National Park Self-Guided Driving Tour.