The Lake Tahoe Scenic Drive is a ~70-mile loop that runs all the way around the lake. It takes about three hours if you don't make any stops, but we recommend taking your time and checking out all the beautiful views along the way.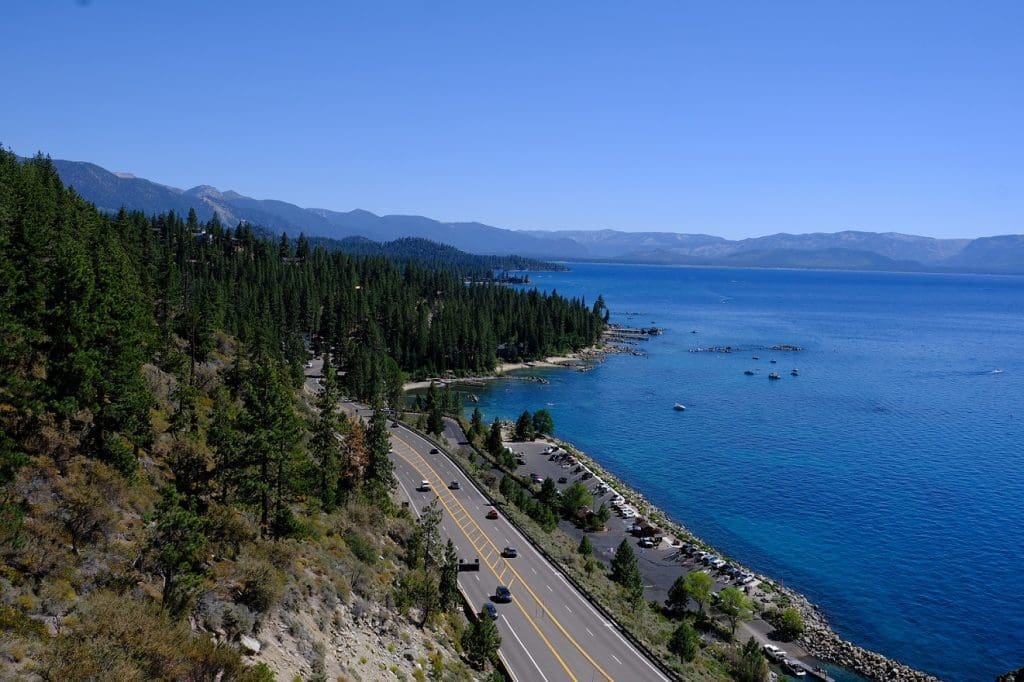 Since the road is a loop, you can start anywhere and end up back there at the end, but most people start in South Lake Tahoe or Tahoe City, CA, up north. Regardless of where you start your drive, there are plenty of opportunities to pull off the road and look out over the lake, as well as a ton of towns with food, attractions, and chances to rent equipment to go out on the water.
While the road doesn't stay right next to the lake for the whole drive, there are pull-off points all along the highway so you can stop at any time and look out across the water. For our money, the best view in the whole area is the lookout in Emerald Bay State Park, on the southwestern edge of the lake. There are also plenty of hiking trails that start right on the highway so all you have to do is pull over and start walking. Hikers can access the famous Tahoe Rim Trail from the highway, a 165-mile trail that goes all the way around the lake. Most people will only want to hike along a bit of the Rim Trail, although experienced backpackers with a couple of weeks to kill can take it all the way around.
As you're taking the scenic drive around the lake, we recommend putting on our Ultimate Lake Tahoe Self-Guided Driving Tour. The tour will give you a more in-depth look at Lake Tahoe than you'd get just from driving around the highway by yourself.
Essential Travel Guide: