Planning a Zion National Park day trip can be difficult since the park is so huge, but you can still hit a lot of the most iconic spots if you get there early enough in the morning. In fact, if you get there while it's still dark out, you'll be rewarded with the sight of the sun rising over the cliffs and painting them a fiery red. We recommend watching the sunrise from the Canyon Overlook trail or at the visitor center. Arriving at the park early will also give you some peace and quiet before the rest of the vacationers arrive.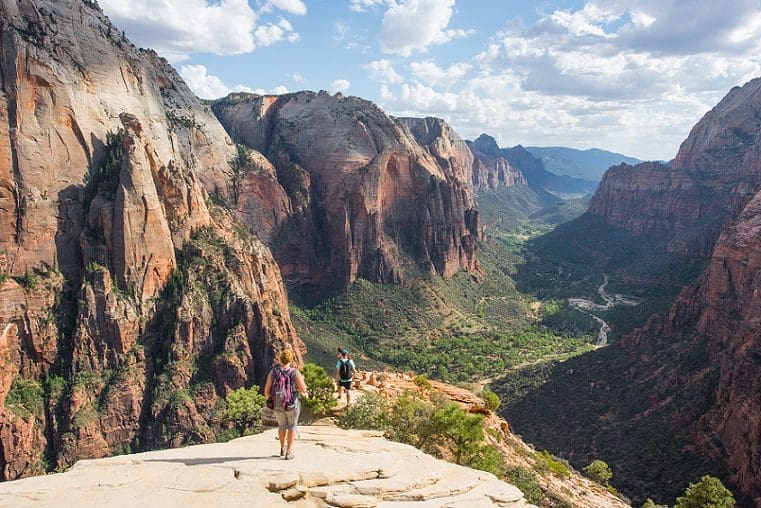 Once the sun is up, just leave your car parked at the visitor center and get on the next shuttle bus. The shuttle makes a loop around Zion Canyon, stopping at a few of the most popular trailheads and overlooks along the way. Feel free to explore the trails once you've stopped – if the shuttle leaves without you, you can catch the next one in a few minutes. Assuming you spend some time looking around at the stops, you can expect the shuttle to bring you back to your car around lunchtime. We'd recommend heading over to nearby Springdale if you didn't bring food with you.
When you're done with lunch, you can spend the afternoon at Kolob Canyons in the western part of the park. While these canyons are every bit as stunning as Zion Canyon, they're significantly less crowded most of the time, making them a perfect place for some leisurely exploration until dinnertime. You could end your day there, but if you're not too worn out, we'd recommend heading back to the park after dark so you can see some of the country's best stargazing spots.
If you want a more thorough tour, we recommend checking out our own Zion National Park Self-Guided Driving Tour.