Charleston is more than just a city. It is a living museum of American history, culture, and beauty. I visited Charleston last year and I was blown away by its charm and elegance. Here are some of the reasons why I think you should visit Charleston too.
Charleston is one of the oldest and most historic cities in the U.S. It was founded in 1670 and played a vital role in the American Revolution and the Civil War. You can see the traces of its past in its stunning architecture, monuments, and museums. Some of the must-see attractions are:
Fort Sumter: This is where the first shots of the Civil War were fired in 1861. You can take a boat tour to the island fort and learn about its history and significance.
The Battery: This is a scenic promenade along the waterfront that offers spectacular views of the harbor and the city skyline. It is also lined with majestic antebellum mansions that showcase the wealth and style of Charleston's elite.
The Old Exchange and Provost Dungeon: This is a historic building that served as a customs house, a prison, and a meeting place for patriots. It is where George Washington was entertained in 1791 and where the Declaration of Independence was ratified in 1788.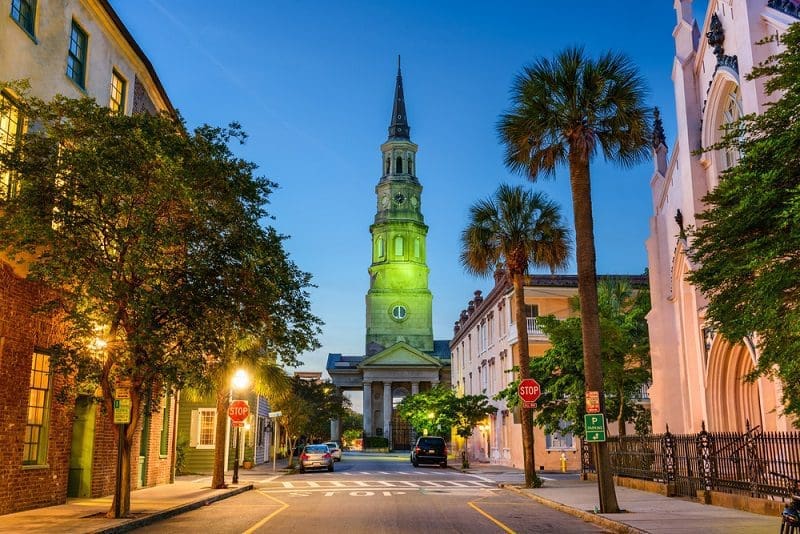 Charleston is also a cultural hub that celebrates its diverse heritage and artistic expression. You can enjoy its vibrant music, theater, and art scene in its many venues and festivals. Some of the highlights are:
The Spoleto Festival USA: This is an annual event that features world-class performances of opera, dance, theater, jazz, and more. It attracts thousands of visitors and artists from around the globe.
The Charleston City Market: This is a historic market that dates back to 1804. It is where you can find local crafts, souvenirs, food, and more. You can also watch the basket weavers who create beautiful baskets from sweetgrass, a traditional art form in Charleston.
The Gibbes Museum of Art: This is a premier art museum that showcases the works of local and regional artists. It has a collection of over 10,000 pieces that span from the colonial era to the present day.
Charleston is also blessed with natural beauty and outdoor adventure. You can enjoy its pristine beaches, lush gardens, and wildlife parks. Some of the places you should visit are:
The Magnolia Plantation and Gardens: This is one of the oldest plantations in the South and one of the most beautiful gardens in America. It was founded in 1676 and has been owned by the same family for 12 generations. It has a variety of flowers, trees, ponds, bridges, and wildlife.
The Angel Oak Tree: This is one of the oldest trees in the country and a symbol of Charleston's resilience. It is estimated to be over 400 years old and stands at 65 feet tall. It has a massive canopy that covers 17,000 square feet.
The Folly Beach: This is a popular beach destination that offers surfing, fishing, kayaking, and more. It is also where George Gershwin composed his famous opera Porgy and Bess while living on Folly Island.
The best way to experience all that Charleston has to offer is by taking a walking tour of the city. A walking tour of Charleston will allow you to see the sights, hear the stories, and feel the atmosphere of this amazing place. This is a convenient and affordable way to enjoy the city at your own pace and preference.
Essential Travel Guide: