When autumn paints its vibrant strokes across the landscape, there's no better way to celebrate this glorious season than a self-guided drive along the Blue Ridge Parkway. This iconic highway offers a front-row seat to nature's most spectacular show, and with our Blue Ridge Parkway tour, you can soak in every breathtaking moment at your own pace.
As you embark on your Blue Ridge Parkway driving tour adventure, the first thing you'll notice is the magical transformation of the lush green forests into a mesmerizing canvas of reds, yellows, and oranges. This picturesque spectacle is nature's way of inviting you to join the annual fall extravaganza.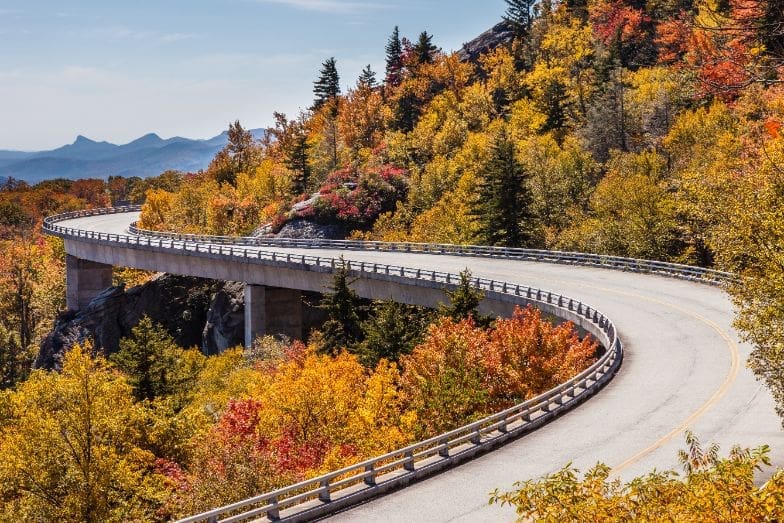 Your journey begins at any of the four entry points: Cherokee, Asheville, Roanoke, or Afton. The beauty of this self-guided tour lies in its flexibility. You can start from your preferred location and drive in either direction, exploring the Blue Ridge Parkway's wonders on your terms.
Cherokee to Asheville: Western Wonderland
The westernmost stretch from Cherokee to Asheville offers a serene introduction to North Carolina's natural beauty. Prepare to be captivated by jaw-dropping overlooks, like Cowee Mountain and Cherry Cove, that beckon you to pause, breathe in the crisp autumn air, and capture the essence of the season. Don't miss the opportunity to hike the Skinny Dip Falls Trail, leading to a sparkling wilderness waterfall.
While navigating this picturesque path, you'll delve into the history and legends of the Cherokee Native tribes, experiencing their rich cultural heritage. The journey also unveils the intriguing history of Asheville, a city nestled amid North Carolina's scenic landscapes.
Asheville to Roanoke: A Glimpse of Virginia's Charm
Transitioning from the serenity of North Carolina to Virginia's rugged terrain, this middle stretch of the Parkway offers stunning vistas at Chestoa Viewpoint and Grandview Overlook. Along the way, you'll encounter critical monarch butterfly migration routes and discover local heroes like the legendary bear named Mildred.
As you pass through small historic towns, you'll unravel the compelling history of the Appalachian industry—its rise, fall, and the enduring spirit of its resilient inhabitants.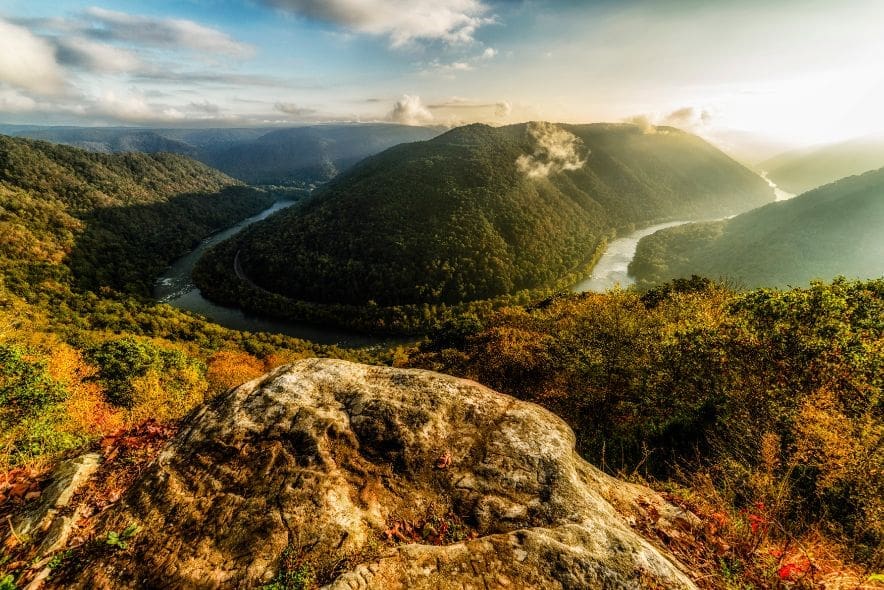 Roanoke to the Skyline Drive: Bridging the Scenic Gap
The easternmost part of your journey bridges the gap between the Blue Ridge Parkway tour and the breathtaking Skyline Drive. Admire the scenic mountain landscapes, including the iconic Peaks of Otter, and explore sections of the renowned Appalachian Trail.
Delve into the history of the Seneca people and the adventurous tales of a lesser-known 1700s wilderness pioneer. Your road trip culminates at another national park, ready for your exploration.
Whether you're seeking a scenic drive to savor the fall colors or a deeper dive into the Parkway's hidden treasures, our Blue Ridge Parkway tour provides the ideal tools for your adventure. So, embrace the changing seasons, buckle up, and hit the open road. Nature's grand spectacle awaits!