Tour Details



Driving / Walking


Per Tour: 2 -3 Hours



Purchase QTY


One Per Person



Distance


Per Tour: 7+ Miles



Audio Stories


Per Tour: 35+



Self Guided


At Your Own Pace



Tour Benefit


Tour Anytime
Any Day



Works Offline


100%
Money-back
Guarantee
Welcome to the tours of Colonial Williamsburg & Yorktown Battlefield
If you love history and culture, you'll love the Colonial Williamsburg & Yorktown Self-Guided Driving & Walking Tours Bundle. This bundle gives you access to two amazing tours that will take you back in time to the 18th century. You'll explore the historic sites, buildings, and museums of Colonial Williamsburg, the largest living history museum in the world. You'll also visit Yorktown, where the decisive battle of the American Revolution was fought. Along the way, you'll learn fascinating facts and stories from your audio guide. Don't miss this chance to experience the best of colonial America. Book your Colonial Williamsburg & Yorktown Self-Guided Driving & Walking Tours Bundle today!
About the Colonial Williamsburg Tour
Don't just learn about American history… live it! On the Colonial Williamsburg tour, America's Colonial past comes to life through beautifully restored architecture and authentic reenactors. Stroll down these historic streets while this tour tells you everything you need to know about Williamsburg, early America, colonial life, and more.
Williamsburg has a long and complex history that predates the creation of the United States by almost 150 years! Dig into the town's origins, the dramatic struggles which unfolded here during the revolution, and the people who put Williamsburg on the map.
Plus, get insights into the painstaking restoration of Williamsburg, and find out how John Rockefeller was involved in all of it. If you're looking for a comprehensive exploration of this fascinating town, this tour has you covered.
About the Yorktown Battlefield Tour
Discover the distinct charm and rich history of Yorktown with this self-guided driving tour. From the scenic waterfront to the battlefields where American independence was won, Yorktown is a town where history lives. Along the drive, you'll see 18th-century homes, historic battlefields, and charming streetscapes. Immerse yourself in stories of the Revolutionary War, perseverance, and the enduring spirit of the American people. Yorktown's unique culture, exceptional cuisine, and fascinating historical sites make it a destination unlike any other.
Starting Point Addresses
Yorktown Battlefield Visitor Center: 1000 Colonial Nat'l Historical Pkwy, Yorktown, VA
Colonial Williamsburg Visitor Center: 101 Visitor Center Dr, Williamsburg, VA 23185, USA
How does it work?
Once you book a tour, you'll get a text/email with instructions.
Download the app (while in good wifi/signal) and use your unique password to access your tours.
To begin touring, go to the starting point and launch the app.
The audio starts automatically once you reach the starting point. Stick to the tour route & speed limit for the best experience.
Please note that no one will meet you at the starting point.
Preview the Tour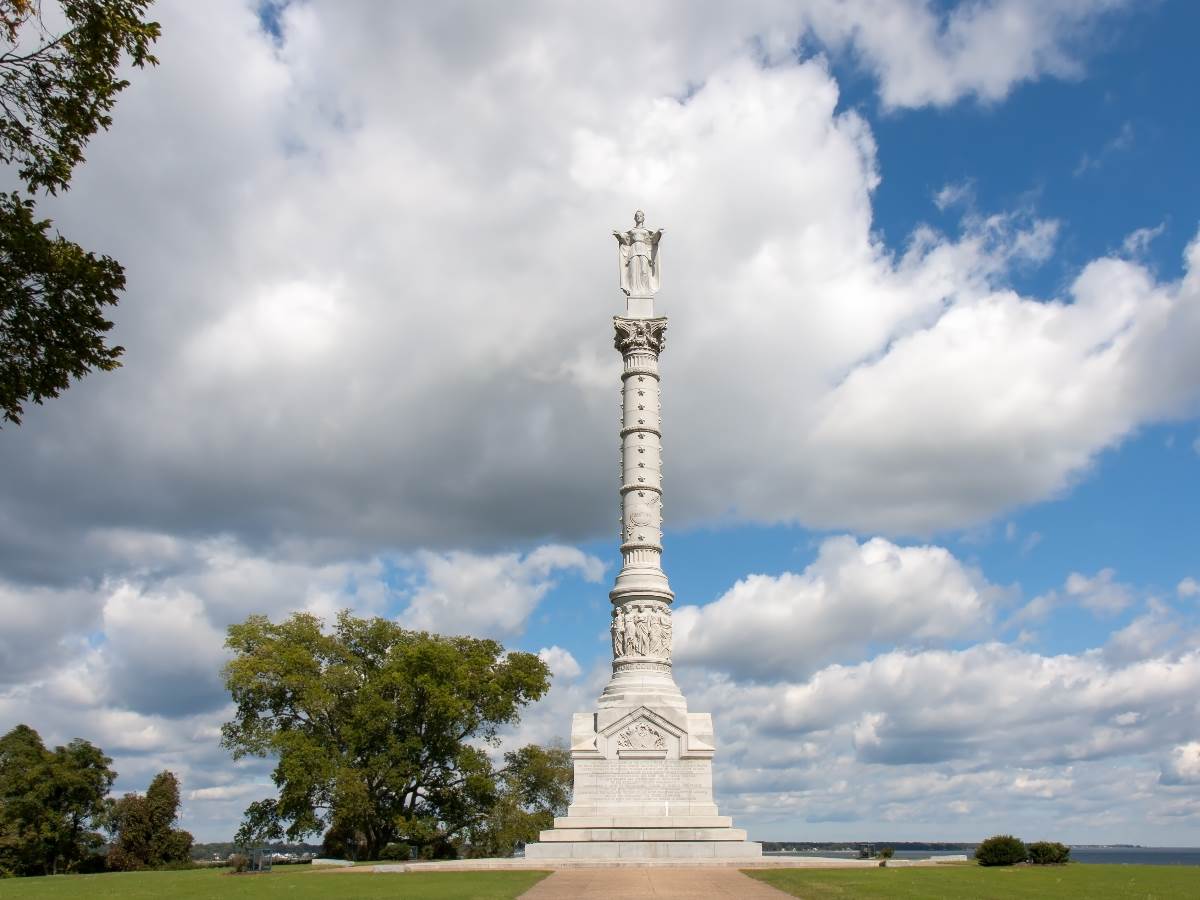 Yorktown Victory Monument Audio Story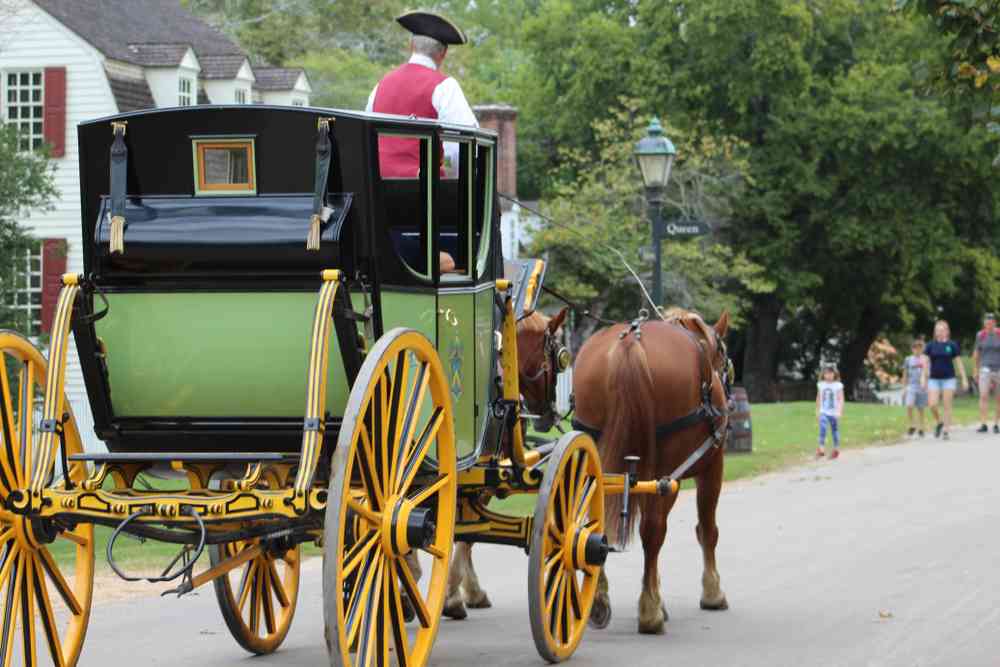 Origins of Colonial Williamsburg Audio Story
Tour FAQs
Yorktown Battlefield is where the decisive battle of the American Revolution took place, leading to American independence.
Attractions include the scenic waterfront, historic battlefields, 18th-century homes, and charming streetscapes.
You'll see authentic colonial buildings, costumed interpreters, and learn about daily life in the 18th century.
Absolutely! You can try blacksmithing, woodworking, and more.
The tour typically begins at a visitor center or a designated information point within Yorktown.
The duration of the tour can vary based on individual preferences, but it typically takes 8-10 hours to explore the key sites thoroughly.
Visitors can explore local cuisine at nearby restaurants and eateries, some of which offer colonial-inspired dishes.
Occasionally, special events, re-enactments, or historical demonstrations may take place at the battlefield, so it's advisable to check the schedule.
Yes, they can be adapted for family-friendly activities, making it easier to cater to different age groups.
Spring and fall offer pleasant weather, while the holiday season has festive charm.
Visitors should be respectful of historical sites, follow safety guidelines, and avoid disturbing any artifacts or historical markers.
The spring and fall months offer pleasant weather and fewer crowds, making them ideal for a visit.
There may be a parking fee, and it's recommended to check the official website or contact the site in advance for parking information and reservations if necessary.
Absolutely! Many viewpoints and pull-offs offer scenic photos, like: Surrender Field Viewpoint, Moore House, Yorktown Waterfront, Visitor Center Overlook, Redoubt 10 and 9, Yorktown Victory Monument, Yorktown Beach, French Cemetery etc!
Inclusions and Exclusions
Inclusions:
App on your phone: A link to download the Action Tour Guide App and Password for your tours.
Flexible schedule: Use any day, any time. Travel over multiple days or on next trip. Never expires.
Easy to use: Stories play automatically by GPS. Hands-free. Get HELP all day: Call, Chat, or Email.
At your own pace: No group. Take breaks for photos/ snacks/hikes. Go at your own pace.
Offline use: No cell signal or wifi required. Offline GPS Map & route. Stop-to-stop direction.
Don't miss a thing: Full itinerary, travel tips, professionally narrated videos, text, and hidden gems.
Exclusions:
Transportation, parking fees, food, and drinks.
Entry tickets or reservations to any attractions along the route.
Car Rental: Please arrange a rental car at the closest airport or train station.