Yellowstone National Park in June, July, and August
Summertime is when Yellowstone reaches peak activity. All roads, buildings, and campgrounds are open and ready for visitors. The temperature hovers between 70 and 80 degrees Fahrenheit. The weather never gets swelteringly humid like other parts of the country. Yellowstone is located at an altitude of 7000 feet above sea level, retaining an alpine climate all year round.
This is the peak season for tourists. During the summer months, two million people enter the national park! With warmer days and shorter nights, it's easier than ever before to get out and enjoy all that nature has created around Yellowstone.
Hiking routes, breathtaking views, camping sites, thermal areas, and lounging on the banks of rivers and lakes allow visitors of all ages to enjoy Mother Nature in America's oldest national park. If you're planning a Yellowstone trip, definitely book your hotels and flights in advance, because they are guaranteed to fill up.
Yellowstone National Park in September and October
It's the best of both worlds–– good weather with lower travel prices. Not only is the temperature mild and the crowds gone, but you'll be treated to Yellowstone's lovely fall foliage. With its spectacular landscapes, abundant wildlife, and amazing geological features, Yellowstone is the perfect destination for an unforgettable autumn adventure. Pack plenty of layers, including waterproof outerwear like a raincoat or poncho, to be ready for whatever mother nature throws at you, especially in September and October when it can get quite chilly at night. September and October are a wonderful time to visit Yellowstone because there are fewer crowds and traffic lineups. End-of-month fall hues are abundant. The park has many lodgepole pines which don't change color.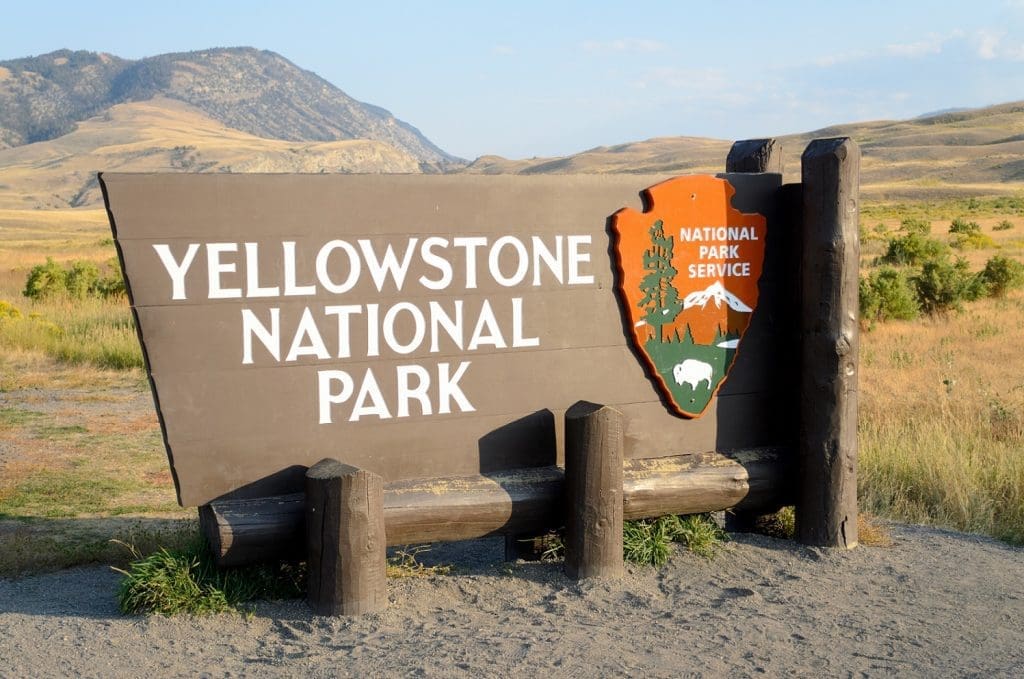 Yellowstone National Park in November through March
As soon as the snow starts, many of the roads close and the cold sets in… but the park is still open!
Yellowstone in winter is like entering another world. The hot springs and geysers send up plumes of smoke through the ice, creating a unique pattern of melting snow. The waterfalls are frozen in intricate formations. Instead of hiking, you can ski or snowshoe through the trails.
Only the park's North entrance is open at this time, so you'll have to plan your route carefully. You'll want to make sure you have snow tires on your vehicle and lots of layers to wear.
Yellowstone National Park in April and May
Late April is when you'll see the last snow melt and all the roads open up again after seasonal closures. Visitors can enjoy longer days with more hours of daylight. Spring is the time to see sights like geysers spewing water into the air or boiling hot springs surrounded by colorful flowers. The temperature in spring is unpredictable; it could be as high as 60º F or low as the single digits. The melting snow can lead to muddy, soggy conditions for hikers. But don't let this dissuade you… on the flip side, spring is baby animal season! It's a good time to visit for wildlife lovers.
Conclusion
This iconic nature preserve is an ideal destination for those looking for stunning views, wildlife sightings, and outdoor recreation. From stunning vistas to fascinating wildlife and thrilling activities, Yellowstone is a perfect destination for a great family adventure. No matter when you decide to visit Yellowstone National Park, experience the raw power and beauty of nature on the Yellowstone self-guided tour. You can make your trip to Yellowstone a once-in-a-lifetime experience with the right tips and planning. I'm sure you will love our self-guided tours.
I strongly recommend that you subscribe to Action+, which includes all of our tours in a single, year-long package. Travel all year and take our self-guided tours with you wherever you go!
Essential Travel Guide: