Your mouth has been agape ever since you pulled onto this scenic highway. Don't worry—it's a totally normal response as folks take in Utah's abundant and colorful fall foliage. Keep driving along the scenic byway or pull over to hike deep into Utah's wild woods and take in some of the best fall foliage you'll find anywhere in America.
Our self-guided Utah Fall Foliage Tour contains the full driving tours for seven of Utah's most breathtaking natural wonders:
1. Arches National Park: Discover the gravity-defying wonder of Arches National Park! Find hidden life within the harsh, beautiful desert. Marvel at impossible rock formations and towering arches millions of years in the making, and learn how it all came to be. Along the way, listen to the riveting history of the tribes that lived here for thousands of years.
2. Zion National Park: See why early Mormon pioneers thought Zion National Park was heaven on earth! Visit natural wonders like the Temple of Sinawava and the Weeping Rock. Learn the land's history, from its formation to the first people who lived here and inscribed petroglyphs on the canyon walls.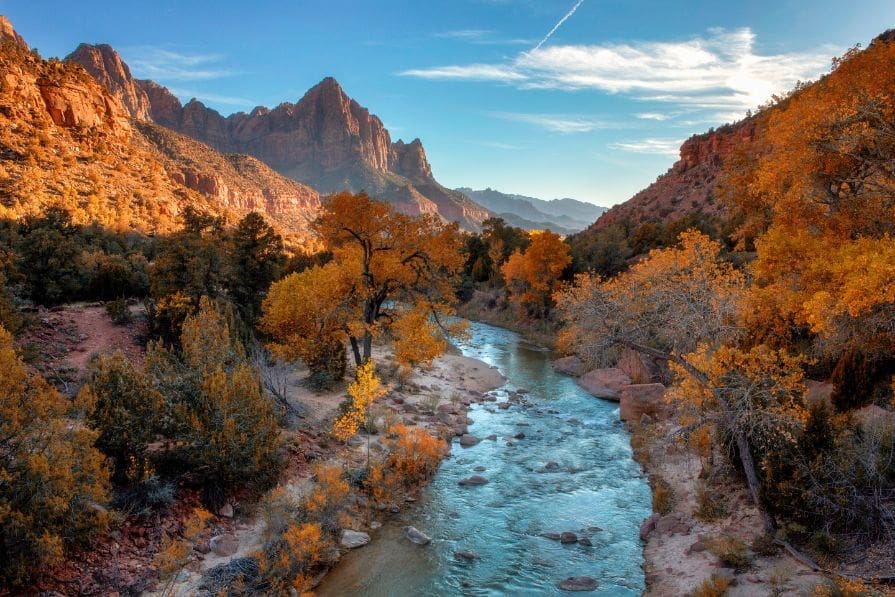 3. Bryce Canyon National Park: Marvel at the towering hoodoos dotting Bryce Canyon, which must be seen to be believed! Dive into the history and legends of the tribes who lived here, including the harrowing tale of giants who were turned to stone and became the hoodoos we see today.
4. Monument Valley: Explore the movie industry's and Navajo history's "Wild West" as you drive through Monument Valley's dramatic landscape. This self-guided audio tour along a 17-mile Navajo route allows you to enjoy the incredible panoramas while learning about Navajo culture, tribal history, and movie stardom.
5. Grand Staircase, Escalante (or, as we call it Grand Stare-case): Unearth hidden secrets at the Grand Staircase! Hidden within this towering staircase are clues to the land's long history, and we'll help you uncover it all. Learn about the dinosaur fossils people have found here, including a T-Rex skeleton! Visit a petrified forest, sparkling waterfalls, and sweeping vistas. Plus, hear the legends of the tribes who lived here, including the tale of when Coyote tried to catch the sun.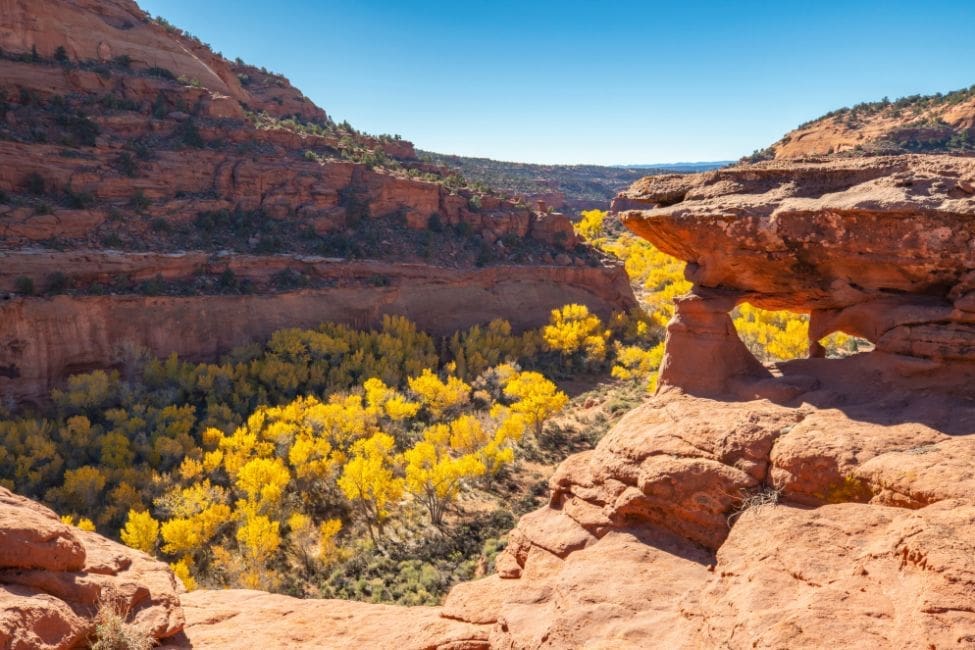 6. Canyonlands National Park: Venture into the staggering beauty of Canyonlands, home to the gorgeous red desert and more canyons than you can shake a stick at. Stand atop breathtaking vistas, hear the legend behind Dead Horse Park, and get a great look at the Colorado River. Then, hike the Aztec Butte Trail to glimpse fragments of ancient history! Finally, catch an unforgettable sunset at Grand View Point, which earns its name.
7. Capitol Reef National Park: Step back in time at Capitol Reef as you tour the remnants of a preserved pioneer town. Explore striking contrasts as you move from a desert filled with colorful rocks to verdant orchards along the riverside. Then, visit the site of ancient petroglyphs, which archeologists are still deciphering to this day!
These seven national parks offer a spectacular backdrop for your fall adventure in Utah. The beauty of Utah's fall foliage is sure to enthrall you, whether you're driving along the scenic byways or hiking the trails. So, pack your bags, hit the road, and immerse yourself in the colorful landscapes of these remarkable parks on our self-guided driving tour of Utah Fall Foliage.